Climbing around Moab, Utah
"Tomorrow ? Probably back on the ground involved in other struggles more dangerous than loose flakes, more demanding than commitment to a desert wall. Dealing with man can be less than beautiful. Climbing is beautiful." — Bill Forrest, The secret passage route.
---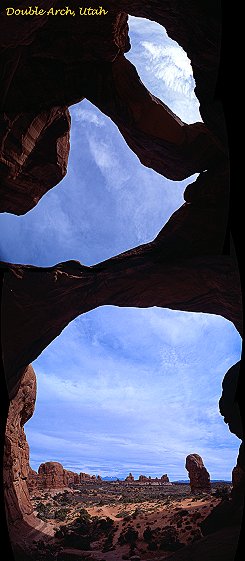 First impressions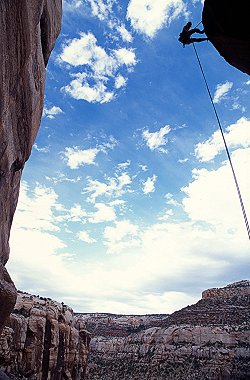 Since we moved to Colorado, we might as well discover our new surroundings and climb in the Rockies instead of doing long expensive trips. So in the spring of 2001 we took off for a week of climbing in Utah, around Moab, just a couple hour drive from Fort Collins. I had heard the worst and best stories about Utah. The worst being like: the rock is vertical mud or sand, the approaches are heinous, your car will get stuck in the desert and you'll die of thirst. The best opinion being from the locals who say that you cannot find more rock anywhere else on the planet. I kind of doubted that, but now I'm convinced. We had a great trip and climbed almost everything we had on our schedule. Our car got stuck indeed, but in a snowdrift close to home.
Left: Vertical panorama of Double Arch, Arches National Park.

Right: Jenny on rappel in Indian Creek.
First we went to Wall Street, a crag area right by the road, zero approach. A local had told me: "Don't go there, that's where the tourists go !". But we went anyway, first because we arrived in the afternoon, and also because we needed some introduction to the local and infamous sandstone. So we parked at random in front of a large and impressive crack and opened the guidebook: "This 5.10 offwidth constitutes a good introduction to more serious climbs on desert towers". Hmmm, Don't know if that sounds good or scary... So I got the pile of friends out of the car. The guidebook also said: "For climbing around Moab, get all your friends, get all you old friends, and get all your friend's friends." It paid off. On that first climb I used the full set of Camalots #5, #4.5 and #4. It had been a long time for me since I last climbed offwidths, but it was Jenny's first. We lost some skin but made it. After that we stuck to easier and easier to protect climbs in the same area. The rock was pretty good, it wasn't crowded, the place was beautiful, there were tourists stopping by to look at us strangely. Only negative point was the passing cars and even large truck right underneath.

Above: Panorama of the other side (also climbable) of Wall Street.

---
---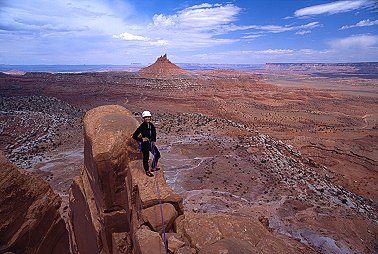 The Six-Shooters
After this we wanted to climb our first desert towers. We drove the bad road to the Six-Shooters and barely made it (the exhaust sounds weird now), two very typical sandstone towers sticking out of the desert. As we walked the rest of the approach, I almost expected Navajos to come galloping at us. Not surprising at all in a place where hotels boast: "John Wayne slept here" ! And a sensation reinforced by the multiple coyote tracks everywhere. Didn't want to fall in a trap designed for the Road-Runner. Yes, this place is exactly like in the westerns or even the cartoons.
Left: The north Six-Shooter as seen from the summit of the South Six-Shooter.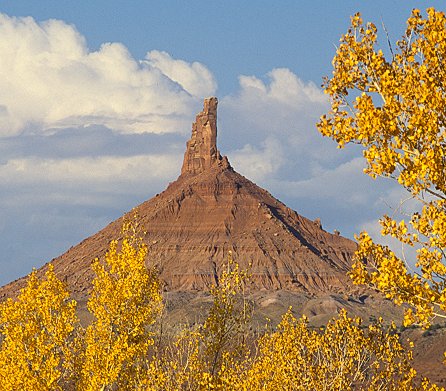 Right: The North Six Shooter in autumn.

The South Six-Shooter is the desert tower with the easiest route of all Moab, given 5.6 by the guidebook. We can climb harder than that, but we'd been warned about the rock by some people who won't go there again. At the base of the climb, I almost want to climb the beautiful 5.9 cracks next to it, but we stick to the schedule. The short route starts next to a curious Anasazie petroglyph and meanders between chimney and blocks. The rope got stuck. I pulled on it repeatedly as I was leading. When I finally pulled it completely, the sheath was sheared off in multiple places: woah, this rock is abrasive... After doing the final bit of face climbing (much harder than 5.6 in my opinion), we set foot on the summit of our first desert tower. Nice cool day, time for a panorama. After that we climbed the other 5.9s and top-roped the beautiful hand cracks splitting the base of the face. By that time our rope had multiple white places with the sheath gone. So we sped back to the climbing store to get a new one. More expenses.
---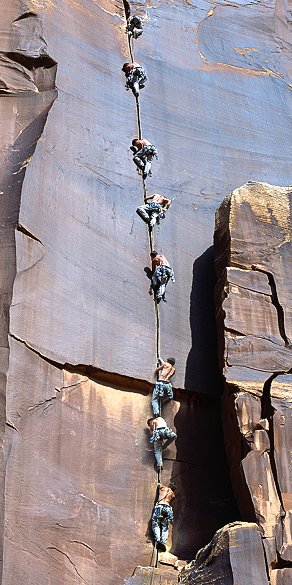 Indian Creek
For two days we then climbed in Indian Creek, the goal being to climb the world famous SuperCrack. Since SuperCrack is given as a hard 5.10 we decided to do some easier stuff first... like this 5.9+ Generic Crack. I don't know how much I swore and bitched on that one but it took me more than an hour to lead this hand crack with flared edges. I ran out of friends less than halfway up those 50 meters and finished the last 20 meters aiding on just one old friend which had the cams jam backwards a couple times. Yuk. Climbed some easier and much more enjoyable stuff later on.
Left: On lead on Generic Crack, a heinous 5.9+
Right: Jason showing the sequence of movements up legendary SuperCrack, 5.10.


The next day we went to the main cliff with SuperCrack in mind. Two climbers from Wyoming were just finishing off with Incredible Hand Crack, the other most famous climb here. They asked to borrow some of our friends for SuperCrack. In exchange we top-roped IHC on their rope. Well, it was an incredible layback for both of us ! We didn't do a single jam ! Easy to do on top-rope, but I certainly would have looked less sure on lead. Then we went to see them do Super-Crack. Another party was still on it and had been for a long time, the leader screaming bloody hell and taking repeated falls. The leader of the Wyoming party was much more assured and took only a couple rests in a very fast ascent. Then the climb was ours to play with. After one of them showed us how to make good tape gloves, I made a clean ascent of this beautiful line. For Jenny, new to crack climbing, it was strange: at first she couldn't get her feet off the ground, not finding the right placements or the way to handle the crack with her smaller hands. After getting pissed off, insulting the route and crying a bit, she got her arms deep inside, ignored the pain in the jammed toes, started off and summited a couple minutes later.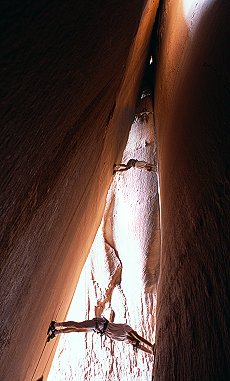 A couple month later, we went back to Indian Creek with Jason, just for a week-end. We climbed Super-Crack again, leading it this time as you can see on the sequence of pictures of Jason (right). The trick against the pain is to put a pair of thick socks inside the climbing shoes; or, as somebody did, to climb it in hiking boot ! We also climbed other routes, using the lazy leader's techniques: tape your rope to somebody who's already done it and when they leave, there you have a top-rope setup ! This way we discovered that the 5.11 finger cracks are actually way easier than the 5.8~5.10 hand jams: you can layback them up pretty fast and there's no pain involved.
Left: That's me trying some quite unusual moves on Cave Crack (5.11). I don't even know what this move is called, but how often does one do a full body stem ? Kids, don't do that on lead...

---
---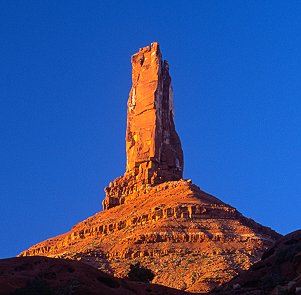 Castleton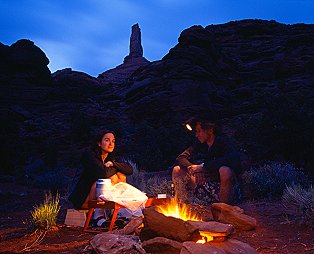 Left: Castleton tower. The classical Kor-Ingall route is on the right, in the shade.


Right: Night barbecue at the wilderness campground at the base of the tower (before the rain).

Camping around Moab is easy. There are plenty of sites with cheap camping and even plenty of sites with free camping. Lots of mountain bikers and river rafters at this time of year but there was still room enough for us at the camping below Castleton tower. It rained on our barbecue in the evening but we stayed hopeful that the rock would be dry enough to climb on in the morning. A local had told me: "Don't climb after the rain, holds will break off". Well I didn't think it'd rain (Utah is a desert, isn't it ?) but we indeed got rained on almost every day, not enough to stop us from climbing, but enough to kill of our barbecue and get our tent wet. And no, we didn't break any holds.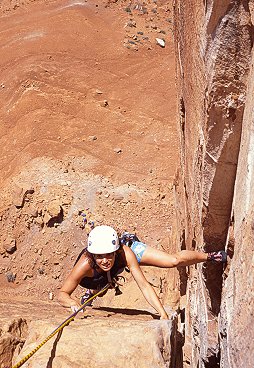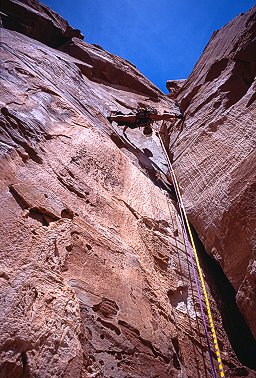 Left: Jenny at the end of the first pitch of the Kor-Ingall.


Right: Me on lead on the 2nd pitch of the Kor-Ingall.
In the morning we arrived at the base after several other parties and everybody went on their own side: one party on the impressive North Face, one on the hidden North Chimney, one on the scary west face and us on the super classic Kor-Ingalls. Better this way since I don't fancy having 4 people on 2 rusty bolts drilled in sand... The Kor Ingall is the historical route of the tower. If you can forget the slot at the start, it's quite a nice route, with nice protection and nice rock sometimes covered with a curious slippery white calcium deposit, usually in places where you'd like to place your foot. The 4 pitches get more exposed the higher you go. The end of the 2nd pitch is a runout chimney/slot where you don't know if you want to do it from the outside as an offwidth or inside as a slot. 15 meters above my last piece of pro (an old sling around a jammed rock) and with my hands already on the flat sweet ground of the exit, my camera bag, which was attached to my harness, got stuck in a small undercling in the chimney. I could not move up and it was quite mental to start going down again as I was almost done with the damn pitch.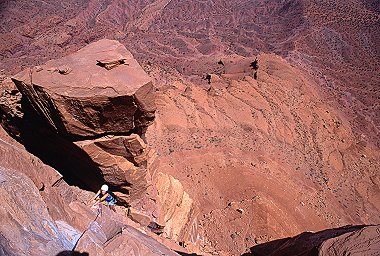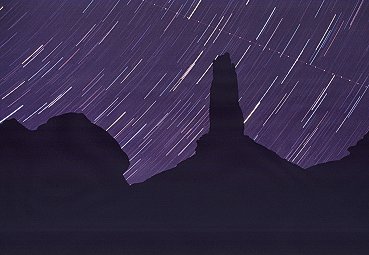 Left: Jenny on the face climb of the last pitch.

Right: Castleton tower by night. The diagonal stripe is a rotating satellite passing in the field of view.


The last pitch offers several difficult looking cracks, but the one on the right leads to a small flat spot under a leaning tower and then to the summit via a nice hand crack. The view from the comfortable summit is breathtaking, as is the long rappel off the empty space of the North Face.
---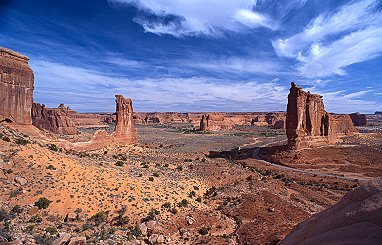 Arches National Park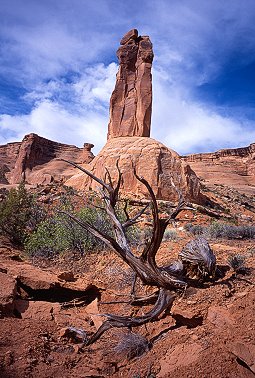 Left: A view of Arches National Park.

Right: The 3 Gossips, as seen from the south.
So after ticking off those two super classics, we wanted to play tourists and went to Arches National Park to gape at the scenery. After a couple miles on the road we were like: "no way, we gotta climb that to believe it !" Jenny wanted to climb a large crack underneath Double Arch, but I didn't want to think of the liability in case we dropped a friend and hurt a couple gaping tourists. And the crack seems full of bird/bat droppings. So we started off a hand crack on the west face of the 3 Gossips.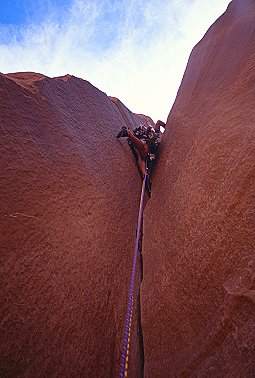 Left: Damn smooth overhanging sandy dihedral on the 3 Gossips.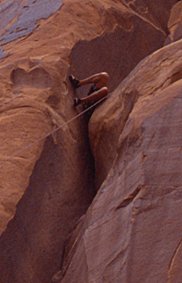 Left: Gniargh !!! I got stuck trying to get out of that offwidth !.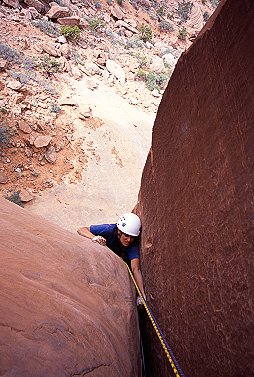 Right: Jenny does it better at the same offwidth's exit move.
It's a heinous sandy crack that scared me and where I aided most of it. We had sand in our teeth and eyes. Just as we rappelled off, 2 guys showed up for it. We might have cooled them off so, although they were stronger than us, they just top-roped the first long pitch. They made it look easy so I decided to see what I had done wrong by top-roping it again. It was just as bad: I fell and then got stuck again in the final offwidth overhang. And this time I didn't even have the large #4.5 cam to pull onto. By the way, we still have their two carabiners).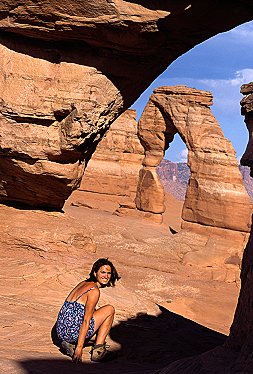 Left: An original (?) view of the beautiful Delicate Arch.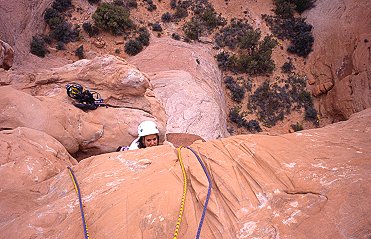 Right: See how soft the rock is on the summit of the owl...?
After looking at the guidebook for the utterly easiest climb in the park, we ended up on the very nice Owl, a small tower of nice rock right by a parking lot. We finished our tour of the arches a couple days later, waiting 15 minutes with 20 other photographers for one specific tourist to get her ass and sandwich off the center of Delicate Arch.
---
---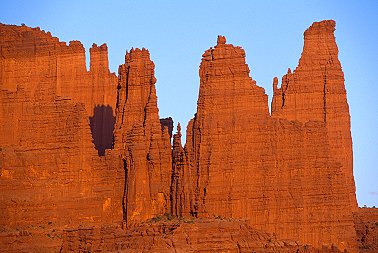 Ancient Art, the Corkscrew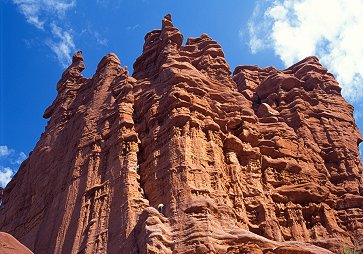 Left: The muddy but nice looking Fisher Towers. Ancient Art is the small one right in the middle.
Right: 2 climbers on the first pitch on Ancient Art.
So what else is classic over Moab ? The Totem Pole and Moses Tower. We didn't quite feel up to climbing the Primrose Dihedral up Moses and it now takes a permit to enter the Indian territory where the Totem Pole is located. In the guidebook there was a totally demented picture of somebody on top of a corkscrew shaped summit, barely one meter diameter and 20 meters high looming above a 150m wall. Unfortunately the guidebook also said that the summit of the so called Ancient Art is located in the Fisher towers which boast the worst rock of all Utah. Opinion confirmed by the Swiss Romain Vogler who wrote in his old guidebook of Classic North American Climbs that he got scared off the vertical mud of the Fisher towers. On the other hand several locals said it was a very good climb... So we went there ready for anything. There is really dry mud caking the walls, and the 2 parties before us kept dropping 'rocks' that turned to dust after hitting the ground ! It makes you wonder what kind of past civilization made this 'Ancient Art'...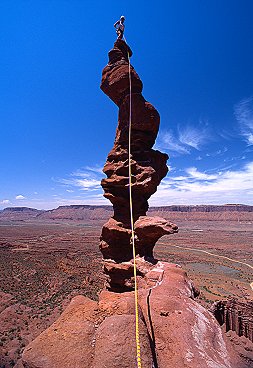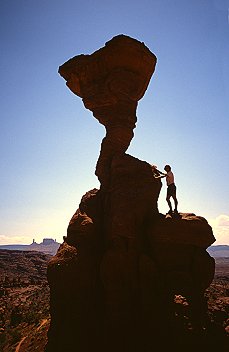 The approach itself is worth doing. It's like entering a park where statues have been left to the elements to play with. Numerous improbable and highly unstable small 'rock' formation litter the trail. Like this scarry 'Naja', whose flat stone on top probably protects the underlying collar of mud from certain meltdown at the smallest rain. I did a half-hearted attempt after reading the 5.11X rating of the guidebook. Only one tiny bolt and the possibility of placing a friend between the summit rock and the underlying mud did not attract me too much, even though the picture on top must be cool. Well, this picture (right) will have to do.
Left: Jenny on the totally demented Corkscrew summit of Ancient Art.

Right: A half-hearted attempt on the Naja.

The first pitch is on easy round piles of dry mud. I tested off a few friend placements in mud cracks. More than dubious. The second pitch is a long chimney that had an ominous look. As I started my impression changed: there is mud everywhere... except on the holds ! The many climbers have cleaned the holds and gear placements off their mud and it actually feels like real rock. Or so am I trying to reinsure myself. As we got to the belay on the narrow ridge below the weirdly shaped summit I thought of an artist friend of mine: did he get called to design that thing ? Jenny was wide eyed and really unsure about whether to go or not. I started the traverse cautiously and began the climb up it even more cautiously, worried of kicking the entire thing off the mountain. One day it will rain too much and the entire thing will just melt off. After a couple delicate moves I stood on the summit rock thinking: "OK, right in the middle, otherwise the whole thing's gonna fall off". Then Jenny climbed it too and surprised herself by even taking poses on one foot while I took pictures of her on the summit. That's definitely the strangest summit we've ever climbed.
The other higher towers offer some crazy aiding on mud, as confirmed by the local guide of the first party who, while soloing, took a huge wiper off the Titan, the highest and most impressive one. The list of movies filmed at this location in impressively and understandably long.

Above: Panorama of the fisher tower. Ancient Art is one of the first small bump on the left, the Titan is the tall tower on the right and Castleton is visible in the background on the far right.

Finally
We finished off the trip on a rainy Saturday, sport climbing at Mill Creek, a more or less secret spot with hard sport routes (hardly anything below 5.12). A nice place up the La Sal mountains in a totally different setup: no desert here, but snow even that late in the season, small rivers, deep bushes and a terrain that reminded us a lot of Sardinia.
Oh, and thanks to the sheriff who found us by chance stuck in a snowdrift in the middle of nowhere as we were trying to find a shortcut close to home so we could get back earlier for our first wedding anniversary... Didn't want to have Jenny push the car on that date !
---
Don't take shortcuts in Utah...
On our third trip to Utah, we had some big goals in mind but things took a wrong turn somehow. On the first day we did some 'back in shape' training at Indian Creek, sending nine 5.10s and 5.11s in just a few hours, recovering people's gear out of mean offwidth and being otherwise quite happy to not look anymore like a hanging bag of potatoes on those unusual (for us) cracks.
After the 3rd climb Jenny's knee started to act up. It had been getting slowly more painful for the last 6 months, up to the point that we hadn't done any mountain climbing or long approaches of the winter. After the a few more routes, she was choking back tears and couldn't bend her leg anymore.
Time break. We headed out early, to the disappointment of a party whose bail gear we had recovered twice already, and went to find a remote camping spot to think it over. Between the different tents we had the surprise to find some old acquaintances: Laurence and Stevie Haston, met on Cho Oyu 2 years ago. After chewing the fat for a while, he told us that he'd had 6 surgeries on his knees. And he still climbs a good 3 numbers above us. In crampons. That gave Jenny some hope and we decided to abort the trip instead of forcing the climbs and doing possibly a lot more damage.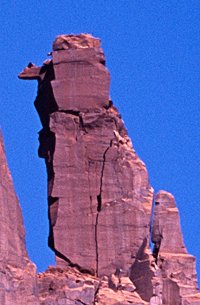 So in the morning we decided to head back home. Bah, it's sunday, we have time, let's look around. On the map we have, Lockhart Rd 122 goes back to Moab from Indian Creek. It had big red dashes like other roads we had taken before, so let's try it...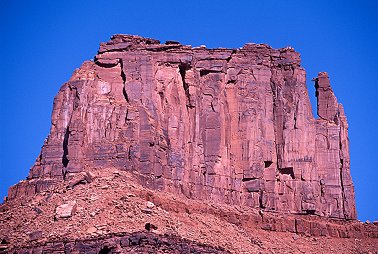 Right: Unknown penguin looking tower.
Left: Is that the Mitten ?
The first half was uneventful, a good dirt road. We had a nice view of the Colorado river about halfway and then headed up towards Moab. More rocks. Steeper sections. Bigger rocks. Big holes. Bigger holes. The road follows the side of a mesa plateau, passing in some impressive and very scenic areas. We were looking for potential climbing areas, but there isn't much, most of the rock looks quite soft with heinous approaches and is never very big.
After a few hours like that we drove around the base of a quite sexy looking tower; with a huge piece of rock sticking out of the side. So my question is: what is the name of this tower ? Has it been climbed before ? No, let me rephrase that, has it been climbed by any human being (I'm not counting Layton Kor here) ? Any route under that huge sticking out thingy ? It is or is very near elevation point 5882 on the DeLorme Utah Atlas, approx 38°24'30N 109°42'30"W.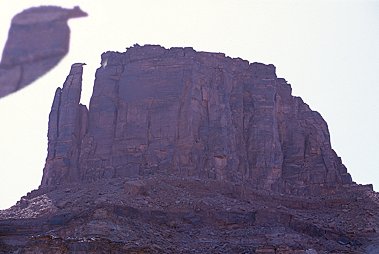 Left: The back side of the unknown tower.
Soon after I posted this, Kevin Frederick answered with: "That unknown tower you photo'd is known as 'the Mitten' (yes, same name as the famous 'mittens' in Monument Valley, but different rock). Last I heard it's got a route up the south-east side of the main tower that goes at 5.11 or so and has an unlikely huge roof on the first pitch with large jugs. There is also supposedly an aborted thin crack line on the north face (?), IIRC the crack petered out. Approach is rumored to be easiest from the hatch point road, on the mesa; leaving fixed ropes to ascend back. I don't know of anything on the thumb of the mitten. I haven't climbed either of them, so my beta could be all bad..."
This tower brought us nearer to the end of this story. So we are driving along (yeah, I should have warned that this is not a climbing TR, but only a stupid driving TR) and the road gets worse: we often have to stop to figure out how to negotiate the sharp drops or unstable piles of rocks. But according to the map, the dashed road should turn to a plain road soon... And then we arrive above a steep canyon were the 'road' just jumps down a pile of boulders. A bunch of dirt-bikers are taking a break away from the sun. They look at us with a chuckle: "Do you still have payments to make on that car ?", "as a matter of fact we do...", "You'll never make it", "Thanks for the advice, but now we don't have enough gas to turn around", "Hope you have lots of water...". And then a more encouraging: "Oh it's a very short section, you might give it a shot, but let us clear the area first...".
So we start inching down, Jenny walking first and showing me the steepest drops. After the first 50 meters, we are committed, there's no way I'd be able to make it back up this pile of rocks. We put big rocks in the worst holes and get to the crux of the route: a V shaped boulders that we have to drive through the middle, but I have in memory a more apt car we saw earlier that didn't seem to have negotiated some problem too well...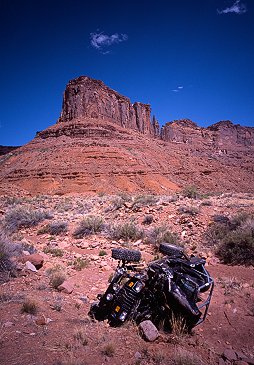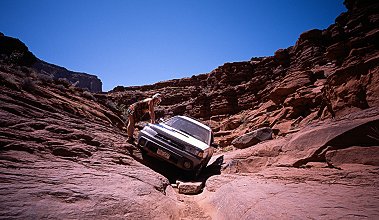 Left: Apparently this one missed a rock. Or got too close to one.
Right: The car in awkward position.

There are skid marks all over that boulder. Do tires have less friction than climbing shoes ? I'm sure I could climb that thing with no hand... As the car tilts more and more, Jenny does it sailing style, hanging on the side of the car, holding the roof rack...
As the front tire is a good meter off the ground, I back up 10cm, turn and pull that boulder problem without even scratching the paint. But the car has taken a beating on the underside on all those rocks and we finish the drive out sounding like a bunch of pans falling down a mountain. In Moab, a big mechanics looking like the clone of John Goodman just bent some metal with his hands and didn't even want to be paid.
It wasn't the worst climbing trip ever, but pretty close... 6 months later was much better.
---