Climbing in Red Rocks, Nevada
"Las Vegas, hah ! Why gamble with money when you can gamble with your life ?"
---
The North American Classics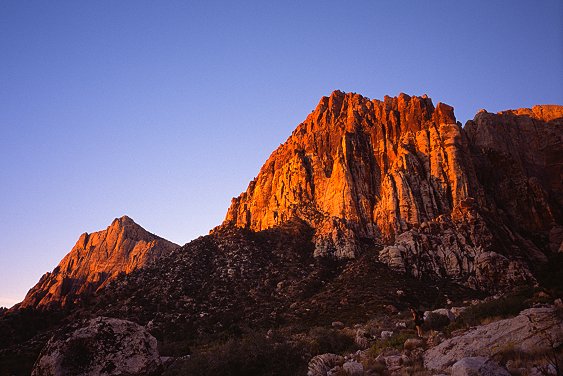 Left: Juniper Canyon (right) and Oak Creek Canyon (left) at sunrise

There'd been a ongoing debate on rec.climbing even before I joined the group in 1995 about where are the best climbing routes (and also the meta-debate about what they are, but I leave that one to the nit-pickers...). 'Best' can be described by a number of factors: easy, hard but not too much, interesting, safe, for everyone, sustained, various, long, particularly exposed, in astounding surroundings...
The many discussions originated on how best to update the book

Fifty Classic Climbs of North America by Allen Steck and Steve Roper and were later summed up by Gary Clark into a CD and a website of the North American classic routes; routes that are long, interesting and above all doable by the average week-end warrior. Since I already had several of those routes under my climbing shoes from my first american trips (Denali's west buttress and Mt Hunter in Alaska, the Nose of El Cap, the Lost Arrow and the East buttress of Middle cathedral in Yosemite), and a few more since we moved to Colorado (Ancient Art and Castleton in Utah and finally Eldorado Canyon's Yellow spur and the Petit Grepon in Colorado), this trip to Red Rocks was an opportunity to add 3 more: Crimson Chrysalis, the Prince of Darkness and Epinephrine. And maybe do more than just the classics if we could. (We also later did the classic Mace tower in Arizona, the Exum Ridge in Grand Teton, the Matador at Devil's Tower and the Casual Route on the Diamond). There's so much good stuff to climb in the US that it's hard to find enough WEs...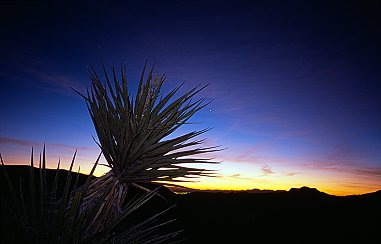 Right: Early morning light on one of the numerous cactus. It's dangerous walking at night in those parts, but not for the same reasons than in NYC...

I must say that I had never heard of Red Rocks before this year. Partly because my information about climbing in the US relies on a 25 year old French guidebook which presents the main climbing areas in a couple of pages each. Thanks to this book I discovered Seneca Rock and the Gunks, and I had dreams about Yosemite and Devil's Tower long before going. But Red Rocks is not in there.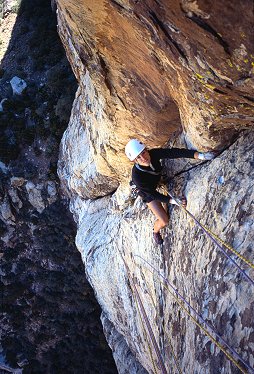 While preparing the trip to Moab, Utah, there were plenty of warnings about the rock's 'quality'. Red Rocks, just like Moab, is sandstone but of a totally different nature. More akin to the well featured top quality sandstone you find in Fontainebleau and oh so different from the heinous sandy cracks of Moab... That was the first pleasant surprise. Then the weather is great; I don't know if this is the same all year long, but at the end of October we had to climb in the shade since it was so hot. And climb we did. An average of 10 quality pitches a day, all top quality, without being scared once. What does the people want ?
Left: The long large crack of the first 4~5 pitches of Crimson Chrysalis.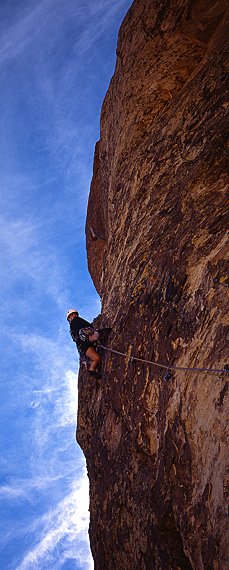 The 12 hour drive from Fort Collins took us to a pretty dreadful campground in the middle of the desert: no trees, no shade, but 2 barbecues per site and plenty of RVs and noisy SUVs running around at night. OK, too hot even for a minute during the day, let's go climbing to... quick flip through the rec.climbers recommendations... the Black Corridor. Shade, a crowd of sport climbers, bolts and an amazingly beautiful red rock. Heck, what did we expect ! We are both leading 5.10s when the night arrives.
---
Crimson Chrysalis
Right: Jenny leading the higher pitches of Crimson Chrysalis. Nice face climbing.
Sunday morning and an itch to try out our newly discovered terrain. Where first ? One of the classics ? Well, rec.climbers, in their infinite wisdom, told us that Crimson Chrysalis is the most crowded, but since its got other options nearby we are ready to risk it. It must have been the wisdom of the Shakespeare's monkeys because we were the only ones on the route ! The climb follows a large crack for 5 pitches and then wanders up face climbing for 4 more. The climbing could be all done in the crack, but why bother with an offwidth when there are plenty of holds on the sides ? Strange holds, like small dark plates glued to a sandy wall. It feels like they are going to come loose as soon as you put you weight on them but they hold, and once you get confident the climbing goes pretty fast. I keep getting in situations where I'm reaching for the #4.5 Camalot to stick it into the large crack, but then find a bolt 2~3 meters on the right. I naturally climb close to the crack, but the bolts want to move me away from it !
Jenny also enjoys the climb pretty much and leads the higher pitches. Overall I have and odd feeling about this climb, like that all those bolts kind of spoiled the fun. In many places that are easy to protect if you have large gear you will find a bolt waiting for you... I have nothing against bolts, I do trad-climbing, I do sport-climbing, I like both; but finding bolts in places that do go trad is unnerving. Or maybe I'm just saying that because we found that one route fairly easy. Nothing to do with a 5.9 rating in Moab ! As we left the area we noticed a party every other pitch of Crimson Chrysalis...
So it is a very nice route that ends up on the summit of the pillar and then rappels down the same way. One down, 2 to go. So Epinephrine's hardest pitch is 5.9 and Prince of Darkness goes at 5.10c. Hmmm, not sure about that one, let's go for the 5.9 first.
---
---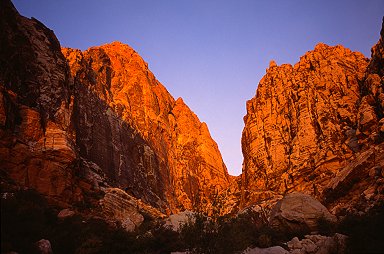 The Prince of Darkness

Right: Black Velvet canyon at sunrise. The Prince of Darkness is in the shade and the column of Epinephrine is between sun and shade

Left: Two parties up on the sheer blank wall of the Prince of Darkness
Monday morning, we are wandering in the early morning darkness with the car on the dirt road that supposedly leads to Black Velvet Canyon. I want to turn back but Jenny insists on continuing further than the vague guidebook description and we finally arrive first at the parking lot. Unfortunately while hiking the dry wash between the canyon walls and taking pictures of the sunrise, a party runs past us. Exchange of "Hi!", "What are you up to ?", "Epinephrine"... Hmmm, let's change plans. Jenny goes: "Let's do Prince of Darkness". I don't want to explain to her that I've never been ready to lead a 5.10c that high up, so I counter with the fact that we have taken the trad gear and we don't have any quickdraws. We have 5 slings, 2 screamers, plenty of binners but no draws... And a rec.climber told me to take 18 draws ! So here we are at the base of that steep smooth black face, cutting up prussik/bail line, melting the ends off with the lighter and making triple loops on each pair of binners.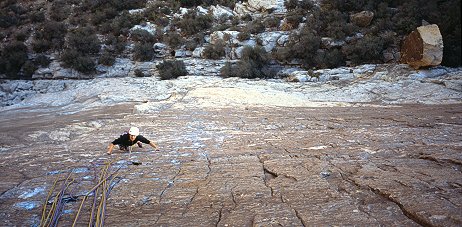 Right: Jenny crimping up the Prince of Darkness, pitch 2 or 3 or 4 or maybe 5...
First pitch is an easy 5.6 and doesn't even wake me up. The following 5.10b sure wakes me up, particularly the part where there aren't any bolts and you are supposed to protect on tiny #1 TCUs. Forget what I was saying about too many bolts on Crimson Chrysalis ! I place a couple pieces while holding nervously on those tiny crimpers, but after a while I get used to it, just like in the good old days in Verdon. Jenny seems to have even more fun than me on that pitch. The pitches are amazingly similar to each other in their succession of face moves: look for the chalk, take the crimper, replace your feet higher, repeat. Similar but never monotonous for 6 pitches. Yes, an amazing route. I like this place. So does Jenny.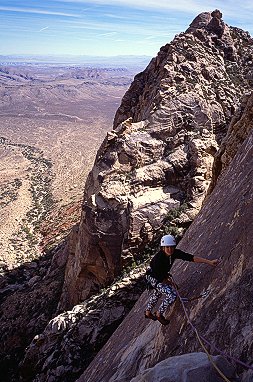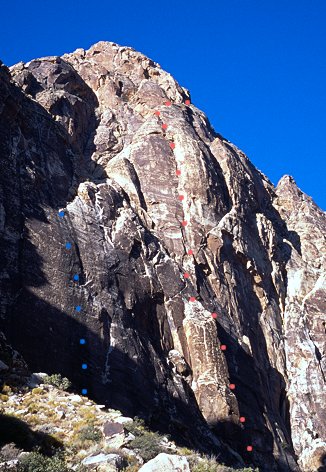 Left: Last move on the 6th pitch of the Prince of Darkness. Las Vegas is in the background, baking in the sun.
Right: A view of Black Velvet Canyon showing Prince of Darkness (blue) and Epinephrine (red).
As we are on the third pitch, no less than 8 parties show up at more or less the same time. We hear them argue their case at the base and start one after another on Prince of Darkness or the other routes on the face. So we got lucky, or early, for two days in a row. Let's get up real early for Epinephrine tomorrow...
---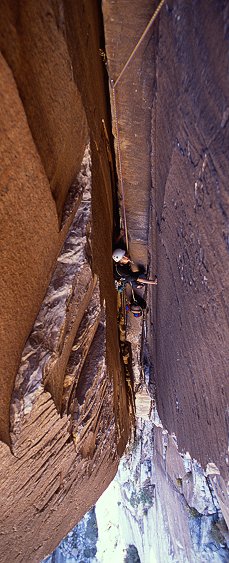 Epinephrine
7am, we are at base of the route, but it's still too dark to see the first bolt. We got up at 5, were in the car at 5:05 with Jenny feeding me biscuits while I was doing 70mph on an empty desert road. We wait a couple minutes and then we start off easily on the first 2 or 3 pitches. That 5.6 chimney already feels plenty hard protected only by one #4.5 Camalot on the entire pitch... Or maybe we are on the 5.9 already ? We get to the base of the real chimney as the sun begins to shine much higher up on the face. It looks steep, smooth, hard and gruesome. And it is.
Left: Jenny pulling the pack in the deep dark gruesome chimney of Epinephrine

Right: Me stepping on the last foothold of the 4th pitch in a row of 5.9 chimney up Epinephrine
Epinephrine: /Pronounced As: epnefrin/, hormone important to the body's metabolism, also known as adrenaline. Epinephrine, a catecholamine, together with norepinephrine, is secreted principally by the medulla of the adrenal gland. Heightened secretion caused perhaps by fear or anger, will result in increased heart rate and the hydrolysis of glycogen to glucose. This reaction, often called the "fight or flight response, prepares the body for strenuous activity. The hormone was first extracted (1901) from the adrenal glands of animals by Jokichi Takamine; it was synthesized (1904) by Friedrich Stolz. Epinephrine is used medicinally as a stimulant in cardiac arrest, as a vasoconstrictor in shock, as a bronchodilator and antispasmodic in bronchial asthma, and to lower intra-ocular pressure in the treatment of glaucoma.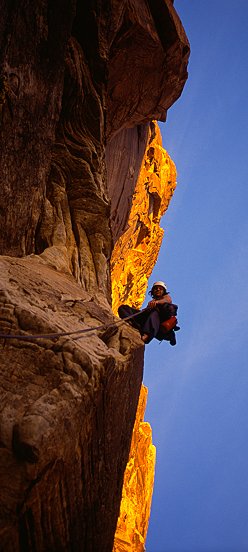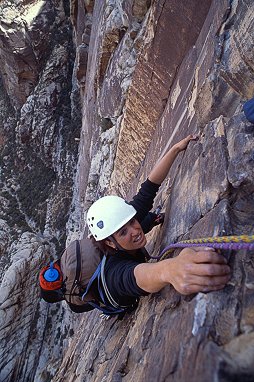 Left: Haaa, out of the chimney it feels much better
Right: Jenny finishing off the 2nd 5.9 pitch of face climbing above the chimney

Like a decent taliban, I always let my wife carry the pack; and when she goes: "I can't carry it up that chimney !" I retort: "Then drag it !" We both end up with sore spots on our back from the biners being pressed too hard against the wall. And where are those bolts ? Ain't seen none ! I place a friend way too deep in the overhang of the 2nd chimney pitch and Jenny takes yoga positions for 10 minutes of deep bitching to get it out. Later she comes out of the 3rd chimney pitch all sweaty from the workout but beaming: "We are done, the guidebook said 3 pitches of chimney, right ?" Wrong, a wider longer pitch is right above and it does not look like the forecast "4th class scramble to the top of the pillar". But there are two bolts which is fortunate since there's no natural placement on that pitch. There's chalk everywhere: from the outside of the chimney where the exposure quickly drags me back in, to the very bottom of the chimney where the very worn sling of 2 stuck tricams are not worth the bother of being squeezed to death, to the middle where long lines of chalk show where previous climbers scrubbed their back (or peeled off ?!?). So for the 4th pitch in a row the routine goes: place the feet and knees on the smooth opposing wall, desperately look for absent holds, push with the elbows, move my butt up 5cm, repeat ad nauseam.

Right: A side view of Epinephrine from the top of PoD. There's a climber in the green circle, but he's too small to see.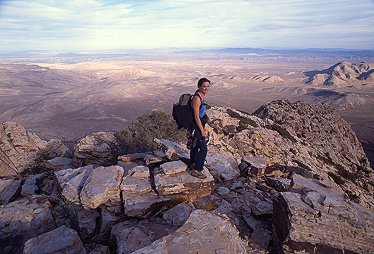 Left: A tired Jennifer on the summit of Whiskey Peak after climbing Epinephrine in 8 hours

Getting to the top of the pillar is a real liberation: air, sun, space. We lost a lot of time on those chimney pitches, it's already 13:00. The many pitches above (10!) are face climbing, so let's push it. They either have bolts or are easy to protect. Well, except when you run out of gear like on that last 5.9 roof where I arrive without any more TCUs... except for the #00, but who uses that ? Those upper pitches are so nice they truly make the climb a triple star. By 16:00 we are on the final traversing scramble were so many people are said to have bivied and at 17:00 we are kissing on the true summit, standing in the sun... dehydrated since we finished the water several hours ago ! 17:02 Jenny screams as something gave way in her kneecap on the first few meters of the descent. She endures a painful descent, limping from rock to rock using a dry cactus as a walking stick, till we get to the car where two dusty climbers offer us some cool beer. OK, tomorrow we'll rest. Hell, there's aren't any more classics around here !!!
---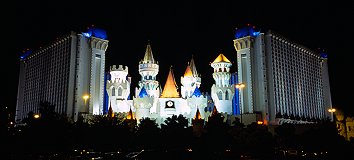 Rest day and rest of the climbs
Right: Is that Disneyland or a place where you are supposed to loose money ? Hmmm, not sure there's a difference anyway.
Wednesday, we'd like to sleep in late, but as soon as the sun shows up we start boiling up in the tent. So off we go for a couple pitches of sport climbing in the Sandstone Quarry at the Mass Production Wall. Very near The Black Corridor but the rock is white instead of being dark red. Then let's go for a well needed shower at the climbing wall. When we show up, the guy doesn't even raise his eyes from the counter but points at the back door: "The showers are over there, whew..." $10 for a campsite you can't survive during the day, $4 for a shower...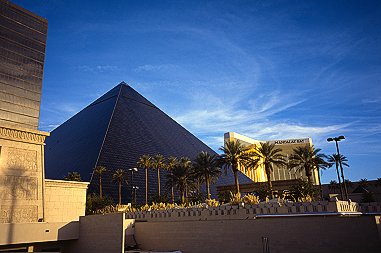 Left: The ancient Egyptians have invented civilization... which is now being parodied in Las Vegas...
Let's see if we can make up those $ with the roulette and the slot machines... So off we go to legendary Las Vegas. Driving at random we first get to the pyramid shaped casino, the one that sends out a vertical beam of light at night visible from miles. The architecture is not as bad as I expected, but the rooms large enough to host a set of 747 full of slot machines are striking. We decipher the instruction (as I understand it, it breaks down to: "Put your money in the machine. Period.") and Jenny puts a dollar in. After loosing a few cents, the machines beeps and she now has $1.05. She bails richer by 5¢.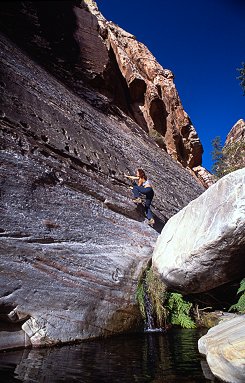 I'm more avid. Having studied enough statistics I knew that the roulette is the game where the casino makes less money, meaning where the players win more. I place $10 on 25 and promptly loose them. We had decided on a threshold of $20 for each of us and I decide to buy a good cigar with what's left of mine while Jenny, having bought my statistical explanation of the roulette, promptly regrets having listened to me. We have some fun looking at the total losers who spend their life in that place, with credit card holders in front of the slot machines or fake satisfied looks each time they loose $100 at the roulette... Why they don't get their checking accounts directly wired to the game mafia is beyond me. The restaurant was absolute trash and I even chipped a tooth while eating their disgusting chicken. What a sick place.
Right: The spring at the base of Dark Shadows, Pine Creek Canyon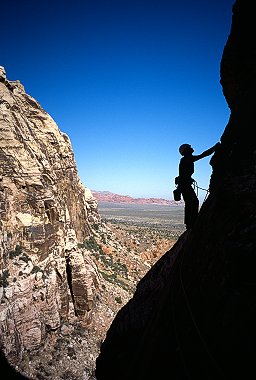 Left: Jenny on the last pitch of Y2K, 5.9, Oak Creek Canyon.


Back to business. What do we climb next ? rec.climbers have suggested plenty of alternates, so we start with Dark Shadows a 4th pitch easy trad classic above a little river. Above the last pitch is a bolt in a 5.11 Lynn Hill roof. It looks good but several parties are at the base waiting for us to rappel off so they can get started. Since they took pictures of us with the camera I'd left at the base, I don't want to keep them waiting. We move left in the dense spiky bush and after bumping into a couple cactus we find another interesting route: Y2K, another very nice route (as far as I can tell, all the route in RR are very nice !), bolted when needed, but the rope keeps getting caught on the many flakes during the rappels. And looking at the bail slings in different places, this is not the first time.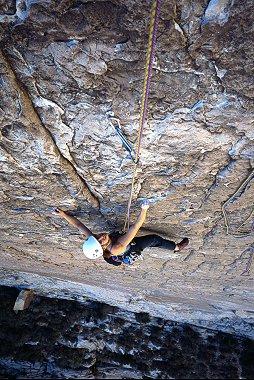 Right: Jenny on the steep crimpers of Yellow Brick Road.

Yellow Brick Road, just a couple meters on the right of Prince of Darkness, offers very similar style of climbing, but with more crack climbing and fewer bolts. The 5th pitch is not rated in the guidebook but I'd give it a 5.9, protected far off the belay by TCU #1, #1, #0 and #00 !!! A very nice route at 5.10b, maybe even more satisfying than PoD for its higher 'trad' feel.
On that same day we also sent Refried Brains, a very nice 5.9 trad route. Take a #4.5 camalot for the 3rd pitch and expect plenty of rope drag on the 4th pitch. Or do like the guide who was ahead of us and take only a bunch of giant tricams...
And as a last route, we went back to the area of Crimson Chrysalis to do Ginger Crack, a true trad crack with a scary layback off a huge flake on the first pitch, plenty of gear stuck in the cracks, missing belays and just the one old rusty bolt to protect the 5.9 crux. But just another stellar route nonetheless; too bad there aren't any anchors on the top of the summit pillar (it's tricky to downclimb the friction moves). And the route bellow the rappels looks awesome too, and so does the face on the right and, and, and... we'll be back !
Thanks to all the rec.climbers who have given me beta and advice on Red Rocks before the trip: Mad Dog, Tico, SteelMonkey, Lord Slime, Bob, Troutboy, John, Andy, Kreighton, Julie... See the full thread here.
---

Above: Dawn on Red Rocks, seen from the Loop Road

---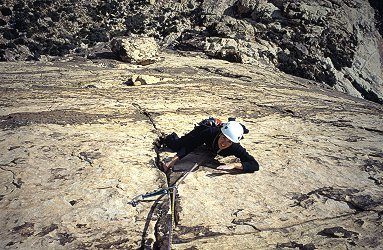 Back for Christmas
For Christmas 2002 we were hesitating on the destination: ice climbing in Ouray ? Already done last year. Off to Mexico's El Potrero Chico ? Far, my spanish is rusty, airplanes are falling off the sky all over and there's certainly interesting stuff closer... Well, we liked Red Rocks, so lets go back and do the routes which were too hot to do in the sun last time. Jenny had tried to coax me into doing Levitation 29 on the last trip, but I had the excuse that it was too hot. No such excuse this trip.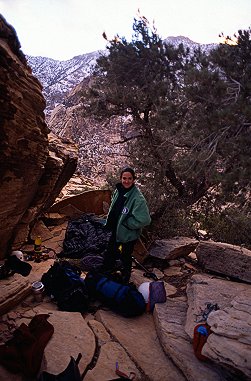 Left: Jenny on a steep upper pitch of Eagle Dance

Right: Jenny at the bivouac at the base of Eagle Wall for Christmas...
After the now familiar 12 hour road trip, a night in the car next to the highway in the snow and a couple pitches of sport climbing in the afternoon we settled down at the campground for the night. No more cooking by the campfire this trip: it's cold at night and we'd rather spend some money for a cheesy restaurant. In the morning we removed the tent and drove the loop road in the dark. Destination: Oak Creek Canyon. After parking we noticed a car with a ticket under the wiper, good thing we had the overnight permit I thought... A couple minutes later, as we were preparing our gear and having one last cup of tea, a couple approached from the canyon in a tired walk, wearing only wet and muddy blue jeans and tiny packs. The woman got immediately into the car without a word while the guy stuffed the ticket into his pocket like it was nothing. Suspecting an interesting story I ask them where they'd been: "Well, hiking up canyon, but then it got dark and there was ice everywhere and we couldn't get down. So we slept there." Must have been one hell of a night... Hopefully we'll be more prepared.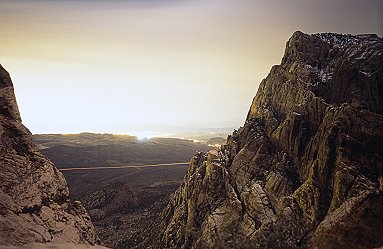 Left: Las Vegas shining through the night from the bivouac at the base of Eagle Wall

We started hiking with our barely used big packs filled up with bivy gear. Heavy. As soon as we entered the canyon the trail turned into a nightmare or strewn boulders, easy enough without pack, but a big waste of time with one. And there was plenty of water higher up... One third of the way up that 'trail' a much lighter party passes up destination Eagle Dance. After 3 hours of bushwacking and scrambling around, on and under boulders we finally did get to the base of the ramp. The wet ramp. It'd snowed a couple days before and the base of the canyon never sees the sun at that time of year. Fortunately the top of the ramp was different: sunny with a great view and a nice bivy site. We felt so tired already that we didn't feel very much like climbing. The other party is already on the 3rd pitch of Eagle Dance: "How is it going ?" "Great !". OK, let's get our asses up there...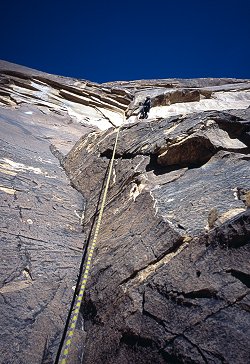 The first pitch is 5.8 trad but you might as well leave your gear on the first belay, there's no need for any on the upper pitches. On the other hand, the bolts look like they just celebrated their 20th anniversary and are really small and rusty... [2002 update, the route has been rebolted a month after we climbed it]. Stellar route, great rock, although the sun soon hid behind the clouds and the temperature dropped. Seven pitches and then we rappelled before it started getting too cold and too late. Let's save energy for tomorrow.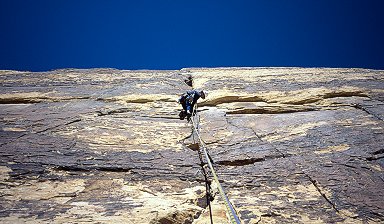 Right: First 5.11 crux of Levitation 29, just before stepping on the bolt...
Left: Second 5.11 crux of Levitation 29, an easier kind of 5.11...

It'd been quite a while since our last bivouac, let's see, yes, it was in New Zealand in early 2000, a cold and windy night on the summit of Mt Cook. But no such problem here, we had our warm North Face bags, a stove, a nice flat spot, a great view... the few falling snowflakes didn't scare us much and except for 20 minutes when I was taking pictures of Las Vegas in the dark, we had a warm night. Even when Jenny woke me up at dawn: "Hey, look the sunrise is beautiful"... "Ronf, snor, ronf..."
---
---
Levitation 29
Finally at 9 we emerged from the warm bags and after a lengthy breakfast we were at the base. I took my first look ever at the guidebook. I don't like guidebooks: they either make things look too hard or uninteresting, so I always put off reading them till the last convenient moment, like when I'm stuck in a squeeze or something... So here we go: 5.10 first pitch warmup and then first 5.11 crux on the next one. I was still half asleep when I figured out that I really had to pull on that hand jam or fall on the rusty bolt below... Instead I put a cam in, took a wake up break and then finished it. Not so easy.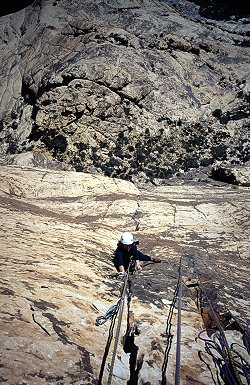 As I looked at the roof of the next pitch while Jenny was coming up, I kept thinking: "What am I doing here ?" Well, honestly it's because I'm weak. I never decided to come. Jenny read that Levitation is Lynn Hill's preferred climb (which she freed 20 years ago). So ever since she'd been trying to get me to lead the damn thing. And now I'm about to prove that I can't fall half as gracefully as she can climb... OK, breathe in, psych up and go.
Right: Jenny on one of the higher pitches (5th ?) of Levitation 29.
OK, the bolts are the same 5mm pieces of rust as on Eagle Dance, but at least there's plenty of them... I manage to get my hands above the roof, but that damn right foot keeps slipping off. Poof! I'm hanging. After a couple tries and a foot on the bolt I got to the belay. Yeah, I know, I must have dropped my ethics on the trail...
The rest of the route went without a hitch: a rest here and there, a couple cams of various sizes to complement the rusty bolts, a couple "hah!" and "hooh!" when there's a nice move. It's steep, the holds are small but always present making it similar to Prince of Darkness in style. The second 5.11 crux goes free thanks to an additional cam, the biggest I placed on the route, I wouldn't have done that airy layback otherwise.
The 7th pitch is weird, the Uriostes must have been tired on that one, there are no less that 17 bolts, almost a ladder. But I can understand that by the increasingly sandy 'quality' of the rock. 7 pitches. Enough, we need to go down as the final 3 pitches are easier and supposedly harder to rappel from.
As we reached the parking lot after a couple hours of exhausting boulder hopping down the canyon, we found a $50 fine. Hey, I thought I'd called for their damn permit. The ranger taking care of the permits must have been out for Christmas, since they later canceled it without problem when I called.
---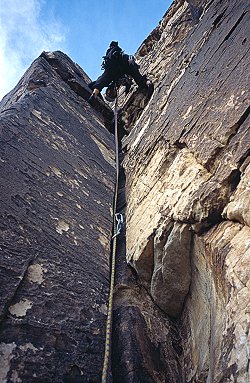 The race up Solar Slab
Just like on the previous trip when we had completed our tick list on the first 3 days, we wondered for a while what to do next. Something in the sun. OK, let's go for Solar Slab, one of the easy super classics, in the sun all day. First you have to get up there: Jenny led Johnny Vegas, a nice 5.7 route with big jugs and as we were on the last pitch we could hear voices of climbers hiking up Solar Gully next to us. Ahem, let's speed up or they are going to be ahead of us on Solar Slab...
I started leading Solar Slab just as two parties arrived. Their leaders followed me. Jenny ran up the first pitch and I took of like the wind while they were also obviously trying to speed up. Standard practice when you arrive below another party: you speed up to pass. If they don't want to let you pass, their only honest way is to speed up too. Then whoever is faster wins. Not like the moron who kept falling on me on Tuolumne so I wouldn't pass a couple years back... Or the Chamonix guides who tie knots to other people's ropes...
After 3 pitches of butt sniffing, one of the other parties tried to pass us on the left: mistake. After a while we saw the leader downclimbing back and they took a break as they opened their sandwiches. The other leader was right behind me and got to the end of his rope as he called to his partner: "Hey, let's simul climb !", "No shit, you haven't placed any pro !"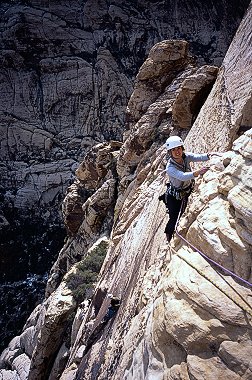 Left: Jenny on lead on Johnny Vegas, a nice 5.7
Right: Upper pitch on Solar Slab

We finally got to the summit of Solar Slab having done 9 pitches in 1h30 ! Jenny was beaming: "we beat them up !" On the way down we talked at length with them, exchanging route ideas and climbing stories.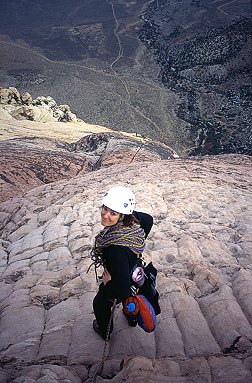 So what else ? The classic Olive Oil was taken by two parties from Switzerland so we ended up on the nearby Geronimo and its rope eating rappel. Nice (except for the rope eating rappel). And then ? We tried to go do something else than the recommended classics, like a 2 pitches 5.9 where Jenny broke a flake trying to get her feet off the ground. OK, we'll call it 5.9+ now.
I had bothered the rec.climbers to get info about Joshua Tree, but I didn't really feel like doing such a long drive. Jenny suggested Arizona, so off to Arizona we went, hopefully to bag up another classic...
Left: Summit of the Solar Slab pillar, ooof, the race is over.

---
A lonely December
I was unemployed (and thus gone climbing) for the whole of december and went around a bit. But nothing much really, without my favorite partner (2 damaged wrists) I only managed some bouldering and solo ice climbing. BTW, Joe's Valley in Utah is a nice winter destination: ice in the morning (up to WI6+) and bouldering in the afternoon (a pathetic V4 at my best). I'm not sure I'm gonna write any TR: solo it's usually boring to tears.
I didn't feel like looking for a replacement partner so I slept in the snow under the stars, drove to heavy metal sound across 6 states, broke my muffler for the 3rd time in 2 years on rotten roads, did a free solo first ascent 5.6 1000m route in Red Rocks, had a hormonal burst free soloing onsight 5.10 (and there wasn't even a big titied girl watching), managed to get bored in Las Vegas when the weather was bad, tried to bring a super catholic celibate to boot 35yo temporary partner to a titty bar without success, discounted showers as useless, considered a tent to be needless luxury, got rained on, got yelled at by a coyote 2 feet from my face at 2am, toured moronic tourists traps like Four Corners, appreciated great things like sunset on Mesa Verde without a single tourist, ate my first fast food after 2 years in the US, got bored, thought about writing TRs about nothing, wrote this little nothing instead, soloed Stairways to Heaven in 75 minutes in great conditions (except for the chest deep snow on the approach), got home, took a shower.
---
---
2003 Road Trip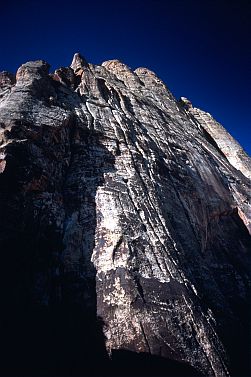 "There are two places in the world I would not mind if a nuke went off: Las Vegas and Jerusalem. One the pole of greed, bad taste and corruption and the other the pole of stupidity, crass ignorance and superstition."
Inti Watana (5.10)
Left: The long pillar of Inti Watana, whatever that means.
So the after the Needles we are back in Red Rocks for, what, the 5th time ? This time we have only the longest of the longest routes on our ticklist. Let's start with the 24 pitches of the Resolution Arête. What's the best strategy ? Apparently to leave the car on the main road, but with all the stuff inside and all the Las Vegas thieves, I'd rather ask for a bivy permit and leave the car on the loop road. So hike in the evening and climb the next day ? But there are other routes nearby, like the interesting Inti Watana, and the hike in is so long that we might as well make the best of it. So we hike in at first light, loosing the trail in the middle of the cactus, soloing the White Rot gully and other rotten moves, fighting the trees that want to keep part of our backpacks with them and finally make it to the bivy ledge. We leave the packs, take a light rack and start Inti Watana. It goes up a steep mossy face, but there's plenty of holds and bolts, the ratings feel pretty easy after Yosemite (whoah, 5 minutes to climb a 5.9 pitch !) and 4 hours and 12 pitches later we are on the summit of the pillar and start the rapps down [Note: with a 60m rope you can link up pitch 9~10 and 11~12 if you have lots of draws, and on rappel you can just about link up pitch 2~3 and 4~5]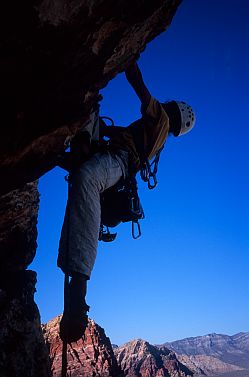 Right: Guillaume on the roof of Inti Watana.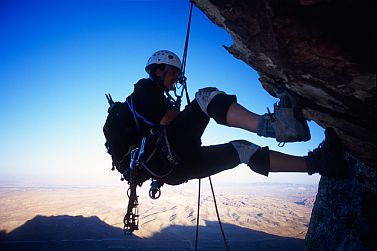 Left: Jenny rappelling off the roof of Inti Watana.


Sweet route, if not very involving. We think the next day will be a breeze as it's about the same level. Error. In the meanwhile we enjoy a book with the last hour of sunshine over Vegas, have our dinner of smoked mackerel, canned veggies and canned apricots. I'm still hungry and steal one of Jenny's breakfast cookies. The night is warm and comfortable, with Vegas so bright we don't need headlamps to move around.
Later, Richard Gordon sent me the following info about the name of the route: " In case nobody has told you yet, the Inti Watana is the sacred stone at the top of the step pyramid at Machu Picchu, Peru. It is the most sacred of all stones at Machu Picchu and is hewn out of a living rock formation. Nobody (except for me ;) knows for sure what the Inti Watana is supposed to be. Some claim it is a kind of solar clock. Others say it is an altar. Regardless of their ignorance, all who see it cannot fail to appreciate it for its mysterious shape, spectacular location, and obvious importance as the spiritual center of what is perhaps the most spiritual location in all of South America. Congrats on your amazing climbing experiences and stay safe.
Inti Watana actually translates to something like, "Hitching post to the Sun". Like I said, that is based on a misimpression that it is a solar clock of some kind, which I believe it is not. It is actually, in my opinion, a kind of spiritual throne upon which the Inca or his high priest would sit for divining purposes. "
Who said you can't get educated while climbing ?
---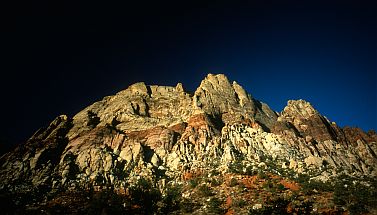 Resolution Arête, longest route of Red Rocks
Left: Rainbow Mountain, Red Rocks. The Resolution Arete is the huge arete in the middle. Inti Watana is into the shadow a little on its right.

At 6 in the morning we actually have to wait a bit as it's still too dark. The first pitch sets the tone of the route: a long no-gear traverse over an exposed ominous chimney (that's the wake-up part) followed by a very long large crack (that's the part you wish you were back in bed). There's plenty of holds on either side but they are small and sound hollow. I don't have enough large gear and place only about 4 cams in 60 meters. We run the first 4 pitches as 3 but we are slow and tired from the previous day.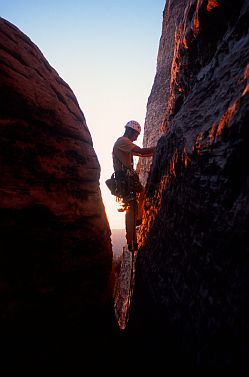 Right: Early morning start on Resolution Arete, Red Rocks, Nevada, 2003

This route is completely different from yesterday's straight up climbing on tiny flakes. Here it's mostly discontinued crack systems, with some ledges in between and an occasional runout slab in the middle. It's a lot more consuming than just clipping the belay too, we have to build them, and protect every pitch as there isn't a single bolt on the route. All in all it takes us twice longer to get to the same point as yesterday. Some of the pitches were fun, like the thin 5.10 dihedral, others less so like the crux 5.11+ where the rope got stuck in the crack and Jenny had to climb up before she could retrieve it.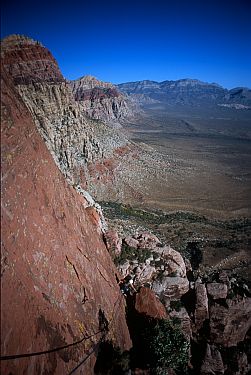 Left: Jenny high on the red wall of the Resolution Arete.
When we get to the high point of Inti Watana, it's almost 4pm. We have 2 liters and some extra water left and could certainly survive a bivy on the summit (provided we finish the last 9 pitches in the 2 hours of daylight left), but don't look forward to the long hike out the next day. So we rap down and start the hike out the way we came. Even though we get lost in the dark and end up doing a 50m rappel the reach the bottom of the gully. At least it saved us from having to do the White Rot gully and the red cave passages. And we are back at the campground at 9pm, pretty damn tired.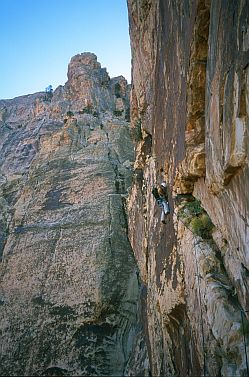 Right: Tricky hand traverse on the upper part of the route. One pitch of chimney after that and you find the belay of Inti Watana.
The problem with this campground is that it's unlivable. It's either dark at night (doh!) or it's an oven during the day. Can't they plant some stupid trees ? They have tons of glitz and decorum all over Vegas, why should the campground be a field of dust at the bottom of a bowl scorched by the sun all day ? So on our rest day we have time to tour around the places we now know: the climbing store first for a shower, the natural food store for some shopping (Charleston/Apache), the movie theater and the shoot'em'all internet store next to it (Sahara/Apache), the library nearby... Anything that has air conditioning and a plug for the laptop.
---
Unimpeachable Groping & Power Failure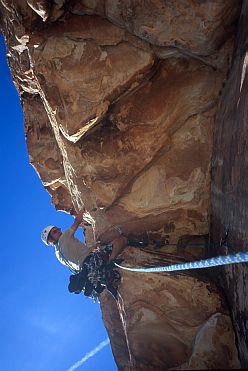 Left: Guillaume on the crux roof of Unimpeachable Groping.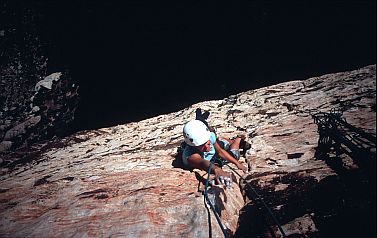 Right: Jenny on Power Failure (5.10).

Another excellent day we send Unimpeachable Groping (cultural/political reference necessary), a sport climb (no gear necessary) on those small flakes found only at Red Rocks: 7 pitches in a row, fully bolted and fully fun (funned?). Some 5.10 moves, but nothing much compared to the kind of 5.10 that drained us in Yosemite. After rappelling off Power Failure (here I wonder if there's a subtle reference to the previous route name) we take a light rack and climb it back up. And this one is even better, if only it could be more than 3 pitches. But even though it's only 13:00 and we've done 10 pitches, it's enough for the day: we ate our small sandwich at 10 in the morning and Jenny's been dreaming about a good Pasta all'Amatriciana for hours. And my stomach is growling in unison.
---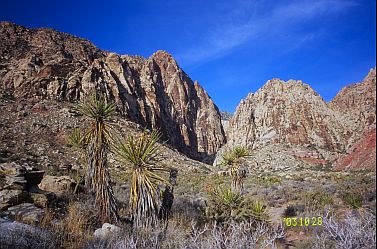 Rock Warrior
"Raising the stakes: Into the 'R'."
Left: Black Velvet Canyon and Joshua trees.
After a much needed shower at the climbing gym (it's amazing that you never need to tell them you need one: they know as soon as you step inside) we are left talking with the guy at the store, wondering what route to do next. We ticked all the routes we wanted and there's a sudden lack of motivation. He keeps throwing names of Black Velvet routes at us. We haven't been there on this trip so why not. Say Fiddler on the Roof or Rock Warrior, two routes with plenty of runout pitches. The Fiddler traverses above a huge arching roof and the Warrior climbs straight up, just on the left of the very classic Prince of Darkness done two years earlier. Only where there was an overdose of bolts on the latter, the former has preciously too few. We choose Rock Warrior, 6 pitches between 5.9R and 5.10R. Yes, all the pitches are runout, all are steep, all are sustained, a cool head is necessary as well as some screamers (quickdraws meant to absorb the energy of long falls, those falls so long that you need to catch your breath to keep on screaming), a bunch of TCUs and tiny stopper. Not much else is necessary besides a very good eyesight: the few bolts are good but so far between that they are very hard to spot.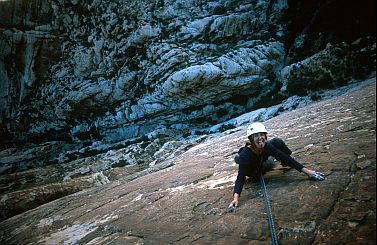 Right: Jenny taking it easy on the runout Rock Warrior. It's a lot steeper than the picture let you to believe.


The truth is, I got scared only on the first pitch. The first bolt is about 30 meters off the ground and although it's fairly easy to get to it the last moves on the slab are quite nerve wracking. And I'm still 20 meters from the belay... Two psychological tiny stoppers above and I'm getting really nervous again until I put my nose right onto the second bolt, hidden as it was behind a flake. The pitches above are a bit more relaxed: I manage to see the bolts far in the distance and just try to climb fast and without second thought towards them, sometimes finding some fixed piece or old piton or spending some time to add some poor pro on my own. The runout is constant but never insane, but the problem is deciding where to go: that face is full of tiny holds all over and there's very little chalk compared to the completely white Prince of Darkness (oxymoron?). I'm always afraid of climbing myself into some dead end. Jenny makes it all look easy by running up all the pitches. All in all it was a very enjoyable route. And I even got some taste for the 'R' by doing a lot worse in Zion. Anyway it's time to go, I think we've climbed every Red Rocks route on Jenny's Ticklist.
---