Tourism in Nepal
"Travelers will cross many rivers and climb many mountains. Plainsmen may always live within a valley. But only those seeking truth will ever reach the summit." — Anan, 11th century Indian saying.
---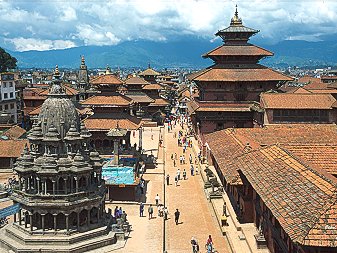 Kathmandu
OK, I'm not going to say much about Nepal. First because I don't know much about it and second because there are books (and websites) with much better things than what I could write. We were not in Nepal long enough to have the time to learn much about the country, just playing tourists around Kathmandu for a few days before going on to Lhasa in Tibet and then to Cho-Oyu. Here are just a few pictures.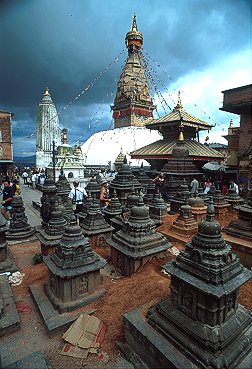 Nepal / Tibet. Katmandu / Lhassa. The same or different ? One on either side of the Himalaya. One city Indian at heart, the other forcefully Chinese. Late monsoon clouds drifting above bringing drizzles of rain. We spend some days in Katmandu, getting our gear ready in large heavy plastic drums that we roll all through the hotel, visiting Buddhist temples, sorting things out with the trekking agency. A hot an humid city, bursting with energy, cars surfing around the many pedestrians and bicycles. There we purchase our last missing pieces of equipment, try new foods, start getting sick too.
Like in many countries, the most interesting things to visit are the temples (Durbar Square in Patan, left). I wonder why... Looks like mankind has never been able to show much ingenuity for better things than religions (and war by the way)...<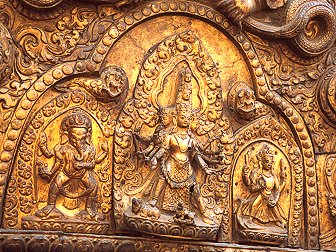 Well, I don't want to criticize one of the only place in the world where two religions (Buddhism and Hinduism) manage to coexist peacefully. Some of the temples are even shared by statues of Buddhas (Right) and Hinduist gods (left). I know more than one country that could use their example...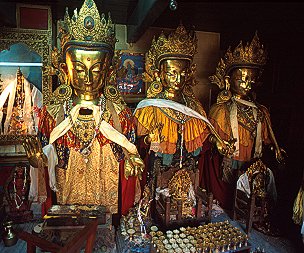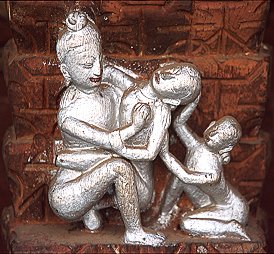 Another original characteristic of the temples there is that they often show couples doing... interesting things (left). OK, this is the country that gave us the Kamasutra, but still, I wish we had such decorations on our churches ! And if you arrived on this page through a search engine keyword thinking of free image, no such luck, but you might as well lose more time here...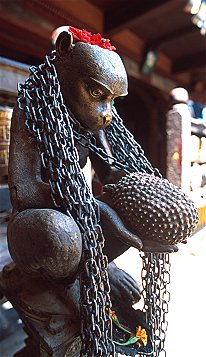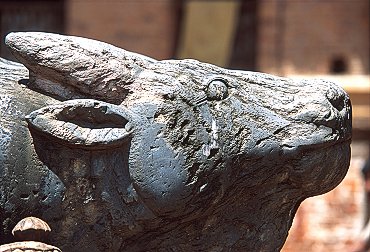 Statues of cow are omnipresent (left), and many cows still roam the city. But it's sad to think that their main food is garbage and they usually die choked by plastic bags. The monkey statue (right) looked strangely weird to me and I don't have an explanation for it or the chains around it.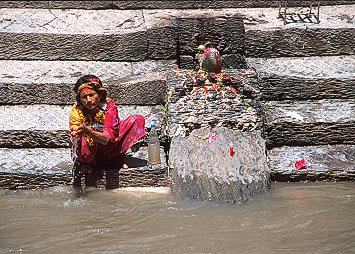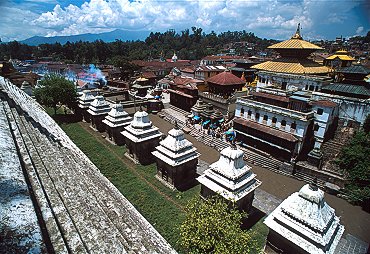 Pashupatinah is a sacred Hindu city in Nepal, where Shadus come to pray (some of them are fakes just taking the pose for the tourists' cameras and, of course, asking money for it before going to have a smoke behind the temple) and pilgrims from all over Nepal come to bathe in the sacred waters of the Bagmati river (right). Many also come to die and be burnt by the river (the smoke on the left picture). If there is not enough wood, they just throw the remains in the river, among the playing kids...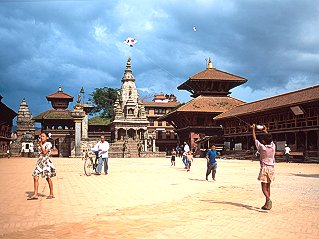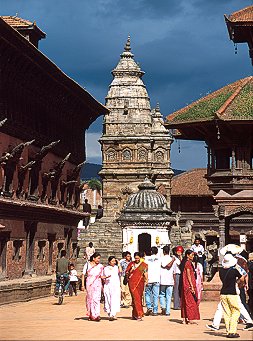 Durbar Square in Bhaktapur impressed me more than most other places, maybe for its beautiful light passing through the last monsoon clouds or the red colors or the bricks and construction wood. The rain of the monsoon had one advantage, it had chased the tourists away.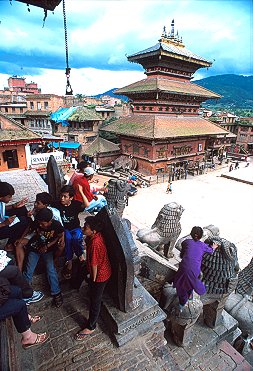 Left: There were few tourists and the kids who usually work as self-appointed and non removable guides were spending their time talking sitting on the temples' steps or playing with kites. Many kites were visible on the electric wires or the temples adornments...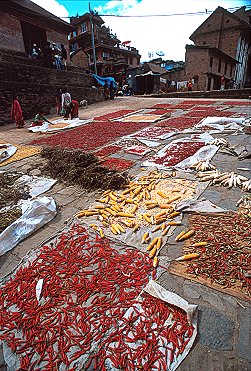 Right: The backstreets of Bhaktapur were also interesting and colorful: shops selling high-priced (and often false) Cashmere shawls, potter wheels in action, women throwing grain in the air, drying chilli peppers and corns...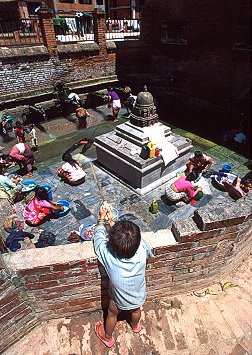 Left: Since running water must not be a common commodity, most people can be seen washing up and doing their laundry at the many fountains in Katmandu.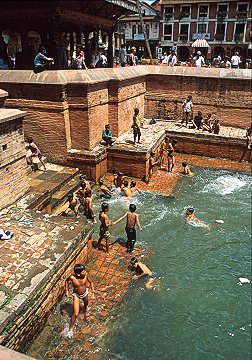 Right: The fountains are usually below street level and some of them have been filled up and are full of playing kids... and floating trash !

"10 rupees" repeated ad nauseam is a sound that seem to surround every tourist walking near the temples, kids just out of the crib getting in your legs until you give them something or you step on them, so called 'guides' who propose to make your visit 'enjoyable', street sellers who mutter 'dope' under their breath hoping for a quick sell. It's amazing how by just looking at a tourist they can figure out which language to start a conversation with. And if they fail or if you feint miscommunication, they try everything from English to Japanese and Basque, just giving you enough time to run away in the meanwhile.
And after Nepal we took the plane to Lhasa, Tibet for the second part of the trip.
---