The Vercors balcony
"The greatest thing that happens to me when I'm skiing is the harmony. The only time I was ever present in my body before was in sex, performing, drugs and with the sea. Skiing became the new and healthy way of being present — although I don't know if it's healthy, I could sever my spinal cord." — Spalding Gray.
---
Pale mountain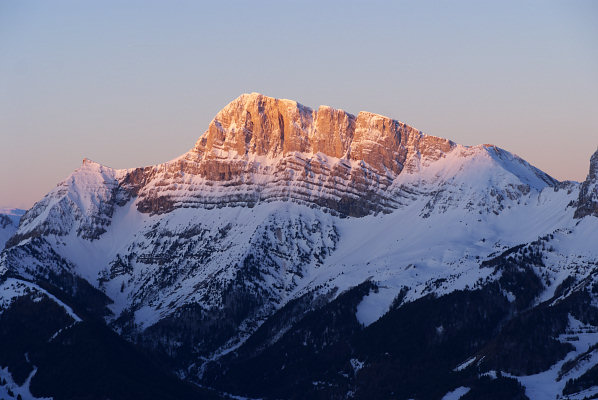 Left: Light of the rising sun hitting the summit of the Grand Veymont, hight summit of Vercors at 2341m. It's not a great summit for skiing, being usually too wind-swept.


Above: Alpenglow on the east face of the Vercors range.


Above: A panoramic view of the east side of the Vercors. From left to right: the characteristic Mt Aiguille, Grand Veymont, Pierre Blanche, Roche Rousse, Malaval, La Peyrouse, Balme, Grande Moucherolle, Deux Soeurs, Gerbier, St Michel and Moucherotte. And plenty of narrow and steep couloirs to ski in between those summits. Scroll to the right to see the whole thing ! Other high resolution images.
The summit names were determined thanks to this site.

Above: The panorama above was taken from Pale mountain, a minor summit below the east side of the Vercors.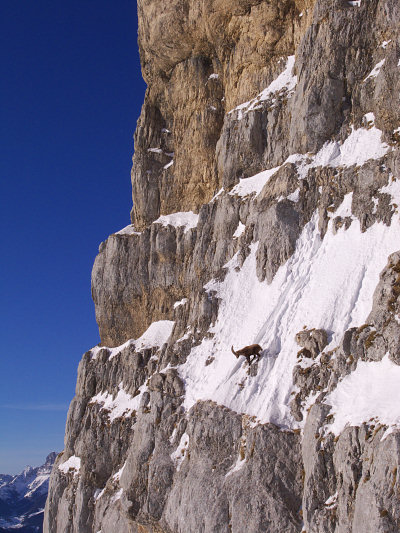 Left: Alpine Ibex on incredibly exposed terrain.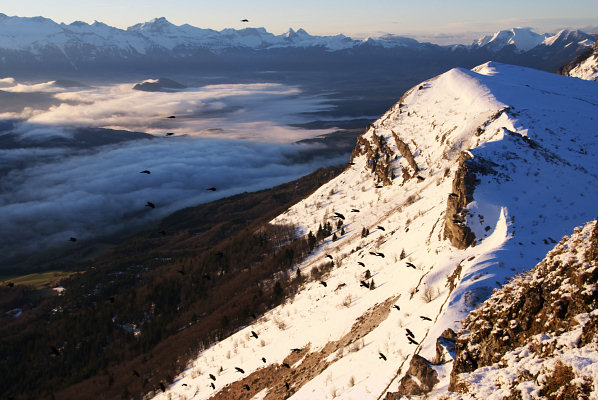 Right: Plenty of choucas (Alpine Chough) take their flight as the sunlight reaches the summit.
---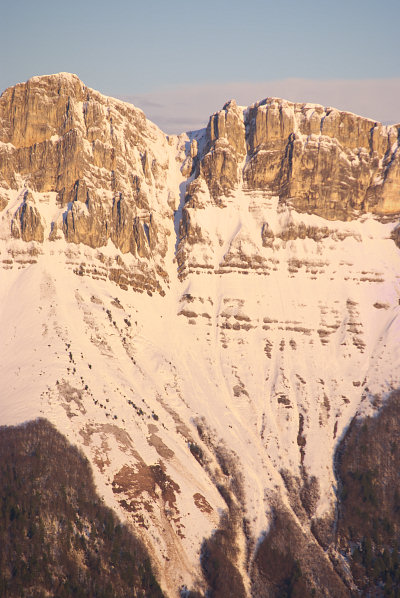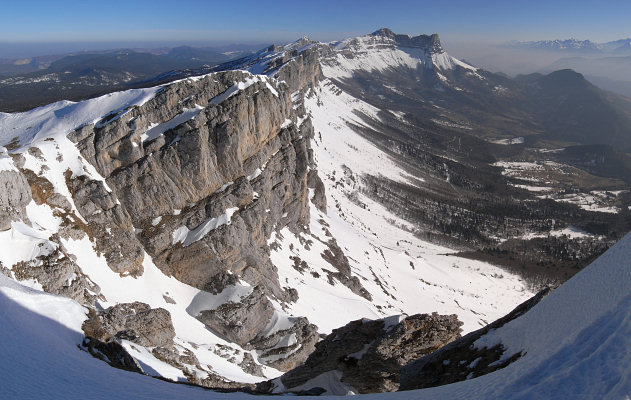 The workers' couloirs
Left: La Peyrouse snow gully. I call those couloirs the 'worker's couloirs' because of their short drive time from Grenoble (about 30~45 minutes), limited height (about 800m from the car), the fact that they face east and need to be done early in the morning (best time to ski down around 9), you can bag one and be at work before 10... So they are very popular during the week.
Right: Summit of La Peyrouse with a diving view of the Couloir and the northern part of the Vercors: the Grande Moucherolle dominates the background.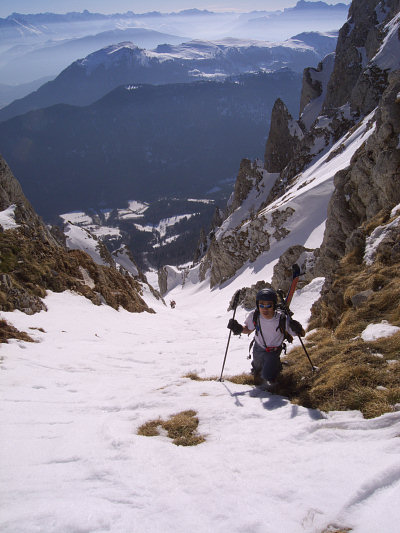 Right: Another skier reaching the summit of the Peyrouse couloir.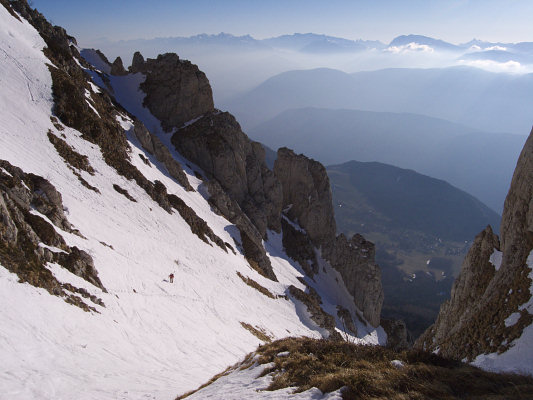 Left: Going up inside the Sultanes couloir, another great classic.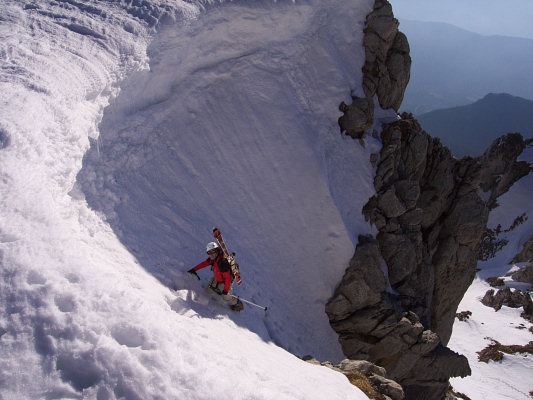 Right: The snow cornice at the summit of the couloir was hard and required crampons and pick.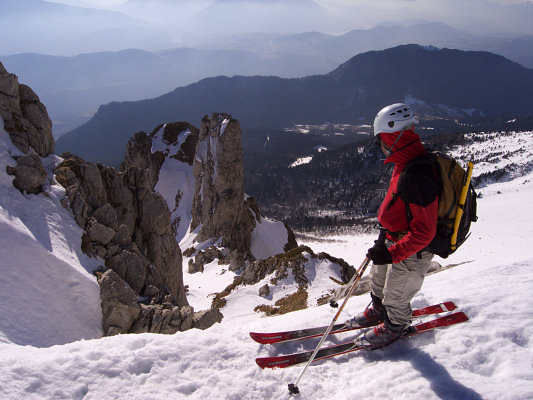 Left: Jump off the cornice or not ?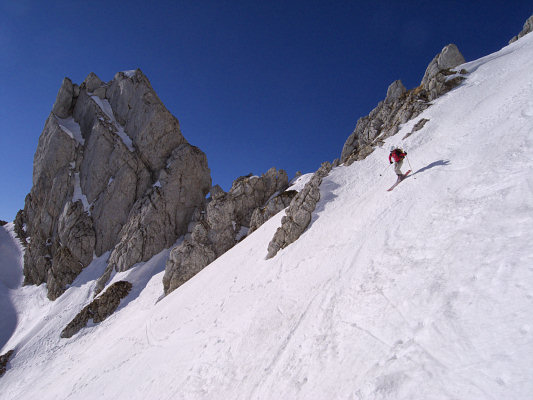 Left: Farther down the couloir, still on hard snow due to the cold wind.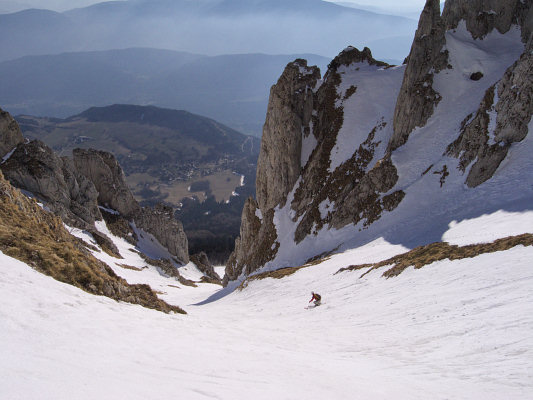 Right: Farther down, better snow conditions.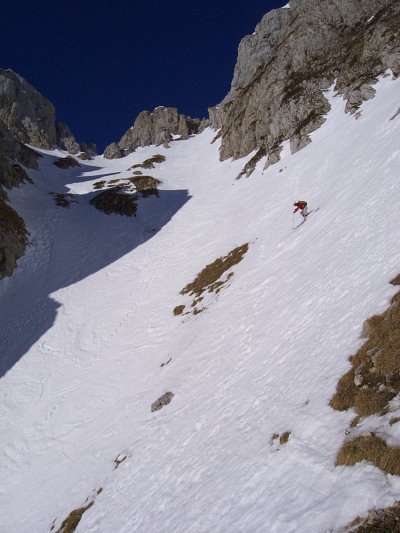 Left: The cornice is hidden behind the rocks at the top of the couloir.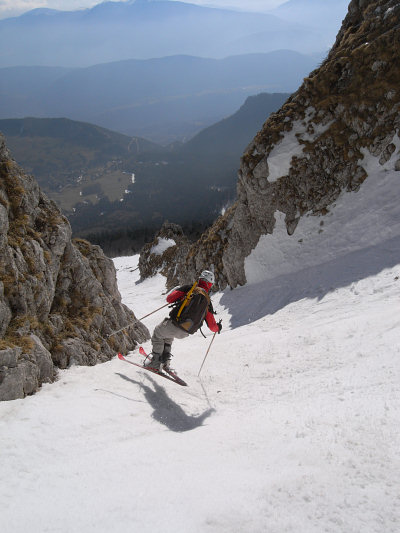 Right: In the narrow part, jumping curves go easy.
---