3D pictures
"I wanted to make...flat pictures that had depth; to find a picture by chance, yet have some control over it." — John Loengard, Pictures under discussion.
---
Riglos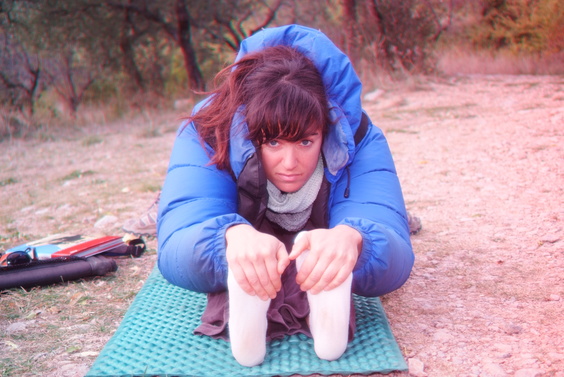 Left: Jenny stretching after a day of climbing. Note that in order to follow the standard of 'red filter on left eye', I had to mirror all those images.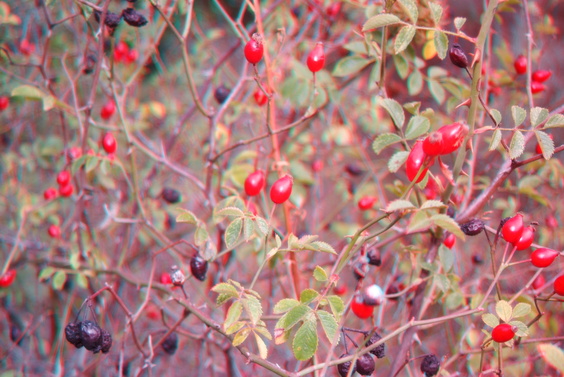 Right: Rosa canina hips. In case you are wondering what those images are about, see my penguin page which contains more explanations.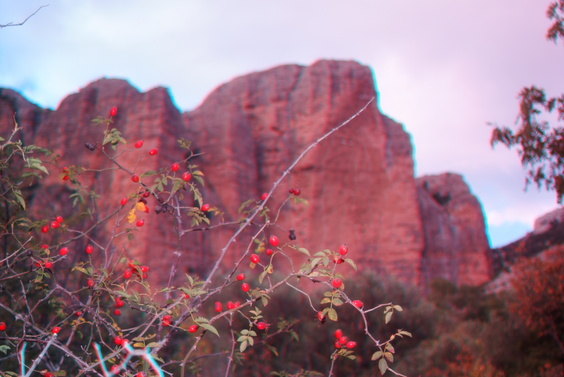 Left: Rosa Canina below the tall walls of Malos de Riglos, Spain.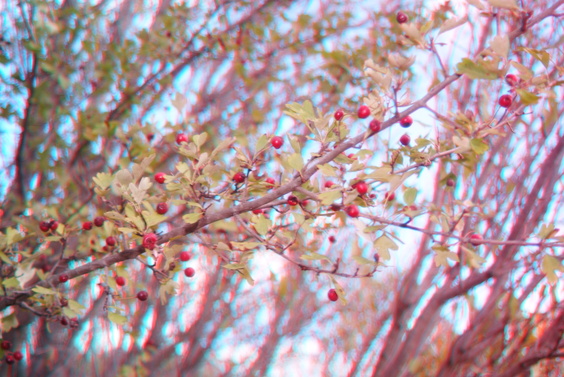 Right: Some more Rosa Canina. That's about all there was to photograph when I decided to play with the lens again after letting it gather dust for 12 years. As I mention in the other page, the way to compose and take anaglyphic images is very different from normal photography. In particular one defect is that colors close to red or cyan feel just 'wrong' when you watch them through the glasses. The reason is that one filter lets all the light in while the other stops it all, leading to an unbalanced view between the eyes. We want a slight shift, but not one seeing red while the other one sees black. So desaturated subjects are easier.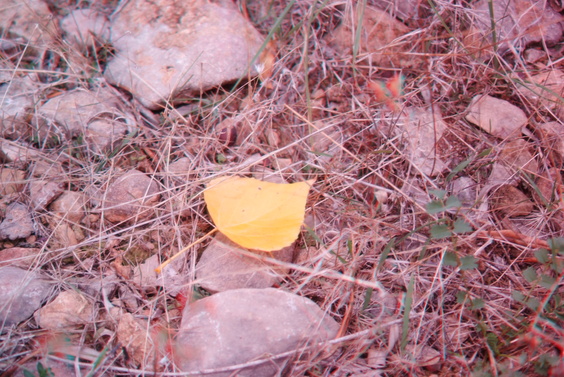 Left: On this image the 3D effect is not too sharp, probably due to the grayness of most of the background.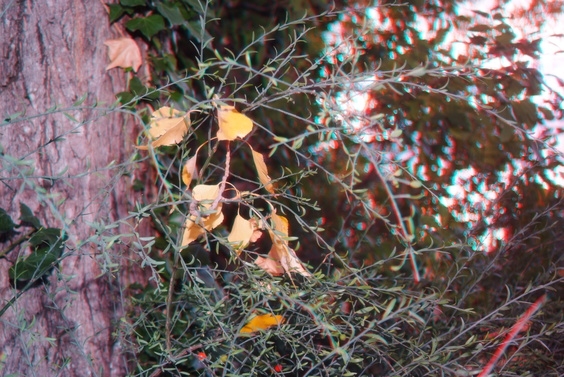 Right: A large difference between foreground and background, always using full aperture on the lens and focusing slightly behind the foreground elements is the best way to maximize the 3D effect.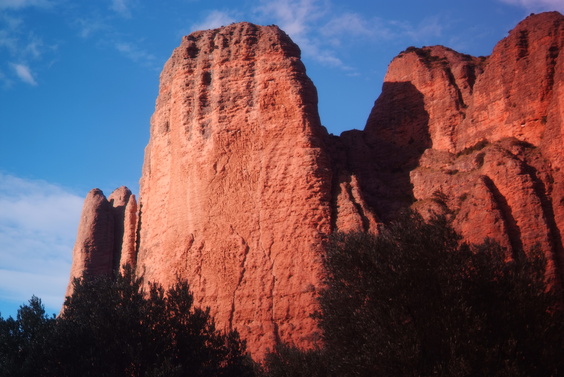 Left: 3D anaglyphic images are pretty much worthless for landscape images. At least with stereoscopic images you can play by putting the lenses farther away from each others than the normal eye separation. But with an anaglyphic lens, you are pretty much stuck to the diameter of the diaphragm.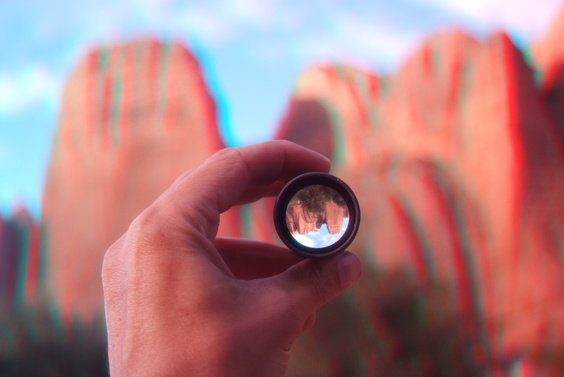 Right: Trying some tricks to artificially create more planes of focus.
---
---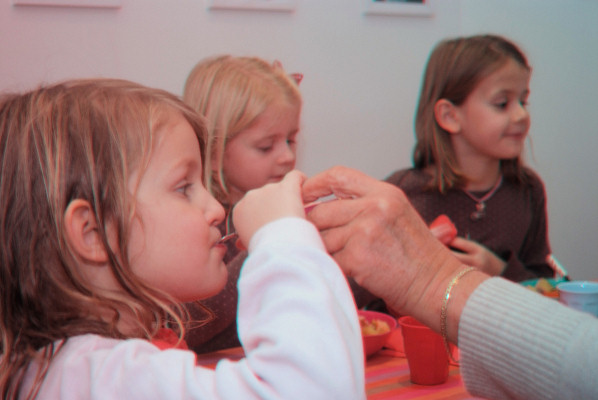 Some portraits
Right: I selected 4 of the best 3D effects from a gallery of family portraits (they are mirrored on this page, but straight on the gallery, so you need to reverse your glasses). On this one the focus was done in between the 1st and the 2nd kid, so in fact none of the image is in focus except maybe the glass on the table.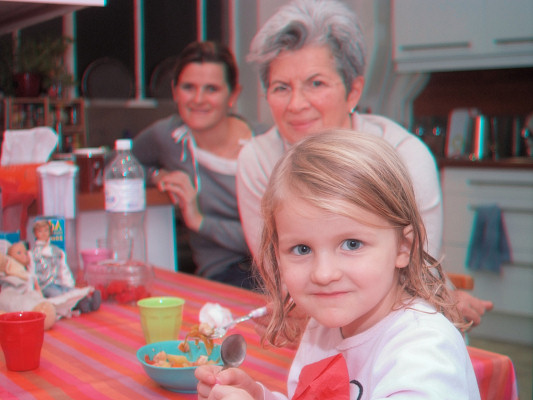 Left: An example with a lot of details going on in the background, giving a lot of apparent depth. Each of those images had to be manually checked for shite balance.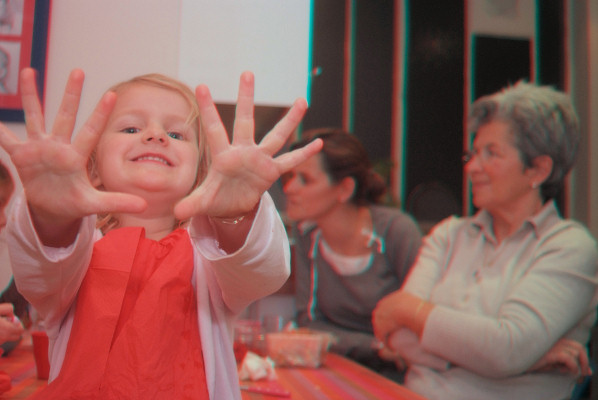 Right: One of the best effects: focus on the face, with the hands jumping at the viewer.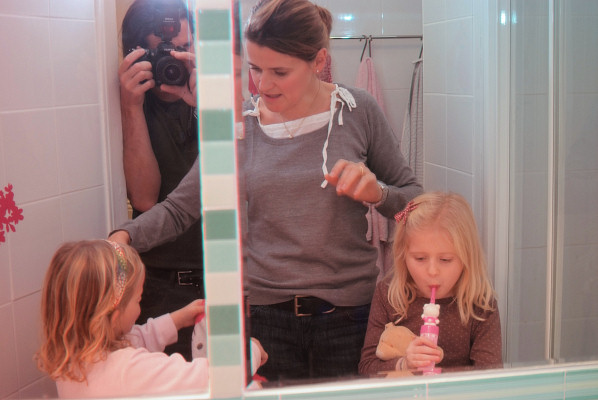 Left: Not much room for the photographer, so I used the mirror, where the edges provide additional 3D depth. Hmmm, yes, I'm focusing manually: the AF is shot on this lens which was the original reason why I played with it by transforming it into an anaglyphic lens.
---