Beach bouldering in Bretagne
"To talk much and arrive nowhere is the same as climbing a tree to catch a fish." — Chinese Proverb.
---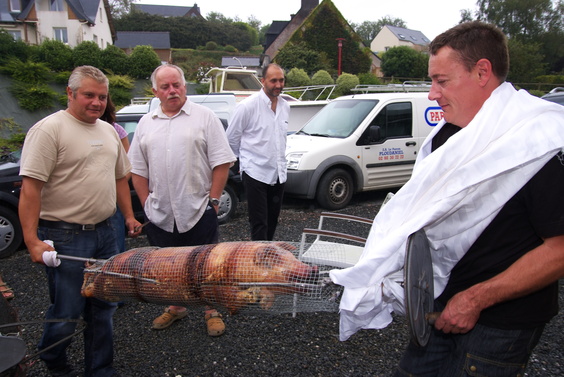 Meeting from the cold
Left: Four antarctic zheros and one unfortunate pig.
Has it been 5 years already ? Yes, 5 years since we wintered over at Concordia in the middle of Antarctica. A couple weeks ago Stephane spent a night at Jean's place, and after some local preliminaries (chouchen, cider, calva...), they sent out emails to all the old-timers of the first winterover, inviting us for a BBQ. Of the 13, 3 couldn't be reached and one declined on grounds of distance and one had the excellent excuse of still being at Concordia (forgotten there?). Also invited was an unfortunate pig.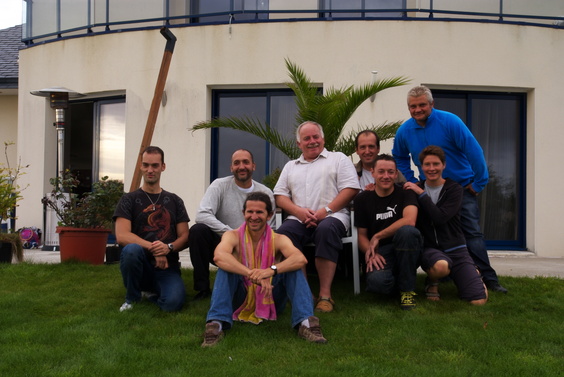 Right: Leftover from the DC1 team: Pascal, Christophe, Jean-Louis, Michel, Stephane, Jean, Claire and me.
I'm surprised at how little we've all changed.
---
---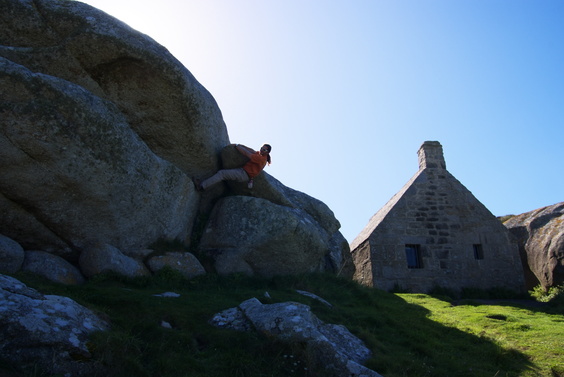 Bouldering at Kerlouan
Right: Climbing next to the Meneham lookout above the beach.
The beach north of Kerlouan, which is itself a couple km north of Brest, has thousands of granite boulders and rather under-developed climbing. The rock has sharp crystals, many of which are brittle under the climber's feet or finders. At rapid tides and barnacles hiding the holds and you have all the elements for some adventurous bouldering. We spent the day climbing without seeing a single other climber, never mind the hundred other tourists.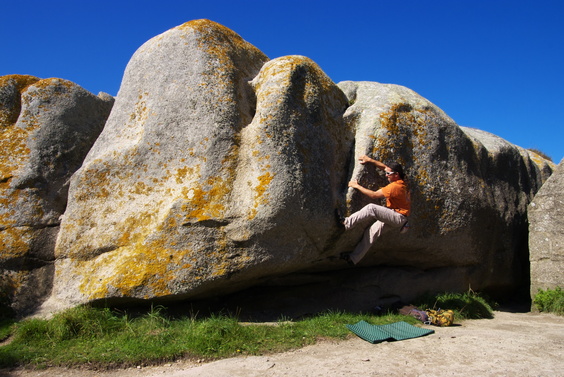 Left: Crack problem next to the lookup.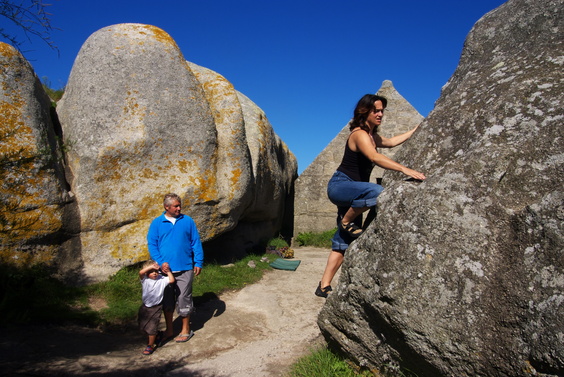 Right: Jean and son watching Jenny on a slab.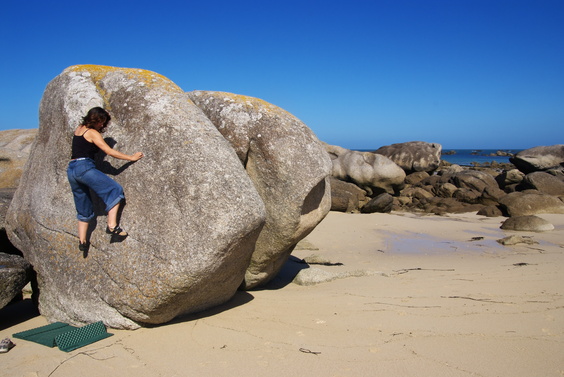 Left: The low tide reveals many boulders.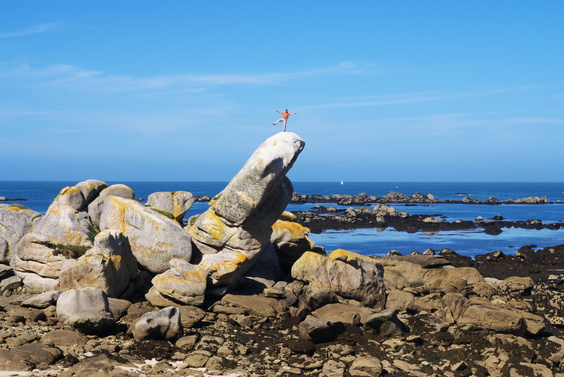 Right: The tallest boulder around, hence the highest idiot in the area.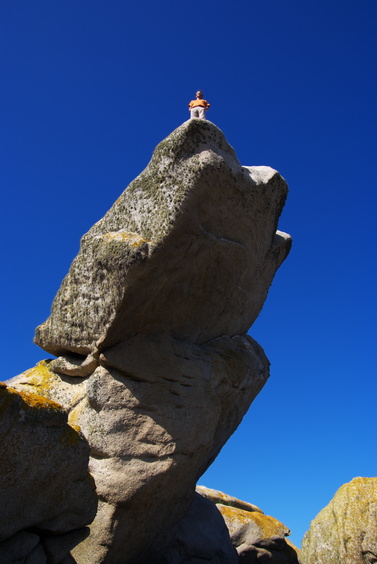 Left: Interesting looking but hard to reach diagonal crack underneath.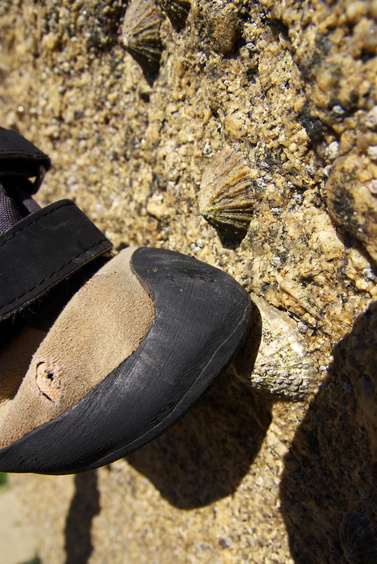 Right: Some of the lower boulders are completely covered in barnacles
I'm not much of a boulderer, but I manage to discover and have fun on over 20 problems. Located at the eastern tip of France the area is not for from Britain (the Great one) by ferry. We were also impressed by how clear the sky was: very blue during the day and packed with stars at night. That is when it wasn't raining like the first day. The sea was a bit cold for us, although that was no issue for Claire who took her daily swim.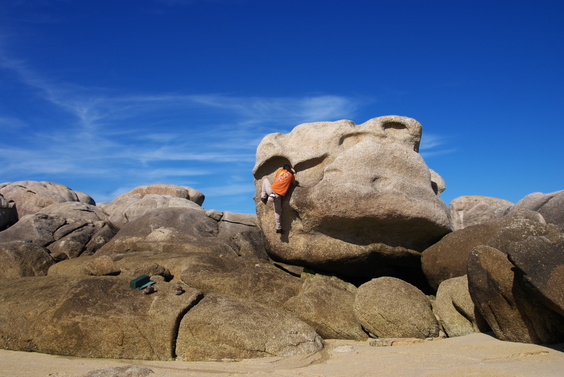 Left: Boulder shaped by a combination of wind and tides.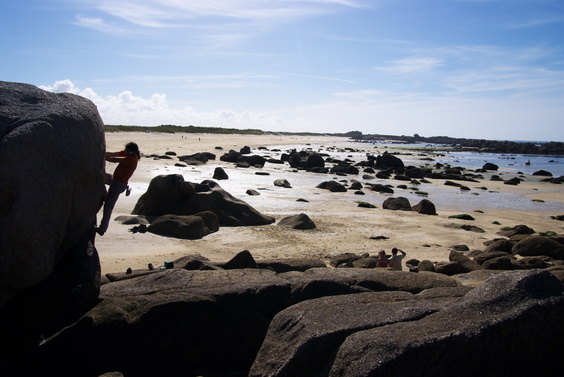 Right: There are several groups of boulders spread over an area several km wide along the beach.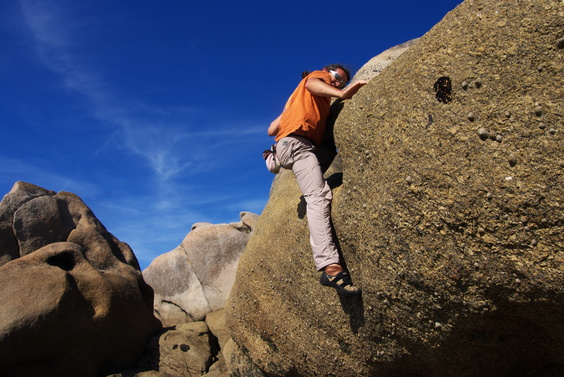 Left: Boulder completely covered in tiny barnacles. Very sharp crack for a jam.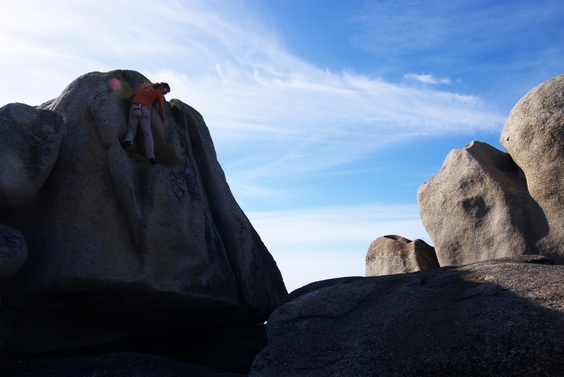 Right: Highball problem with dicey mantle exit.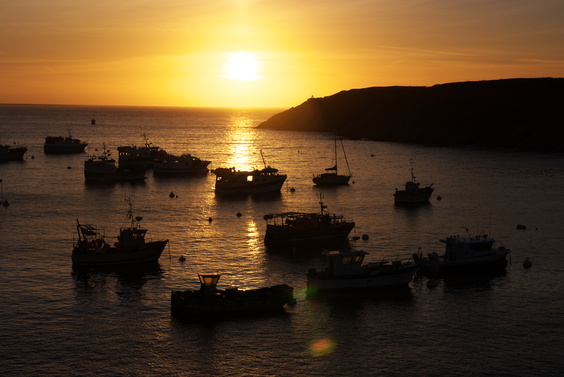 Left: Sunset over Le Conquet, a nearby fisherman's town with some restaurants.

---