Climbing Cho-Oyu
— No Sherpa, No O2 —
"Life is brought down to the basics: if you are warm, regular, healthy, not thirsty or hungry, then you are not on a mountain... Climbing at altitude is like hitting your head against a brick wall — it's great when you stop." — Chris Darwin.
---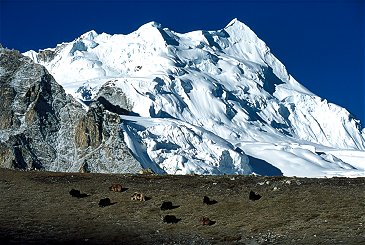 Getting There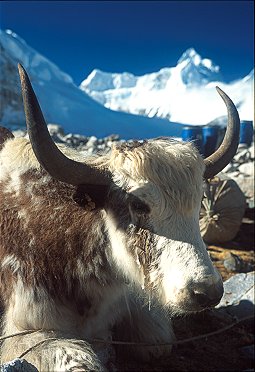 Right: The yaks grazing on the moraine dominating the glacier in the morning at Intermediate Camp, on the walk between Drive Camp and Base Camp.


After having survived the training by biking in the smoky roman air, the accident that burnt all our gear and earthly possessions, the airport with an extra ton of luggage, the blood-red water in the showers of the Kathmandu hotel, the fake Tibetan but real Chinese guides in Lhassa, the muddy (and sometimes underwater) road to Tingri, the DongJiu Chinese alcohol (or was it jet fuel ?), here we are at the Drive Camp (UTM 45R 0460493/3127502/4826m), last place reachable by car as the name implies. It's Monday 28th august 2000 and the expedition we've been preparing for two years is only really starting. The Chinese official link tells us we are the 2nd expedition; a mixed Australian, French, English, Polack group is already here. It will take two days to round up the yaks. Not a bad thing since half of us are suffering from a cold, the altitude, diarrhea or all that at the same time. Above the camp are the ruins of a small fort that used to watch the Tibetan side of the Nangpa-La pass, now officially closed by the Chinese but still in use by many yaks, pilgrims and refugees.
Left: A yak with icy tears in the cold morning air at Base Camp.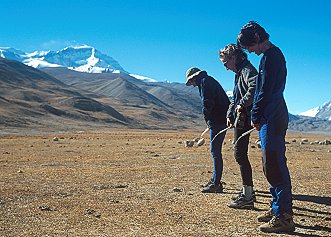 On Tuesday a small group of us walks up the mountain above the camp. We reach 5600m and for some of us it's the record altitude already. The Campas (or another ethnia, the Tempas), nomads from Tibet, are herding some yaks for us. They are all armed with foot-long knives and look impressive with their braided hair in which they add yak hair, red wool, turquoise and bones...). They were the only ones to try to physically resist the Chinese invasion of Tibet in the '50s. A young one comes to us in the evening: one of his many golden rings is too small and his finger has swollen. It takes a while to file it open (the ring, not the finger !).
Right: The women trying out their 'Freshette' penises.
On Wednesday we weight the plastic drums. They must be 30kg each, no more, no less. For hours we change items between drums, close, weight and reopen them... The women are all trying out their Freshette system and are pissing, standing, everywhere, particularly in front of very surprised Koreans who have just arrived (right) !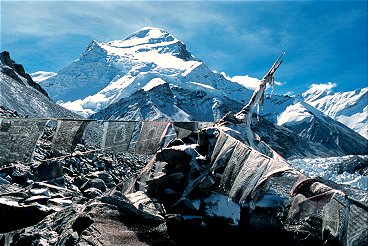 Left: The Cho-Oyu dominating Base-Camp where old prayer flags are still in place from previous expeditions.

Thursday, last day of august. Finally we begin to walk. We cross the icy river in our underwear; water melting a long way off the summit of Cho-Oyu running ankle deep ! Jenny has a strong headache. Others are also slow and arrive late at the intermediate camp. Everybody but me is loading up with Diamox. The next day she's better and I run ahead to be with the first yaks. I walk alongside our cook who is carrying our guitar ! I stop 15 minutes to have lunch and enjoy the view above the impressive glacier. When I catch up with the lead group of yaks, they have already reached base camp and unloaded the drums in a place full of yak shit. Hmmm, it's either stay here or move the drums. I start pitching the tents with Agostino and as the members of the expedition trickle in, they are either disgusted by the place or go to sleep at once, glad of the pitched tents. Just as we are trying to decide whether to move the camp, the Koreans arrive one day early and take the cleanest place. Too late, we'll stay where we are. The Koreans have come directly from Drive Camp in a day... meaning they have sent their sherpas ahead and they are scattered all over the trail. Their entire stay will be like this: "faster, faster !". They have 2 weeks only and then they must go to Shisha-Pangma. Those who can't follow the pace are usually found half-dead along the trails.
---
Panorama

Above: A 360 degree panorama taken from the intermediate camp before base camp.

Above: A 360 degree panorama taken from base camp. Cho-Oyu is visible on the right of the big hill that dominates the camp.

Above: Base Camp located on the moraine right of the glacier, as seen from Camp 1. The Nangpa-La pass is on the left.

---
Base Camp
On saturday we fix up the camp, setting up the large tents, clean up the shit, move the bathroom tent around a few times since nobody wants it next to his own tent ! It takes me a while to understand why the GPS says we are in the middle of the glacier while we are conveniently located on the edge of the moraine: there is an error on the vertical grid of the map for the UTM scale (German map 1:50 000), you must change 3110 with 3109 and 05 with 3104 and so on. With this the base camp is at 0460658/3110747/5730m in the UTM 45R system (or E86°35'59"/N28°07'18").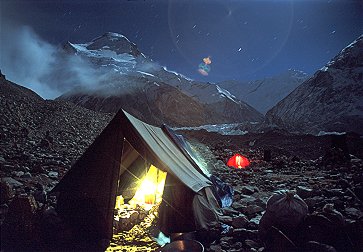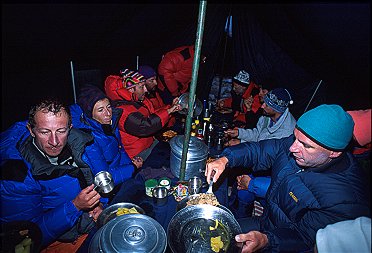 Left: Base Camp at night, with our kitchen tent up front


Right: The mess tent where we pile up on each other every evening for dinner. The food was good (if not very varied) but the temperature was low enough to send us to bed half-frozen every night.
On sunday August 3rd we start preparing the loads. With Agostino we climb a prominent gendarme 200m above the camp to take a couple pictures. We setup the solar panels and the communication system (for what it's worth). Mariassunta, our doctor, arrives from Drive Camp with Massimo who was too sick to come earlier. He starts taking radioactivity measurements on the glacier and soon concludes that this place very nearly glows in the dark. We try out the high altitude tents, 4 large ones (3 people) and 4 small ones (2 very thin midgets). Our cooks hold a tibetan ceremony and we attach prayer flags between the tents. We drink tea in a circle around a stone stupra with some offerings on it. A while later we are invited by the Koreans to their own ceremony. A good occasion to drink Coca-Cola and eat some strange but tasty fruit bars. We retaliate with some strong liver sausage that they eat with the skin on !
---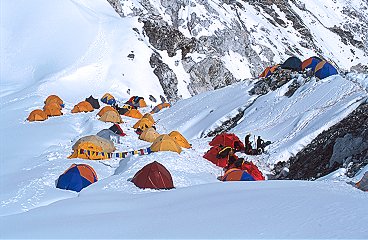 Camp 1
UTM 45R 0463241/3109072/6430m
Left: The tents of Camp 1, sheltered behind the rock ridge. In the background you can see the trail leading to Camp 2.
5 september — First trip to camp 1. We have heard that there is not much room for the tents, and the Australians and Koreans (well, their sherpas) are already going. It takes me 3h15 to get there, hoping to find a good spot. There are already tents on the rock ridge, but there is a very nice spot just below, protected from the wind. 20 seconds later, a sherpa arrives with a tent in his arms... too late. Agostino, Francesco, Berni, Paris, Tonino, Michela and finally Alessandro arrive with their respective loads. We mount the camp and head back down. No, wait, I can't find my GPS ! It was on my backpack while I was settin gup camp and must have fallen among the rocks... or the Koreans setting up camp next to us may have taken it... I get back to Base Camp angry as hell and rush to the Korean tent. Nobody understands a single word of the 4 languages I try and I have no choice but to cool off. Tonino comes back down but can't get his breath back, we put him under oxygen for a few minutes, the only time we will use it. The next two days we take a rest, everybody has been through a lot and the fact that we had to rush to get good spots at C1 had us stressed out. Now things are better: whoever wants to do the trail to camp 2, feel free...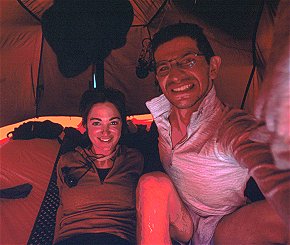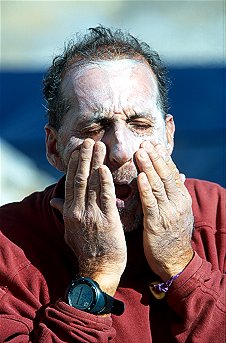 8 september — Back to camp 1. I'm with Jenny on the moraine of the glacier but she's not so well, can't get the headache to go away. At the base of the killer slope she hides her boots and gives me her load: a large bottle of oxygen destined for Camp 2 and some gear. I go up the so called killer slope with a 25kg pack in 1h15, my record !!! She goes back to Base Camp, angry and bitter of not feeling better. Agostino greets me with a grin when I arrive: he has found the GPS among the rocks. I write a message to the absent Koreans to apologize and spend the night at C1 with Berni and Francesco. Berni has a summit dream but he refuses to tell us who was on the summit.
Right: Jenny and I inside one of the 3-person tent at Camp 1. Those tents were resistant (resistent?) but heavy and dark inside. The fabric would cover with ice every night.
Left: Giorgio, the big boss, putting on his beauty mask.
---
---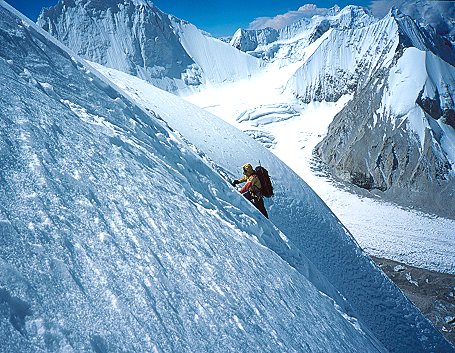 Camp 2
UTM 45R 0464962/3108720/7129m
Monday 11th, back to Camp 1, and then off to Camp 2 on the next day with Berni and Francesco. The serac that is the crux of the ascent already has a fixed rope on it, a piece of nylon I wouldn't use to tie up a yak with. Berni arrives much before us and has prepared a platform for the tent befor going back down. I pitch it while Francesco recovers. Back down to camp 1 for the night. I'm happy to see that Jenny is there and spends the night with me. She brought gas canisters and freeze dry bags. During the night, with a headache she keep turning in her sleep, and wake me up every few minutes.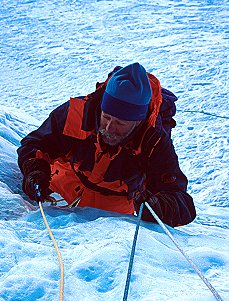 Right: Going up the serac between C1 and C2. (Photo Enrico Bernieri)
Left: Paris climbing up the serac (Photo Enrico Bernieri)
The next day I head back to camp 2 while she goes back down. Since the climbing gear (ascender, biners, harness...) is only useful to pass the serac, I leave it on its top. I will never see it again. I takes me 5 hours to reach Camp 2 and when I arrive the 3 Koreans already there are restless. I overhear their conversation with their 2 sherpas and they want to go to the summit right the next day. The sherpas aren't too keen on that and ask me if I have an extra tent they could put up and use at camp 3. No problem, right out of the pack, here. They offer me a very spicy and good freeze-dry. I've already gone through all the different tastes we've brought: why only 4 different ones, I'll never know. Back to Base Camp for 2 days of rest while others will manage to reach Camp 3 and pitch a tent there. Agostino comes back without a face: he went to C3 without suncream ! Pieces are peeling off all over.
16 september — Night at C1 with Francesco, Alessandro and Jenny. There's some wind during the night but the tents are well sheltered.
17 september — In the morning Jenny and I start for C2. We are heavily loaded (tent, sleeping bag, mattress...). Jenny has not slept so well and does not go far. I'm not in very good shape either, it takes me 7 hours to reach the camp instead of 5 last time. The trail has been mostly covered by the recent snowfall. I arrive there for my first night at camp 2, alone. It takes me a long time to decide between the 4 different bags of disgusting freeze-dry food but I spend a good night.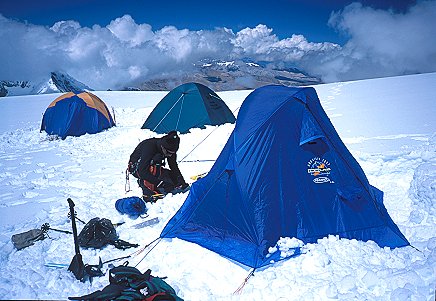 18 september — Nothing to do today but rest and psych up for the summit. Francesco and Berni are coming up today. Berny is bringing dry sausage, ham and other such delicacies. I'm eagerly expecting him. Francesco arrives quite tired and a few hours later somebody arrives with a message stating that Berni didn't feel well and went back down. I look at the freeze-dry bags with disgust grunting in my belly. Francesco eats 5 soups instead. The tent is really too small for two; we squeeze against each other and sleep snuggled tight. In the morning both layers of fabric are completely covered with hard ice which falls on us at the slightest move. It's like a B&W movie comedy of old: I can just imagine Chaplin having to open the door of some tiny ramshackle house to put his jacket on.
Right: Me setting up the tent at camp 2 (Photo Francesco Martinelli)
---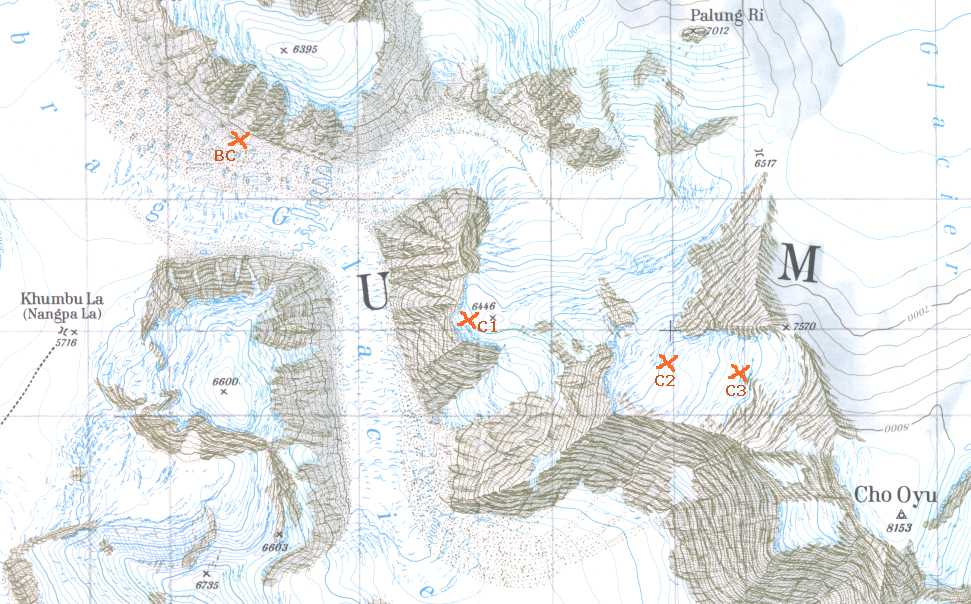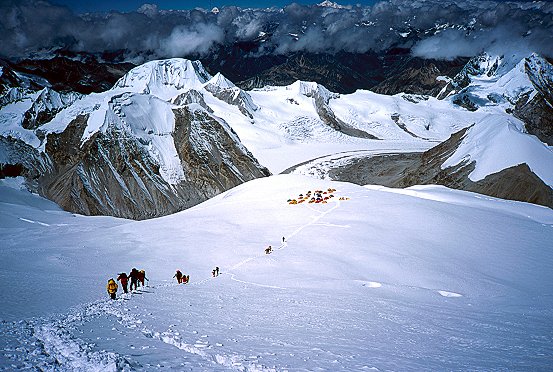 Getting Ready
Camp 3: UTM 45R 0465663/3108476/7522m
19 september — The day of the big decision. In the morning the camp is suddenly noisy thanks to a big commercial expedition with plenty of sherpas. The sherpas are carrying everything for the clients, even their water-bottles !!! Some clients want to go up (namely two kids from Chamonix with their snowboards), but the big boss sends everybody down. There is no trail above camp 2, lots of snow and thus some risk of avalanche. With Francesco we feel good, but if we are only 2 people for more than 1100m of breaking trail at such altitude, we won't go far...
Hmmm... Let's go socialize ! The only sherpa at the camp does not want to go with his client, probably thinking he'd have to do all the work to the summit. 3 australians are ready to go but they don't have a tent at C3 yet, so they are undecided: start at night from C2 ? go to sleep in somebody else's tent at C3 ? Nobody else is around.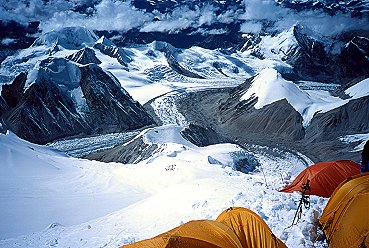 Right: Going from C2 (visible below) to C3 (Photo Enrico Bernieri).
Left: A view of Camp 3 (Photo Enrico Bernieri)
The big decision awaits the afternoon. We speak with base camp on the radio but the decision is truly ours. Francesco and I will break the trail to C3 and go sleep there. The Australians, the 3 MAs (Mario, Matt and Marc) will join us and wake us up at 2 in the morning. They'll do the beginning of the trail to get even with us. Let's go !
The fog settles just as we leave the camp. We criss-cross the slope up a fallen avalanche to avoid deep snow and a possible side avalanche. 3 hours later, still in the fog, we get to our tiny tent up the little promontory of Camp 3, 7522m.
Melting 4 liters of water takes 3 hours, the stove does not seem to work well in the low pressure + cold. We dress up in our Valandre down suits, eat a soup and a freeze-dry and go to bed all dressed up with our boots on, Himalayan cow-boys.
---
---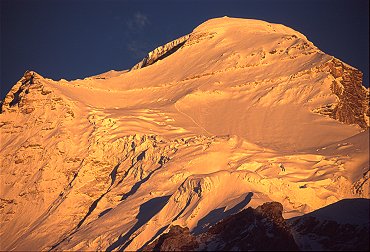 The Summit
20 september 2000 — I sleep like a log and wake up in the same position I fell asleep in. Just a quick tea, time to tie up the heavy One-Sport/Millet boots and off we go. Since there is no hint of a trail and we don't know where the fixed ropes are, we decide to cross the rock band on the left, at it shortest section. We go up a bit and start traversing to reach the gap. I'm sleeping on my feet, trailing behind the Australians and often fall in the snow, sound asleep, time for them to do 50 meters.
Right: Sunset on the summit. The trail between C2 and C3 is clearly visible, as well the serac above C1.


When we get to the snow gully in the rock band, Mario starts going up in chest-deep snow. The slope gets quickly very steep, above 60°, and looks like it gets much worse. The raising moon gives us a hint of what's below, a long, long slope with some crevasses way down... He stops under some vertical mixed and I start to traverse some meters below to try a bit further. The slope is more gentle, but the light powder snow still chest deep and my crampons rattle the rock underneath. I manage to anchor my only axe in the invisible rocks below the snow. 10 meters like this and I get onto easier snow. I turn around and I'm almost surprised to see the others right behind me; right, we'll make it.
From now on, everybody does 50 steps on the lead and collapses in the snow to let the column pass by. The little exertion of the rock band has woken me up and I feel better, go faster. But I still fall asleep, curled up in the snow, each time my lead finishes.
We climb sideways up a very long slope, a bit worried about avalanches. But it's cold after 2 days of sun, it should hold. Or so we hope.
Finally we get to a little platform, far above camp3. The moon that's been watching over us so far leaves the place to the first lights of dawn. From now on it's straight up, there's even a fixed rope for a good 100m even though it's only 40°. It brings us, ever more slowly, to a large ledge from which a long slope full of sastrugi seems to finally arrive on the summit.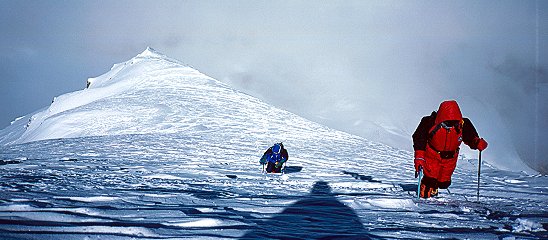 By that time only Francesco and I are still taking turns leading. We get to the top of this slope exhausted by those damn sastrugi that keep breaking under our feet and we are ready to think that it's over just when we see 'the summit' still a long way off. We stop and rest for quite a while. I eat some dried yak meat and finish off my first water-bottle. The 3 MAs seem undecided; we are tired but we start going towards 'the summit', a nice looking ridge. It's closer and smaller than it had looked like from the edge of the plateau, but I'm walking in snow knee-deep with a nasty crust on top. Just as are about to step on the summit our hearts sink: we can see the other side of the plateau and it is much higher... I see the 3 MAs are following us and I shout to them: "This isn't the summit"; they seat down dejected...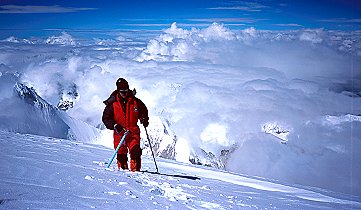 Left: Our little group on the wind-swept slope below the summit plateau. Sastrugi were not making for an easy trail... (Photo Francesco Martinelli)
Right: Me upon reaching the summit plateau at about 8000m asl. Notice how deep the snow is ? (Photo Francesco Martinelli)
I can't keep it up anymore, but Francesco starts trailing towards the other side of the plateau. I remember hearing that the summit plateau is about one km large... It takes me 15 minutes to do about 50 steps... And some clouds take form on the other side of Cho-Oyu, masking the sun and also making our destination very uncertain. We get to a first hill and see 2 or 3 higher ones still further. We chose the highest and keep going. I can't even keep up with Francesco in this heavy snow, 30cm deep. After 2 hours I reach him on top of a small hill, and still there is a higher one behind. He's sitting in the snow and when I suggest that it's enough, he nods and we sit for a while panting. It is said that you can see Chomolungma (Everest) from the summit but not with this fog... I check the GPS: UTM 45R 0466696/3107867/8186±3m. 15 meters missing. Fuck it, it's 13:20, we can't see where to go, let's have a chocolate bar and head down. We take the customary summit pictures (which I'll never see, more on that later) and start a direct trail to go straight down.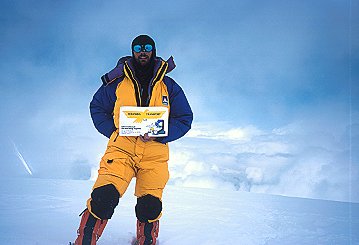 At first I keep falling down exhausted. I take a Diamox, my first one ever, and hope it takes effect fast (indeed, my fingers start tingling... the day after !). As the slope gets steeper I go down better and faster, half walking, half sliding on my butt. At the bottom of the fixed rope I see a bunch of snow-stakes and I go have a look. Indeed there is another fixed rope going straight down to camp 3 through mixed rocks and snow, but it's covered by the snow. I remember we gave our 200m of static line to the sherpas of the Koreans a week before 'cause they were in so much of a hurry to go to the summit. That's where they must have put it. Good. I don't have a harness and just take the rope under my left arm while I fish it out of the snow with my other arm. In 15 minutes I'm on the snow field above camp 3. At about 15:00 I'm there, immediately falling asleep with my crampons on. Francesco arrives even more tired than I and decides to sleep there. I head out again, going down to camp 2, but half of the descent is spent sitting on my butt trying to recover some strength. When I get to camp 2 I eat a quick soup, leaving the filthy freeze-dry in the bag where they belong, and manage to radio a victory (?) message down to base camp, thanks to a Spanish expedition nearby, our radio being its usual self: non working.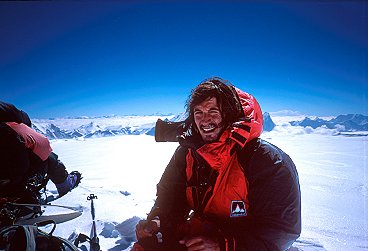 Left: Francesco on the summit holding a sponsor's tag. Unfortunately it was a bit too cloudy to see Everest properly.
Right: His brother Agostino on the summit 4 days later. Everest is right behind him ! (Photo Agostino Martinelli)
21 september — Francesco wakes me up before the sun has arrived and it's cold has hell. He wants to change in the tent that's no bigger than a bathtub. So I'm outside freezing my butts off. I put my boots on and start going down to Camp 1. He joins me a couple minutes later. We find the stockpile of ham and sausage left by Berni in the middle of the trail. We quickly change, refuel and head down to Base Camp so we can arrive before lunch. 15 minutes from the camp I meet Jenny, waiting to congratulate me and, more important, to carry my pack ! Time for a big kiss with chapped lips and a stinky hug. Soon at base camp it's the explosion of questions, particularly since 6 of them are just ready to go attempt the summit and are strung as violin cords. After some explanations, a check list of missing gear and food, off go Berni, Tonino*2, Alessandro, Agostino and Paris. I don't know why but that night I can't sleep at all, I'm not even particularly happy: no true summit and no view. Bu it's good (and warm) to hug Jenny.
---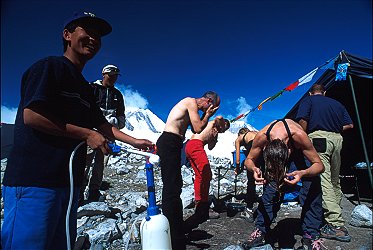 Then What ?
Then what ? As they say it's all downhill from there... I spend some time visiting the base camp and talking with some of the many (23 ?) expeditions: Spanish with their chorizo, Australians with their top of the line electronics, Koreans with the heap of trash left after their departure (they were in so much of a hurry to go to Shisha-Pangma they probably did not have the time to pack it up a yack, yeah right)...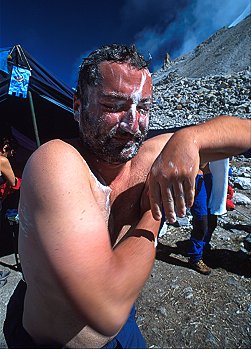 Right: Back from the high camps, a general clean up on a sunny day with a pump shower activated by Purba, the Sirdar.
Left: Michele washing up (not a luxury). I won't quote any names, but some members of the expedition never washed of the entire period (not even hair or teeth...)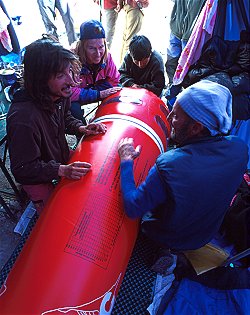 Right: Tonino, suffering from a cold, is put into the pressure tank for the afternoon so he can rest better. One has to keep pumping to send him fresh air and a pressure valve ensures that the inside altitude reaches about 3500m instead of the high 5700m of Base Camp. He also spent some time writing a diary (in Italian

).
On the 23rd the 5 women leave for C1, 3 of them bound on sleeping there (my Jenny, Mariassunta the doctor and Michela who wants to be closer to Berni currently at C3). The night is very cold, as well as the following day. Mariassunta and Michela stop and turn back under the serac; Jenny keeps going alone to delver her load to Camp 2 and then heads back to sleep at C1. On that same night Berni, Agostino, Tonino and Paris are trying to sleep in Camp 3, a very cold and windy night. The tiny shitty tents that we were offered for the expedition cover up with ice worse than ever. Tonino and the tall Paris are cramped in one of the tents when the entrance collapses, they end up without place to put the stove or their gear and can't make any water. Although there is plenty of people (and sherpas), nobody wants to do the trail in the early hours of morning. They all wait till after 5:00 but Tonino and Paris are too thirsty to go. Berni is not much better off and turns tail soon after leaving, frozen. No less than 30 people follow our trail to the summit while the wind blows snow sideways. The previous day 2 persons had gone to the summit, but like us they walked for 2 hours on the plateau without finding the true summit.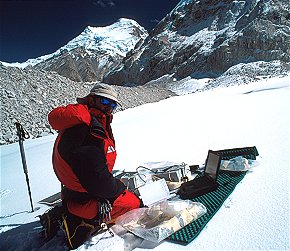 Through our binoculars at base camp we see about 30 people go to the summit (or at least to the summit plateau) and wonder if ours are among them. It turns out that only Agostino made it to the true summit. He started late and passed a lot of people using oxygen on the way up. From the bottom we see two surfers cut largely across the avalanche slopes. They are lucky. All of the climbers of that day will say that they reached the summit while the reality is not quite such. One will go as far as say that (s)he skied from the summit while we can clearly see the ski track start from camp 3 !!! While going up the serac Jenny meets a guy who later said he was on the summit at that time. Right. The next day she comes down from C2 but she has no news of Agostino. Later others say that he arrived at C2 half blind. We are getting ready to go fetch him when he shows up at base camp, saying he slept late. Time to party.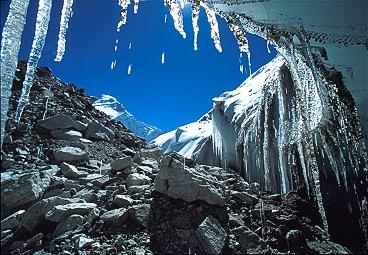 Left: Berni taking radioactivity (namely Cesium 137) measurements near the Nangpa-La pass.
Right: Inside the glacier down from Base Camp


Well, not everybody is partying. 4 Germans of a guided party come back with frozen fingers and toes that will need to be amputated. We talk to their guide and he sounds like it's no big deal. German philosophy of life probably. Life goes on at base camp with various events from the insignificant (the Campas selling us some dusty cans of sino-american piss-beer) to the important (some tibetan pilgrims sneaking back through Nangpa-La after having seen the Dalai-Lama in Nepal, and arriving starving, frozen and half dead at Base Camp). Climbers go up the moraine to C1 with a fast pace. Others come back exhausted or worse after having spent too many nights too high. On september 30th the Marconi Expedition is throwing a big party for Chris's 40th birthday, the summit of Mario and their last day at BC. Everybody shows up, from the Germans with their bandaged hands to the young Campas who are curious to see us dance. I try to make a cheese fondue with only one bottle of white whine (from Velletri, city where Paris is from) and 4kg of (yack?) cheese. Adding beer won't quite cut it and I can't get a decent mix. People eat it anyway. We bring sausage and ham, the Spanish bring chorizo and ham, the Australians bring plenty of beer and there's even a cube of wine. I end up worshiping some deity on all fours while Jenny and the others sing folk songs...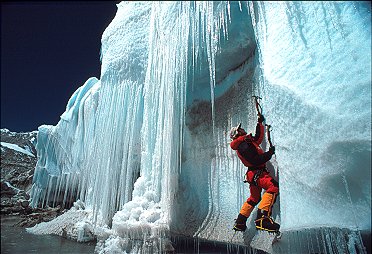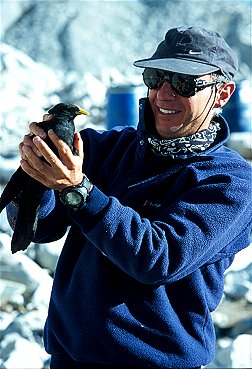 Left: Berni ice climbing on the seracs of the glacier below Base Camp.


Right: Tonino, bored, captures a couple choucas and crows with a trap. A couple pictures, a few gnawed fingers, and they are set free.
On the 26th Antonella, after 20 days stuck at Base Camp with a bad case of tracheitis (high running fever, daily injections of antibiotics, many days wasted sick in the sleeping bag), decides to go for it: in 2 days she reaches C2 and comes back down. Too bad she's still too weak, without that cold she would probably have made it to the summit, she's badass enough. Tonino, Paris and Berni are thinking about trying again, but the memory of their bad night in C3 dampens their will. Jenny is the only one who's psyched up to go. I start with her, thinking that the others will join us a day or two later. We spend a night in C1 and then go up to C2. The wind that's been blowing steady since september 21st, and causing many attempts to fail, finally calms down. We arrive in C2 as many other groups are folding up their tents and heading down. We find the tents full of snow because some stupid 'soloist' closed only the mosquito net... But at lest we have a tent, not like this American who arrives and screams bloody murder for his missing tent: yes, someone stole his bran new Bibler. Those tents are decidely too small, even for us used to a small bed. We feel claustrophobic inside. Even with the door wide open the fabric covers up with ice. Periodically the wind gushes shake the tent and the ice falls on our faces during the night. The morning is really slow: we wait till 10:45 for the sun (we are on the west face), then we wait for the tent to dry, then the process of making water, getting dressed up in a space smaller than a car seat...
When I radio base camp, they tell us to remove C3. Sounds like Berni is finding himself better in Base Camp... He's probably right. No, "he's right" I think as I go up the wind-swept slope up to C3: we've all had enough. Jenny follows for a while, marking her record altitude at about 7200m, but then her headache gets the better of her. Although the snow is hard, it takes me longer to get to C3 than the day we made the trail with Francesco. The camp is a nightmare. One of the tent is full of snow to the ceiling thanks to the asshole who left the door open (the so called alpine style climbers who manage to do their superfast ascents thanks to the tents, food and stoves of other expeditions: you know who you are). The other tent is not much better off, the snow accumulated on one side has mostly collapsed it. I spend 2 hard working hours removing the snow and breaking the crust of ice that sticks to the fabric. I start filling my 85-liter pack with the 4 sleeping bags, 2 tents, 2 stoves, 4 mattresses, personal stuff... I give the gas and food to 2 other groups arriving at about the same time, leaving as little trash as possible (a couple bottles full of ice). I go down with a monster pack that has both tents, the matresses and 2 sleeping bags attached on the outside. Good thing the snow is hard, otherwise I'd probably disappear under ! I get to C2 too late to continue back down and we settle for another uncomfortable night. In the morning we are not the only ones to dismount the camp, the Spanish who have just had one of their own on the summit are packing up too. In the evening we are glad to be at Base Camp. We won't go up again, that's enough.
---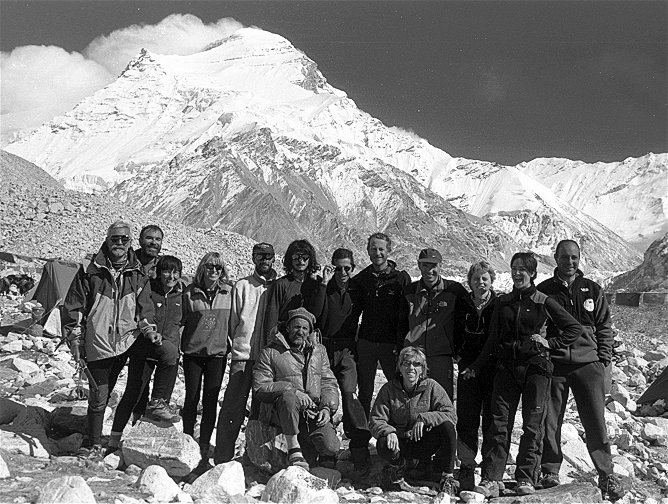 Left: Roma 8000 Group picture.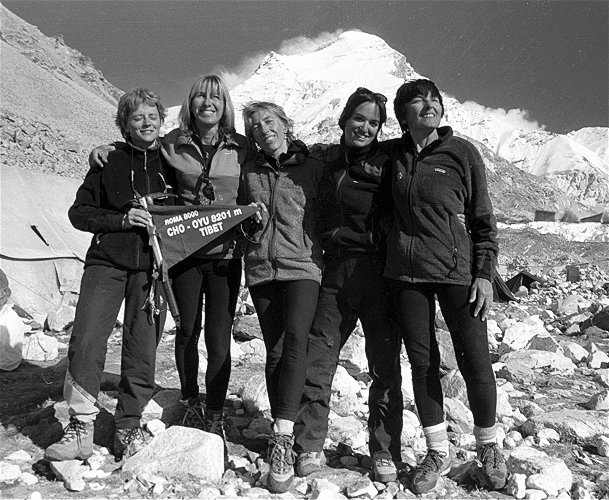 Left: The women of the expedition (Antonella, Mariassunta, Michela, Jennifer and Gabriela
---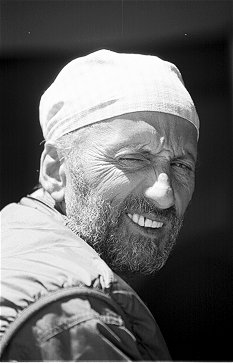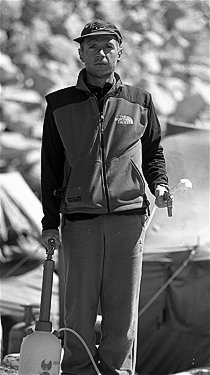 Afterword
All in all, out of 23 expedition in the post-monsoon period, 9 expeditions made it to the top. Out of about 300 people, maybe 30-40 on the summit (well, the summit plateau, few people having made the final effort to the true summit), and only 7-10 without oxygen nor Sherpa, like us, and we feel particularly proud of what our amateurish expedition has achieved.
A few people got frozen finger. An american 'guide' had a stroke after staying for a week (!!!) at camp 3 and was still recovering months later. A polish guy died after going from Katmandu to Camp 2 in 5 days, not that it surprises anyone.
My own bad news came at my usual photo store where I'd brought all the rolls for processing: 4 rolls where pitch black. Guess which ones ? All the pictures I took above Camp 1. The small reliable Ricoh GR1 I normally use when I want to go light had been broken by my sister some time before and the shop had failed to repair it properly. So no summit pictures. No need to say that I'm pissed off as hell.
Left: Giorgio Malluci, expedition leader
Right: Tonino armed with the pump shower in hand.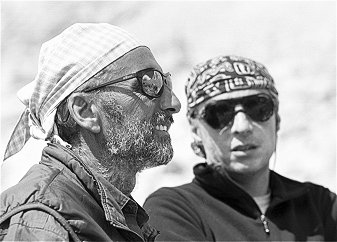 Left: Giorgio and Tonino talking about summits.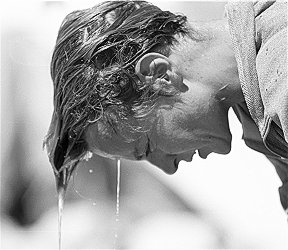 Right: Antonella Balerna, washing her hair.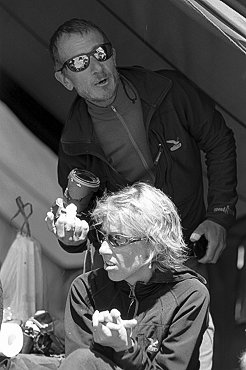 Left: Michela and Enrico Bernieri, one of the 4 couples of the expedition. Nobody divorced... but nobody made babies either !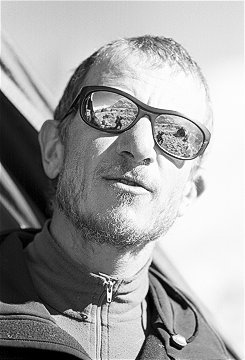 Right: Enrico's crooked smile. And he works with nuclear particles...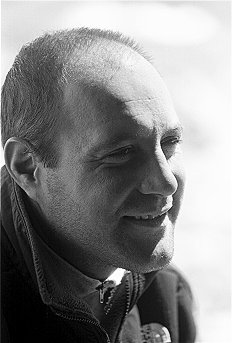 Left: Alessandro who had to leave early because of a lack of vacation days.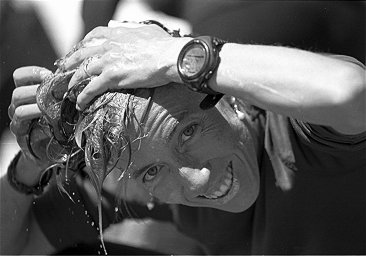 Right: Michela washing up.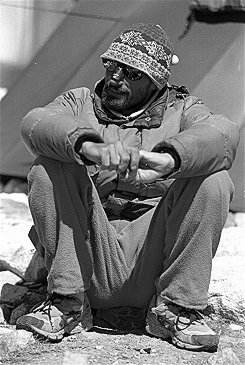 Left: Francesco Martineli, who summited with me, in his usual pose while not fullfiling his necessary 20 hours of sleep per day.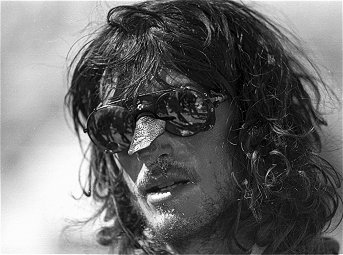 Right: His brother Agostino, our 3rd summiter who took only in 5 hours to go from C3 to the true summit. We wish he was that fast to get close to soap and water...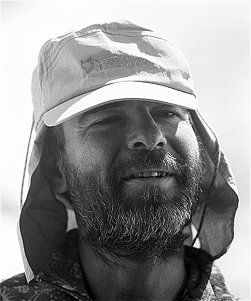 Left: Tonino Paladino who also had to leave early because of a lack of vacation days.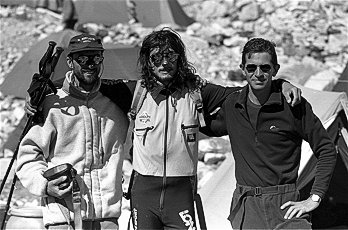 Right: The 3 summiters right after the return of Agostino, still holding his trekking poles...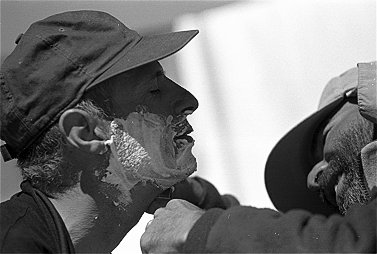 Left: Tonino (Paladino) shaving Tonino (Palermi).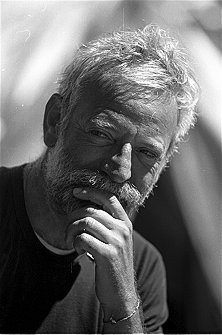 Right: Paris thinking about home (Velletri).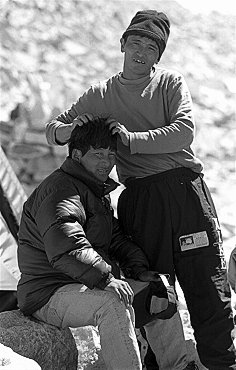 Left: Purba, our sirdar/organizer from Cho-Oyu Trekking, receiving a hair massage.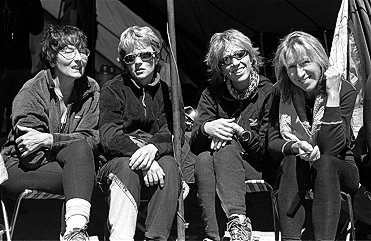 Right: The other women of the expedition while Jenny is higher up. Gabriella, Antonella, Michela and Mariassunta.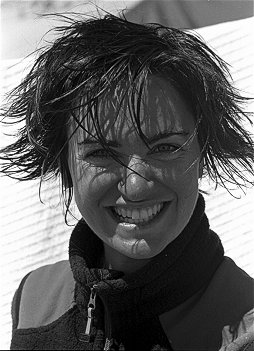 Left: Jenny, with her lovely hair after washing it...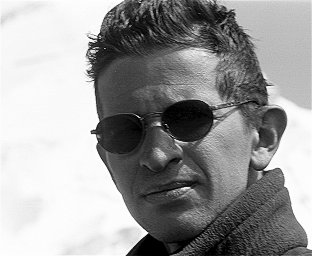 Right: And myself with my new ugly glasses and new military haircut (I didn't think there'd be water to wash my long hair at BC, so I cut it all up before leaving Italy).
This page is dedicated to the memory of the two sherpas of a Korean expedition who were swept down by an avalanche on the Nepalese side of Cho-Oyu.
---