Visiting Antarctica
"If Antarctica were music it would be Mozart. Art, and it would be Michelangelo. Literature, and it would be Shakespeare. And yet it is something even greater; the only place on earth that is still as it should be. May we never tame it." — Andrew Denton (1960- ), Australian actor.
---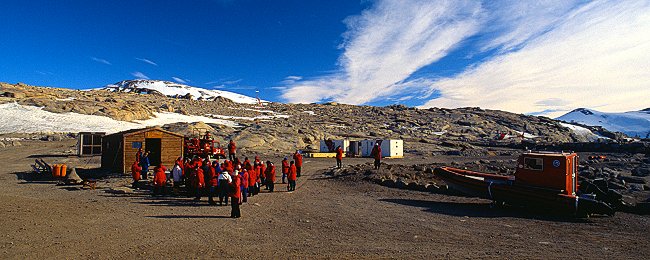 A lot of email I receive contains the following question: "How can I get to Antarctica too ?" So here's a compilation of information on the different ways to get there, as far as I know. Keep in mind that: it's not easy, it might require lots of work on your part, it might require lots of money, it depends a lot what country you are from. And no, don't ask me for referral, I'm not enough into politics to do that.
Left: A bunch of tourists from the Bremen are visiting Terra Nova Bay.
---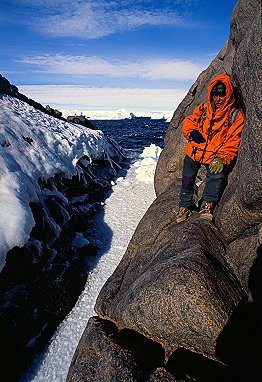 How can you go to Antarctica too ?
Pay for a cruise

Right: A geologist prospecting for rock samples in Dumont d'Urville.

Go with your own ship

Pay for an overflight




Pay for an air-drop

Work as a scientist

Right: Xav, an electronician turned surgeon at the start of an appendicitis surgery during the 1993 DdU winter-over.

Support job

Nationality issues




Right: Repairs being done on the roof of the sleeping building in Dumont d'Urville.

Get invited

Be known
That's all I can think of. Good luck and send me a postcard if you ever get there.