Pictures of Antarctic bases
"In Antarctica you get to know people so well that in comparison you do not seem to know the people in civilization at all." — Apsley Cherry-Garrard (1886—1959), The worst travel in the world.
For some maps and satellites pictures showing the location of those research stations, go look at the Satellite pages.
---
Antarctic Stations Comparison Table (as of 2005)
DdU
BTN
McMurdo
Dome C
South Pole
Penguins
Adelies everywhere in summer, emperor penguins 5 minutes away in winter
Only a few passing Adelies
Only a few passing Adelies
Never heard of
Other animals
7 species of birds nesting between the buildings, plenty of seals
Only some skuas and Weddell seals
Some skuas but not much else
A lost passing skua once every other year
None
Landscape
Icebergs, the Astrolabe glacier next door, the sea and the smooth shell of the continent to the south
Rock fields, snow fields, the Melbourne volcano in the distance
The Erebus and the Transantarctic range in the distance
Pure unadulterated emptiness
Hiking
Hard to get out of the island in summer, nice sea-ice walks between icebergs in winter
Nice hiking on snow and rock
There's probably plenty but they don't like you walking around
Plenty of space but nowhere to go !
Food
3 star restaurant all year long
Excellent pasta, pizza party on saturday
Just plain gross when I was there
Good mix of french and italian food, but lacks fresh veggies even in summer
N/A
Internet access
Limited email
Limited email
Full access, even hosting servers
Limited email
Standard Internet access several hours a day
Pay
Proportional to what you make back home
Everybody paid the same
Depends on your contract, which sometimes changes while you're there
Depends whether you are french or italian
Same as McMurdo
Weather
Very windy
Quite nice
Cloudy and dusty
Very cold
Very cold and also quite windy
Population
100 in summer, 20~35 in winter
100 in summer, nobody in winter
1000 and up in summer, 150~300 in winter
50~60 in summer, 10~16 in winter
100~300 in summer, 30~100 in winter
Brief history
Successor of the burn down Port Martin Station, first building completed in 1952, first winterover in 1952, continuous operation since 1956
Active for summer campaigns since about 1980
Scott's hut built in 1901 is right there but the bulk of the station was built just before the International Geophysical Year of 1957
American summer campaigns in the mid-70s, franco-italian summer activity started in 1996, year round operation started in 2005
Built during the IGY of 1957
Logistics
5 summer rotations a year of the ship Astrolabe, some Twin Otter flights from Terra Nova
One rotation of the ship Italica every year, a few C-130 flights from NZ
Nuclear ice breakers and other large ships, many C-130 and C-141 flights from NZ
Land traverses from DdU, Twin Otter flights from Terra Nova
Many C-130 flights from McMurdo
Main science
Biology, geophysics...
Glaciology, astronomy
Cosmology
Link
DdU
BTN/MZS
McMurdo
Dome C
South Pole
---
---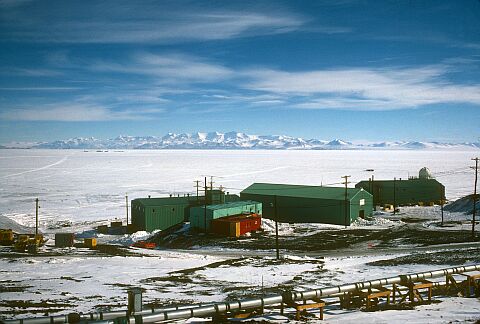 Scott Base, New-Zealand
Left: The unmistakable green buildings Scott base (New-Zealand, image © Thierry Cappelle 1977, used with permission).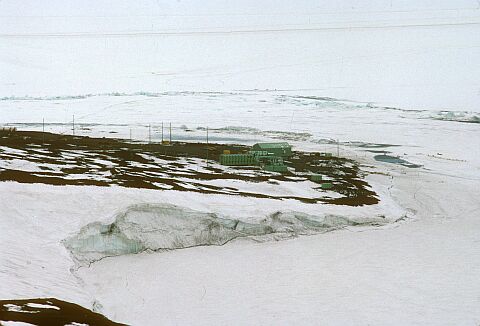 Right: Scott base (image © Thierry Cappelle 1977, used with permission).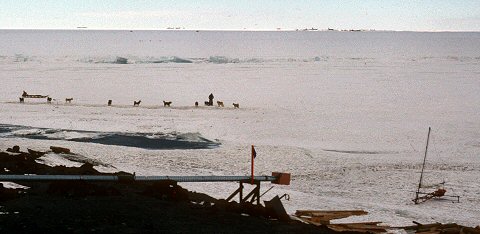 Left: Activities at Scott base: windsailing and dog sledding. Dogs are now illegal in Antarctica as per the Antarctic Treaty (image © Thierry Cappelle 1977, used with permission).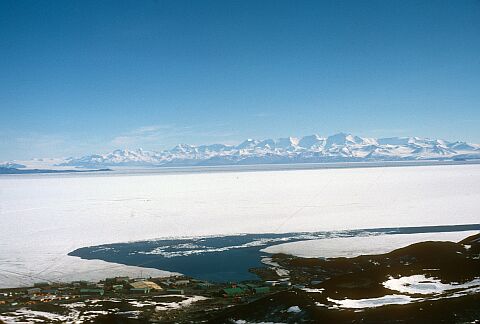 Right: View of the channel open for the refueling boats, Scott base in the foreground, the Transantarctic Range in the background (image © Thierry Cappelle 1977, used with permission).
---
---
Amundsen-Scott, South Pole, U.S.A.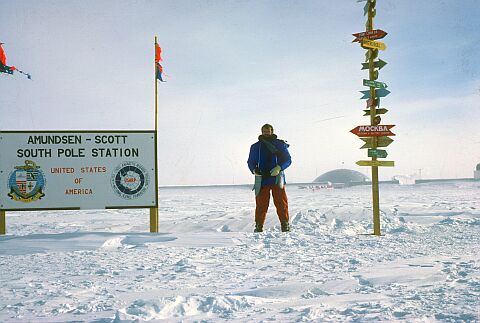 Left: The true South Pole: the post needs to be moved some tens of meters every year due to ice motion. In the background the dome hosting the base is visible (image © Thierry Cappelle 1977, used with permission).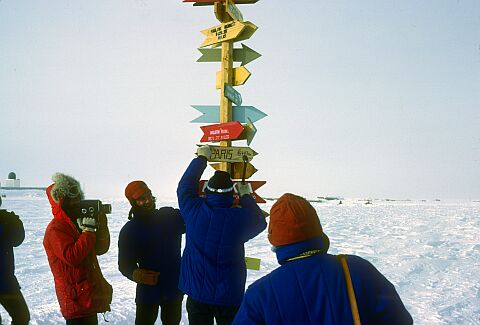 Right: Official ceremony: Martine nails down the PARIS sign on the South Pole pole in the presence of a russian winterer (image © Thierry Cappelle 1977, used with permission).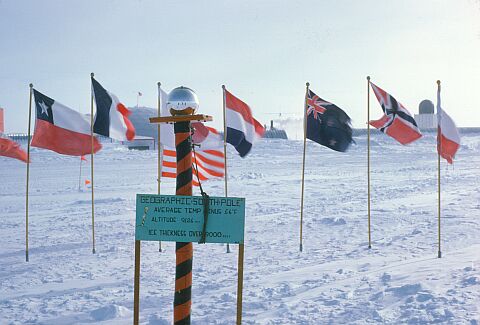 Left: The 'ceremonial' south pole, next to the Amundsen-Scott station, moves along with the base and the ice plateau (image © Thierry Cappelle 1977, used with permission).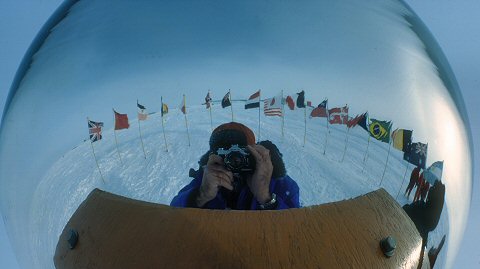 Right: The flags of the Antarctic Treaty signatories (image © Thierry Cappelle 1977, used with permission).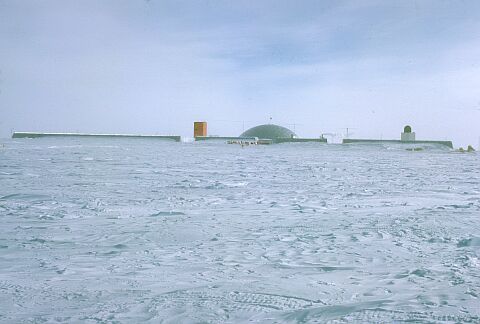 Left: Amundsen-Scott base at the South Pole, open since 1957 (image © Thierry Cappelle 1977, used with permission).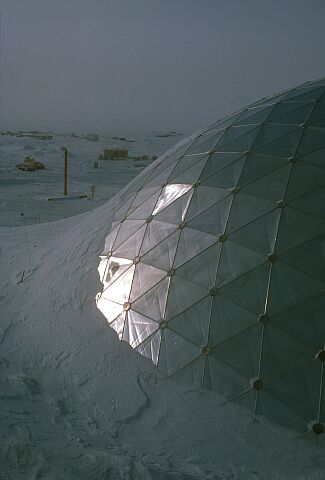 Right: The dome housing the Amundsen-Scott base in 1977, now submerged by snow (image © Thierry Cappelle 1977, used with permission).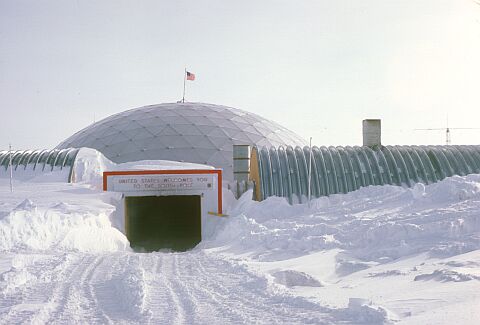 Left: Entrance of the dome (image © Thierry Cappelle 1977, used with permission).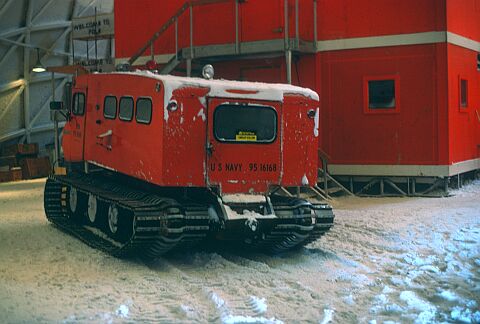 Right: Vehicle for moving around the dome (image © Thierry Cappelle 1977, used with permission).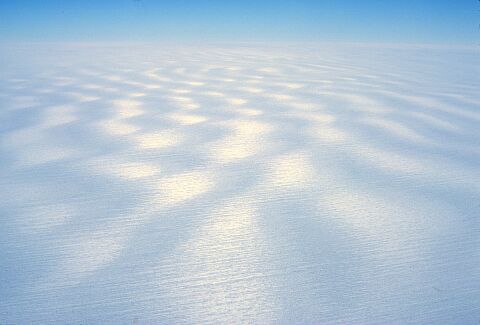 Left: South Pole, seen from above (image © Thierry Cappelle 1977, used with permission).
More info about the Amundsen-Scott station and the south pole on Dana's website.
---
---

Mid-Point Charlie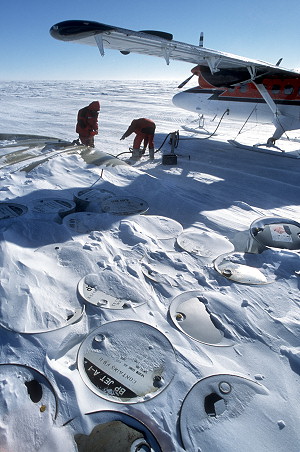 This is a tiny outpost located halfway between Terra Nova Bay and Dome C. In 2000 it had a small team of US scientists drilling ice in summer but usually it is empty and only used as a refueling stop by airplanes on their way between Terra Nova and Dome C. On the picture you can see two large fuel bags and a few tents. This station is located on the high Antarctic plateau, but right where the catabatic winds begin to gather some speed while still remaining as cold as at the domes... so it is almost as cold as Dome C but with much more severe windchill. Currently there's not much there: a tiny emergency tent, a small Kassbohrer to clean up the airstrip, a stack of drums of fuel brought by airplane from BTN and that's about it. Nobody stays there for longer than it takes to refuel the Twin-Otter.
Left: 6 year later, and there's not much left at Midpoint: the airstrip, a small vehicle to level the snow, an emergency bubble and a stack of snow-covered kerosene drums.

---
Talos Dome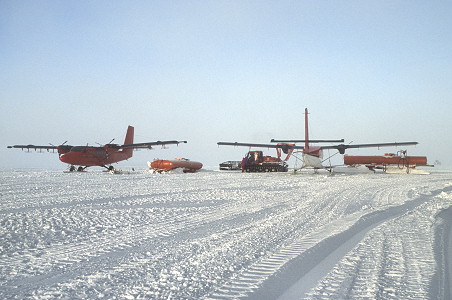 Left: Twin Otters and fuel tanks on the Talos Dome airstrip.
Talos Dome (sometimes spelled Thalos Dome) is a recent outpost where an new ice core project is under way. Located in Victoria Land, closer to the shore, it has snow coming from a different origin than Dome C: the closeness to the ocean means more humidity and different kinds of chemicals contained in the snow. So it can at the same time be used to correlate the Dome C ice core and see what the differences are. This is another Epica project.
Like most field camps, only the minimal equipment is present: a trailer with basic accommodations, some fuel for airplanes, a few vehicles to work on the camp and just a few french and italian workers. I passed through the camp during a brief Twin Otter stop, just time enough to leave some food and mail. The camp is located on top of one of those snow domes, here 72°48'S, 159°06'E, at an altitude of 2316m.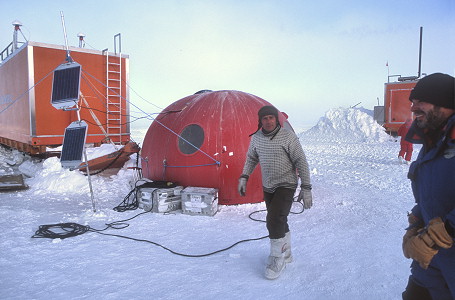 Right: Part of the field camp installed at Talos Dome: a few trailers brought by a Traverse.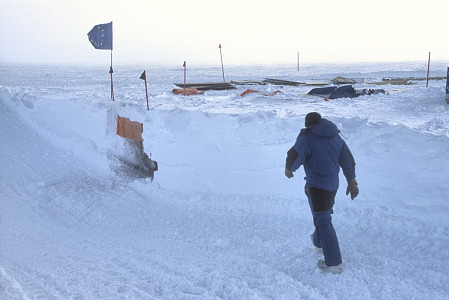 Left: Walking towards the drilling cave.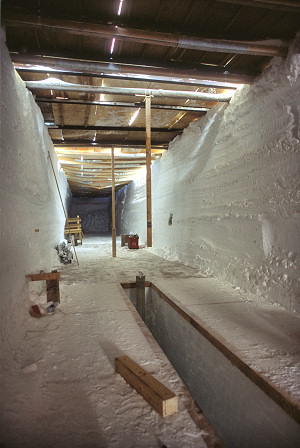 Right: The underground drilling platform, with a partly collapsed roof. The wood beams installed last year didn't stand the weight of snow fallen during the winter. They are in the process of being replaced with stronger metal beams.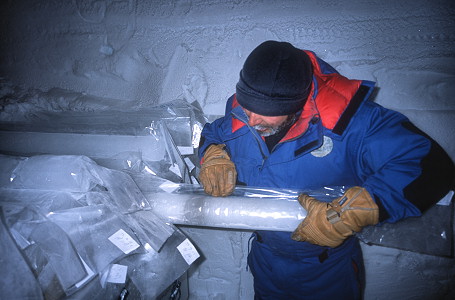 Left: A glaciologist showing the ash layer found in a recent ice-core. This layer is absent from the Dome C ice-core, showing the importance of drilling in different places to avoid local characteristics. This ash is 25 000 years old, dating back to the Oruanui super-eruption that left the big lake Taupo in the middle of New Zealand.

---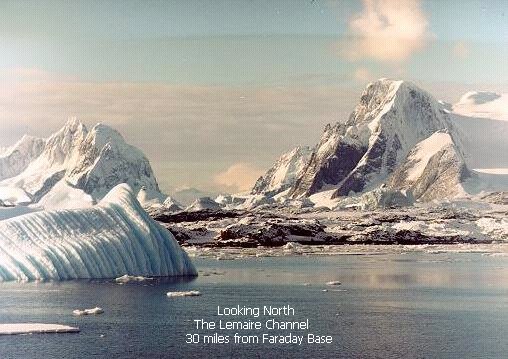 Faraday, U.K.
I've never been to Faraday Station, but Billy sent me those pictures (with the comments on them). Looks like a pretty nice place. It's a British station located on the west side of the Antarctic peninsula, near Palmer Station.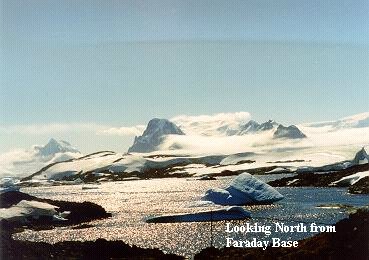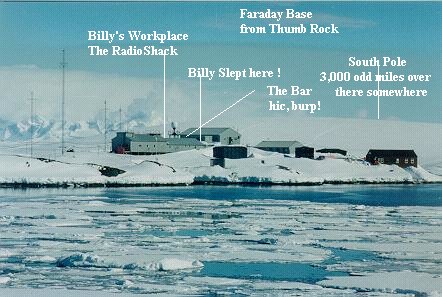 Left: Looking North from Faraday Base
Right: Faraday Base from Thumb Rock