Political Quotes & Bumper Stickers
"Moral of the story: don't vote for a dumbass just because you are one too."
The following are humorous (and sometimes serious too) quotes gathered from the Web, Usenet's personal .sig and other sources. Since it's all a big rip-off, I am assuming no copyright whatsoever. I don't even guarantee that they are accurate. Now that you've been warned, enjoy.
---
Biden (aka WWIII era)
"Things may suck now. But at least it's not as bad as it will be soon."
"Putin thought he had 2nd best military in the world. Turns out its not even 2nd best military in Ukraine (Ukrainian farmers are 2nd)."
"Question: why are all the Russian vehicles we capture in Ukraine marked with a 'Z' ?
Answer: the other half of the swastika was stolen by corrupt russian contractors." — Ukrainian wartime humor.
"Contrarians aren't critical thinkers. They're gullible reactionaries, vulnerable to conspiracy theories." — David French.
"Same day delivery is the most American shit of all time, you run out of deodorant or something and with a single click start a Rube Goldberg of human suffering in an Amazon warehouse twenty miles away." — @The_Law_Boy.
"If it weren't for double standards, Republicans wouldn't have any standards at all."
"President Biden notes that he is the first president to attend White House Correspondents Dinner in six years. He says that the absence was understandable, because 'we had a plague and then two years of COVID'." — Jonathan Lemire.
"I don't know who needs to hear this, but automatically believing the exact opposite of what authorities say isn't 'thinking for yourself'." — @TinFoilAwards.
"I know he thinks corporations are people, but does he know people are people ?" — Bernie Sanders pushes back on Romney's comments bashing student-loan forgiveness.
"Do you think people are just voting for you because youre not Trump ?"
(Long pause)
"I sure hope at least some aren't." — Joe Biden during a 60min interview.
"When you erode the foundation, one good hit will bring the whole structure down. Trump was that hit." — HogWashDiddler.
"Requiring civil rights to be 'deeply rooted in history' is a great way to say 'if you didn't always have civil rights, then you should never have them'." — Steve Kenson.
"Reminder that the party now celebrating government deciding what's best for a woman's body, spent the last 2 years being victims because the government wanted them to wear a piece of cloth on their faces." — Chad the Chud Show.
"If Brett Kavanaugh becomes a Supreme Court justice, will he help gut or overturn Roe v. Wade, which legalized abortion in America ? Yes, of course he will." — Hillary Clinton on 2018/9/5.
"Christians are really trying to convince us that the God who murdered Bathsheba's newborn, killed all the firstborn sons of Egypt, sent bears to murder little children, commanded Joshua to kill all the children in Jericho, now suddenly cares about 'unborn babies'." — Nerve Bender.
"Cryptocurrency is literally like an eight-year-old's concept of an evil businessman. He just plugs his pollution machine in and gets money for it. It doesn't make anything, it just. Pollutes. And makes money. Like a fucking Captain Planet villain." — @WKDart.
"Fox did to my parents what my parents thought video games would do to me." — Todd Fellbaum.
"I don't care what the Founding Fathers would have wanted, I don't care if Jesus was a hippie or not, I don't care what Marx prescribed. I can't take living in a world where we're all servants of long-dead men. You know what happens if you make a law the Founding Fathers wouldn't like ? Nothing, they're dead and they're never coming back. I'm genuinely envious of countries that can just make whatever laws they want without worrying about how 18th century agrarian noblemen would have seen it. Stop arguing that Jesus loved the poor too, what he loved or didn't love is irrelevant, he doesn't get a say in any of this. We could have a country that isn't shackled to these ghosts if we collectively wanted to." — brainstatic.
"If there's an active shooter in your school in Texas, call 911 and report an abortion. The cops will respond faster."
"The part of the Star Wars mythos where the incompetent elites who failed to stop the system from sliding into fascism simply go into hiding and do nothing waiting for a bunch of kids to grow up and fix the problem themselves hits pretty hard right now." — Gerry Cavanan.
"A well-regulated militia attacked an elementary school yesterday killing 19 students and 2 adults. If you want to argue it wasn't a well regulated militia that attacked the school, and instead, an individual, then you already understand the difference between what the Constitution says and what you want it to say." — Gerry Cavanan.
"The police are like priests. They say they're there to protect you and your family.
Instead they end up fucking your kids."
"— 'I have a student in my class that keeps hitting other kids with a hammer over and over! I can't get anything done and the other kids are hurt and they hate it!'
— 'Have you tried taking the hammer away from that student?'
— 'No no, it's not the hammer's fault. Everyone knows that kids have the right to have hammers! I want to buy a bunch of hammers and give them to all the other students, and then no one will ever have problems with hammers again!'
More hammers will definitely fix everything for sure."
"My kids' right to survive a day at school outweighs your right to own any kind of gun you want. It just does." — Ben Wexler.
"Three of the justices on the Supreme Court were appointed by a President that tried to overthrow the government and a forth is married to a woman who actively planned the overthrow. And we're just supposed to act like that's ok ?!" — Nina Turner.
"So let me get this straight: one leak from the Supreme Court and the marshal is called in to investigate by Chief Justice Roberts. But a sitting justice's wife literally plotted to overthrow the government and no investigation ? Interesting." — David Hogg.
"If children are slaughtered in their school and your reaction is 'Don't you dare think about taking my guns!!' rather than 'How do we stop this from ever happening again???' then we don't have a difference in political opinion. We have a difference in morality." — Zack Hunt.
"Again: 'thoughts and prayers' is, and has never been anything but, a passive-aggressive way of saying 'fuck you' to the victims of a tragedy. Spelled out, what they're saying is 'I sure hope God is gonna help you, because I sure as Hell am not'." — @v01dstar.
"If you can't wait for a background check to be completed... you probably shouldn't have a gun."
"Why don't conservative States just use 'thoughts and prayers' to stop abortions ? After all, that's what they use when people murder actual, live children in schools." — @astudyinsnoggy.
"How do you milk sheep ?
Pretend the election was stolen and ask for donations."
"Can we please stop pretending to be shocked at the evangelical embrace of totalitarianism ? Their entire worldview is 'obey me or burn in hell'. The fuck did you think their politics were going to be ?" — J. Warren Welch.
"With inflation at 7.5%, you lose half your money in 9 years. The only way to outperform that consistently, that I have found, is crypto. Just this year I've already lost half my money."
"2019: avoid negative people
2020: avoid positive people
2021: avoid people
2022: a void." — @Gritty20202.
"Speech is free but lies will cost you." — Attorney Mark Bankston to Alex Jones.
"Oh no, you say your child read a book with the word 'damn' in it during the break between active shooter drills ? Is he ok ?" — Sarah Lazarus.
"How am I supposed to 'get over' Donald Trump when he won't go the fuck away ?"
"Maybe it's NOT IDEAL when an entire political party starts wielding guns in their political ads and promising to blow their opponents away. Maybe, just maybe, it's indicative of a FASCIST movement predicated on violence, oppression, and the gradual DESTRUCTION of open society." — Jared Yates Sexton.
"If Republicans could win with the truth, they wouldn't have to lie, cheat and suppress the vote."
"How do we know that Trump didn't commit treason just so that he could be hung for the first time in his life ?"
"So Republicans are running on unlimited price-gouging of insulin, ending Social Security and Medicare, and forcing ten year old rape victims to give birth. That is some platform." — Andrew Wortman.
"Why are white people so afraid of becoming a minority ? Does America treat minorities poorly or something ?"
"Remember when the 18-minute-gap in Watergate tapes was shocking ?
Now we have a 7-hour-gap in WH call logs, missing Secret Service texts, missing DHS texts, and missing DOD texts.
All from the same day." — Citizens for Ethics.
"I don't like to get mixed up in politics but I wonder how the Former President was ever a billionaire. I mean, he spends more time begging for money than most bums."
"Using Fox News to support your arguments is like saying you're a Marine Biologist because you watch Sponge Bob Squarepants."
"The poorest states should not dictate spending policies for the rest of us.
The states with the highest maternal, and infant, mortality rates should not dictate women's healthcare for the rest of us.
The states with the lowest educational statistics should not dictate what gets taught in school for the rest of us.
The states with the highest levels of gun violence should not dictate gun safety for the rest of us.
Better yet. You can get a voice in our government when your state receives less in federal assistance than it puts into it.
No more participation trophies. Conservative policies are better? Prove it by not being the worst states by every metric that can be measured."
"New rule: You can't tell me when life begins when you don't even know when an election is over."
"If you repeat a lie long enough, it becomes Republican policy."
"Millenials don't believe in democracy because we have never experienced it. In the United States, Democracy was repealed in 1976 with the Buckley v. Valeo Supreme Court decision. This contended that giving money to political parties was 'free speech' and could not be infringed. In the stroke of a pen, American Democracy was dead and replaced with plutocracy. The ability to vote can be powerful, but not nearly as powerful as the ability to bribe, and this decision legalized bribery and called it 'campaign contributions'.
Since then, virtually none of the after-inflation economic gains have been shared by Americans who are not high-earners and opinions of voters have had zero effect on policy. By contrast, opinions of donors have a very high correlation.
Democracy has been dead since before any millennial was born, and every year the corpse that bears its name redistributes more wealth from the middle and lower classes to the corrupt. Can you blame us for disdaining a system that has done nothing but steal from us ?" — Justin Flynn.
"'FREEDOM!' shouts the Republican lawmaker as he bans abortions, school books, lesson plans about racism, trans healthcare for kids & voting rights."
"It's telling that the last two Democratic Presidents began their presidencies with a 'Recovery Act' and a 'Rescue Plan' because their inheritances from their Republican predecessors were so catastrophic."
"The reason republicans get so incredibly huffy when any of the tools of law enforcement are ever turned upon them is they think 'criminals' as an inherent class of people (who they of course could never be part of) rather than a descriptor for someone who commits illegal acts." — William B. Fuckley.
"Last week, the IRS has stated that Americans must report payments on Venmo, PayPal over $600.
Also last week, the Defense Department failed its fifth audit, unable to account for more than 61% its assets, worth about $1.8 trillion."
"— What's the difference between a Republican and a Ukrainian ?
— A Ukrainian defends their capitol"
"In America you call it the alt-right, In Germany we call it 'why grandpapa lives in Argentina now'."
"My entire political stance basically boils down to 'I care about other people' and MAN does it make people MAD."
"Dystopian fiction is when you take things that happen in real life to marginalized populations and apply them to people with privilege."
"The poorest states should not dictate spending policies for the rest of us.
The states with the highest maternal, and infant, mortality rates should not dictate women's healthcare for the rest of us.
The states with the lowest educational statistics should not dictate what gets taught in school for the rest of us.
The states with the highest levels of gun violence should not dictate gun safety for the rest of us.
Better yet. You can get a voice in our government when your state receives less in federal assistance than it puts into it.
No more participation trophies. Conservative policies are better? Prove it by not being the worst states by every metric that can be measured." — Llarys.
"People who insist new gun laws won't stop mass shootings sure do spend a lot of time enacting laws to stop abortion." — Ya Girl.
"He talked about electric cars. I don't know anything about cars, so when people said he was a genius I figured he must be a genius.
Then he talked about rockets. I don't know anything about rockets, so when people said he was a genius I figured he must be a genius.
Now he talks about software. I happen to know a lot about software and Elon Musk is saying the stupidest shit I've ever heard anyone say, so when people say he's a genius I figure I should stay the hell away from his cars and rockets." — Rod Hilton.
"Let's paint a picture. Say you're Jewish, walking in Germany & see a Statue of Hitler. You're upset & want it torn down. Only for someone to say 'how dare you ? My ancestor was a nazi. This is my heritage'. Crazy right ? Well this is a reality for black people everyday in America." — Francis Maxwell.
"Just wait until conspiracy theorists discover they're part of a conspiracy to use conspiracy theorists to spread disinformation via conspiracy theories."
"You know, in less corrupt democracies, everyone over the age of 18 is automatically registered to vote for life. The concept of having to jump through hoops to vote or that you could be prevented from voting are uniquely American concepts." — Robert Brown.
"Let me get this straight. You were fired ? You refused to leave, called all your friends to come & vandalize the work place, then you stole a ton classified sensitive shit on the way out of the office, you got caught & now re-applying for the job again ?"
---
US politics (Trump era)
"Elect a clown. Expect a circus."
"A Russian spy, a sexual predator and a con man walk into a bar. The bartender says: 'What can I get you Mr President ?'."
"He's just so stupid.
He's so breathtakingly stupid that the above statement is all it takes for every person reading this to know exactly who I'm talking about." — Kumail Nanjiani.
"Don't blame Trump: he did everything he could to prove he was unfit to be president."
"The difference between humans and animals: animals would never allow the dumbest of the herd to lead them."
"Elections are not foolproof, as the current fool proves."
"Idolizing a politician is like believing the stripper really likes you."
"You want to know how to make America great again ?
Tell Donald Trump to go to hell." — Lindsey Graham (2015).
"Supporting Trump is such an unforgivable moral failing. It calls every bit of your judgement and character into question. Nothing about you should be trusted if you can look at this man and think: 'that's the one for me'." — @JuliusGoat.
"Republicans: unlike you I'm not a sheep.
Also Republicans: the Lord is my shepherd."
"I vote republican because I may not have much, but republicans will make sure others have even less."
"Anyone who went through 4 years of Trump and reaches 2020 to go 'yes, more of that please' is beyond redemption."
"2020 is what happens when you mix up cards from your tarot deck and Cards Against Humanity."
"If there are nine Nazis at a table and you sit down, there are ten Nazis at a table."
"You can't fix stupid but the hats sure make it easy to identify."
"Trump is living proof that a conman doesn't have to be smart if his victims are stupid enough."
"Trump started with a roaring economy, and in 4 years he: lost 5 million jobs, added 9 trillion dollars to the deficit, lost the senate, lost the white house, killed more americans than Hitler, attempted a coup, got banned from social media and got impeached twice."
"I cannot for the life of me understand how masks have become the tyranny of control. The other day I saw a post that basically said bulletproof backpacks, armed officers and metal detectors at schools are the cost of freedom but wearing a mask is the unbearable breaking point of tyranny."
"So the voters can't be trusted, the poll workers can't be trusted, the voting machines can't be trusted, the media can't be trusted, the Attorney General can't be trusted, the guy who was in charge of election security can't be trusted, the lower courts can't be trusted, the appellate court can't be trusted, and the Supreme Court can't be trusted.
But Donald Trump can be trusted.
Roll that around in your head for about 3 minutes and realize how incredibly mind-boggingly stupid that sounds."
"Before we can work on the American dream, we must end the Republican nightmare."
"Historians have a word for Germans who joined the Nazi party, not because they hated Jews, but out of a hope for restored patriotism, or a sense of economic anxiety, or a hope to preserve their religious values, or dislike of their opponents, or raw political opportunism, or convenience, or ignorance, or greed.
That word is Nazi. Nobody cares about their motives anymore." — Julius Goat.
"Hard to believe there was ever a world leader as dumb as Donald Trump. Can't spell, can't read, has never managed anything approaching an original thought. His brain is like a radio playing at full volume, but between stations." — Stephen King.
"Donald Trump is worse than any horror story I've written." — Stephen King.
"Clinton got a free blowjob. Trump paid 130000$. Now tell me who is the better businessman ?"
"An a historian, I had always wondered what it would be like to witness the Spanish Flu and the Great Depression at the same time Krusty the Clown is President."
"I love the poorly educated." — Donald Trump.
"If ignorance is bliss, Donal Trump must be in a constant state of orgasm." — Stephen King.
"Steve Jobs would've been a better president than Trump, but I guess it's unfair to compare apples to oranges." — One Liners.
"My uncle said he wouldn't discuss Trump with me unless I said one good thing he's done so I said he's normalizing makeup for men and it didnt go as I planned." — @danielsogay.
"Trump is a poor man's idea of a rich man, a weak man's idea of a strong man, a stupid man's idea of a smart man, a bald man's idea of a guy with hair and a paedophile's idea of a father."
"It's weird that Rush railed against multigender bathrooms for so long, just to turn his gravesite into one."
"I vote republican because I may not have much, but republicans will make sure others have even less."
"If a broken clock is still right twice a day, Marjorie Taylor Green is 13:65 RM, Fresday Octember 32rd." — Gosuamakenatek.
"How sad it must be to be a Trump supporter. Believing that scientists, scholars, teachers, economists and journalists have devoted their entire lives to deceiving you, while a reality TV star with decades of fraud and documented lying is you only beacon of truth and honesty..." — Alex Cole.
"If you can listen to Trump speak without thinking 'He sounds like an idiot, you're an idiot."
"People like Donald Trump argue that students shouldn't be able to wipe out student loans with a bankruptcy, while he's declared bankruptcy 5 or more times."
"He turns being artless into an art form; he is a Picasso of pettiness; a Shakespeare of shit. His faults are fractal: even his flaws have flaws, and so on ad infinitum. God knows there have always been stupid people in the world, and plenty of nasty people too. But rarely has stupidity been so nasty, or nastiness so stupid. He makes Nixon look trustworthy and George W look smart. In fact, if Frankenstein decided to make a monster assembled entirely from human flaws — he would make a Trump." — James Tate.
"If being a twat was a TV show, Trump would be the boxed set." — James Tate.
"We're gonna have to retire the expression 'Avoid it like the plague' because it turns out humans do not do that."
"In the USA it is proper etiquette to ask if the person would prefer dying before you call an ambulance. Ambulances are expensive."
"Meet me in the middle, says the unjust man.
You take a step toward him. He takes a step back.
Meet me in the middle, says the unjust man.
Beware of requests for compromise when you are asking for justice and the other side is asking for consent to continue." — A.R. Moxon.
"I think of Trump as Hitler without the warmth." — Gilbert Gottfried.
"— Do you know why we can fly a helicopter on Mars but can't turn on a light in Texas ?
— Because scientists are in charge of Mars and republicans are in charge of Texas."
"I just turned off the news and put on a serial killer documentary to relax."
"The one star on the Texas flag is its Yelp rating."
"Texas, a place where a virus has more reproductive rights than a woman."
"You can tell Monopoly is an old game because there's a luxury tax and rich people can go to jail."
"Turns out 'poor people can go fuck themselves' isn't popular policy, so they had to throw in racism to keep getting votes. Then guns, abortion, and every other divisive issue they could come up with. Then masks and vaccines came along. And finally they just went all in on conspiracy theories and paranoia, nothing is too low or crazy for them to cater to. After selling out on anything resembling morality, they finally just gave up on the concept of reality as well. At this point trying to debate politics is like trying to debate epistemology with a hobo who is convinced he's Napoleon." — Jailbreak.
"I don't want to hear about 'mental instability' from people who pose their children with guns for Christmas photos."
"If I win, I win. If I don't, it's fraud." — Trump a month before the 2020 election.
"Easy to make everything a conspiracy theory when you don't know how anything works."
"You'd think a guy with a mail order bride would have a little more respect for the post office."
"One of the worst part of the Trump era is the inescapable realization of just how many truly awful people walk among us." — Jon Zal.
"Honestly people, if Democrats were 'rigging elections', we'd have single-payer health care, clean water, no Fox News and solar cars by now." — @teenagesleuth.
"Republicans gerrymander districts, selectively close polling places, purge voter rolls, enact voter ID laws, stop mail-in ballots, shorten polling hours, and weaken voting rights legislation, but, when they lose anyway, say the system is rigged against them." — @middleageriot.
"If you voted for the man who autographed Bibles for his supporters, saluted a North Korean general, used a Sharpie to change the course of a hurricane, stared into the sun twice, and tweeted a quote from Mussolini, your opinion of Joe Biden's sanity is laughably irrelevant." — @middleageriot.
"Republicans complain about 'the war on Christmas' to distract from their wars on women, gays, immigrants, reporters, veterans, voting, the Constitution, poor people, and decency." — @middleageriot.
"I just heard someone describe Tucker Carlson's anti-critical race theory rants as 'klansplaining' and that's it, that's what I'm calling it from now on."
"When people claim that the fulfillment of basic needs for all would destroy the incentive to work, they are admitting the entire capitalist system is based in coercion; that it is a form of slavery ('work for us or starve'). Labor can never be 'voluntary' in such a system." — @HamptonThink.
"If you ever feel useless, remember it took 20 years, trillions of dollars and 4 US presidents to replace the taliban with the taliban."
"Tolerance will reach such a level that intelligent people will be banned from thinking so as not to offend the imbeciles." — Dostoievski.
"I think I'm beginning to get it. If it's a policy that benefits the rich, then it doesn't have to be paid for, should last forever and is good for America. But if it benefits the poor, we can't afford it, we should end it as soon as possible and it will destroy our nation from within." — Jon Stewart.
"Forgive me for noting that conservatives seem to believe that the rich will work harder if we give them more, and the poor will work harder if we give them less." — E.J. Dionne Jr.
"As I've aged, I'm eternally grateful that I've gotten fatter and not more politically conservative." — @elainecorden.
"If dead people really are out there voting for biden then maybe trump shouldn't have made so many dead people."
"What percentage of the solutions to this nation's problems are off the table because they would upset a hundred or so rich guys ?" — @Rschooley.
"For many Americans, the most profound legacy of the Trump era will be the painful knowledge that a significant portion of their friends, neighbors, and relatives are total fucking morons."
"If I remember history correctly, we are now in a 'factors leading to' paragraph before a unit where maps get super flaggy and arrowy." — @danharmon (in 2016 !).
"I had a conversation about 9/11 earlier about how I'd never forget where I was and how I watched that second plane fly into the tower and how it made me feel. For me, 1/6 is like that but worse because I don't remember half of America rooting for the fucking planes." — @Dknight10k.
"Rewatching Fury Road and OH BOY does a bunch of doomed self-destructive young white dudes worshipping a bloated ancient corpose-like dictator and his failsons reads differently now." — Malcolm Pierce.
"When a clown moves into a palace he doesn't become king. The palace becomes a circus." — Turkish Proverb.
"Trump 20-24
years in prison."
"MAGA = My Attorneys Got Attorneys"
"If you don't need a mask because god will protect you, why do you need a gun ?"
"Can we at least all agree that this experiment of handing the world's most powerful office to a dumb TV host & shady real estate developer with no government knowledge, 6 bankruptcies, 68 charges of sexual assault, 7,300 lawsuits and $1,000,000,000 in debt did not go well at all ?" — Andrea Junker.
"Rewatching Fury Road and OH BOY does a bunch of doomed self-destructive young white dudes worshipping a bloated ancient corpse-like dictator and his failsons reads differently now." — Malcolm Pierce.
"You can't spell HATRED without RED HAT."
"Can we please stop pretending to be shocked at the evangelical embrace of totalitarianism ? Their entire worldview is 'obey me or burn in hell'. The fuck did you think their politics were going to be ?" — J. Warren Welch.
"If you shouted 'Lock her up' before but are not shouting 'lock him up' now, you have to admit it was never about emails and you're a hypocrite."
"The old saying 'Anyone can grow up to be President' used to be an affirmation of opportunity. Now it's more of a warning."
"Are you telling me the guy who cheated to get into college and cheated to get out of Vietnam and cheated on wives and cheated at golf and cheated donors to his fake charity and cheated students at his scam university has been cheating his campaign donors ? Get the fuck out of here." — Jeff Tiedrich.
"Trump doesn't give speeches. He tells long fake stories that provide an alternate reality in which he's the hero and allow his audience to conflate themselves with him as he pretends to vanquish imaginary enemies like 'Crazy Nancy', 'Crooked Hillary', 'the Deep State' & 'Fake News'." — Luke Zaleski.
"The difference between humans and animals: Animals would never allow the dumbest of the herd to lead them."
"Never forget they did more to keep masks and books out of school than guns !"
"Trump is proof that you don't need to fly planes into a building to destroy a country."
"If Ron DeSantis were concerned about migrants who REALLY are bringing crime to Florida, apparently there is a family he might round up in Palm Beach. I can give him the address if he needs it." — Luke Zaleski.
"Trump
20-24
years in prison."
"Donald Trump has paid more money for hookers than he's paid in taxes.
This is not a joke." — Captain Obvious.
"Before you mock children who believe in Santa Claus, remember, there are still adults who believe in Trump !"
"TRE45ON"
---
US politics (Bush area)
"Funny how it takes but weeks to throw billions at mismanaged banks, but it's taken years and no end in sight to agree on matters vital to the survival of the damn planet." — Tom.
"Tea parties are for little girls with imaginary friends."
"If you are selling security, you have to make sure people feel insecure." — Spun.
"The banks have taken over and the only thing socialized is their debt." — Prof. Taleb.
"The Union of Concerned Scientists says the Bush administration manipulates and suppresses science. The administration points out that the Union of Bought and Paid for Scientists disagrees." — fark.com.
"In a surprising move, the National Weather Service has blamed the 2004 presidential campaign for the current onslaught of hurricanes devastating the South and Gulf Coast regions of the United States. Said a spokesman: 'There's been so much hot air coming out of Washington, it was bound to have disastrous effects on the climate'." — Mike Levy.
"Stop asking candidates if they believe in climate change and start asking them if the understand it. It's science, not Santa Claus." — Valorie.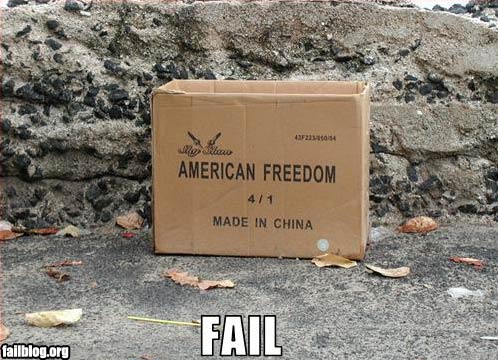 "In an ironic juxtaposition yesterday was Groundhog Day and the State of the Union Address: one involves a meaningless ritual in which we look to a creature of little intelligence for prognostication, and the other involves a groundhog." — Air America Radio, 2005.
"W stands for Wrong." — Bumper sticker.
"The last time someone listened to a Bush, a bunch of people wandered in the desert for 40 years." — ThatOneDude.
"George Bush was not elected by a majority of the voters in the United States, he was appointed by God." — Lt. Gen. William G. Boykin.
"If you think the NSA surveillence state isn't dangerous just look back at what Hoover did with a tiny fraction of the information the NSA has."
"I'll be long gone before some smart person ever figures out what happened inside this Oval Office." — George W. Bush (2008).
"If this is going to be a Christian nation that doesn't help the poor, either we've got to pretend that Jesus was just as selfish as we are, or we've got to acknowledge that he commanded us to love the poor and serve the needy without condition and then admit that we just don't want to do it." — Stephen Colbert.
"If there is one thing that our role models in this election have taught us, it's that omitting important information is completely different from lying." — Scott Adams.
"Reagan proved that deficits don't matter." — Dick Cheney.
"Politics is like driving: if you are slow, you move to the right."
"Failure is the ultimate regulator, unfortunately the people who fund all the reelection campaigns in this country mysteriously became 'too big to fail'." — Wonko the sane.
"As far as the general public is concerned, it's not a big deal when the wealthy steal from the wealthy. That's business by another name. And it's not a big deal when the wealthy steal from the poor — that's business as usual. All we really care about is when the poor steal from the wealthy, because we always look down on those poorer than us, we like to imagine ourselves as wealthy, and so when the poor steal, it's an affront to our ideals." — Red Flayer.
"We traded in a whoremonger for a warmonger, and some people think that's progress."
"Dan Quayle and Dick Cheney were the best assassination attempt prevention ever. McCain was going the same route, but shot too far."
"A defense contractor, a tea partier, and a teacher sit down to a plate of 10 cookies. The defense contractor takes 9, leans over to the tea partier, and says 'psst, the teacher is trying to steal your cookie'."
"The Rapture is not an 'exit strategy' and Armageddon is not a 'plan'." — Troutfishing.
"When you're on the side that attacks Captain America, Superman, and Big Bird, there's a good chance you're one of the bad guys."
"They were going to call it 'Operation Iraqi Liberation' — but then they realized that there was something wrong with the acronym."
"Diebold — making machines that vote so you don't have to." — Bumper Sticker.
"As people do better, they start voting like Republicans — unless they have too much education and vote Democratic, which proves there can be too much of a good thing." — Karl Rove.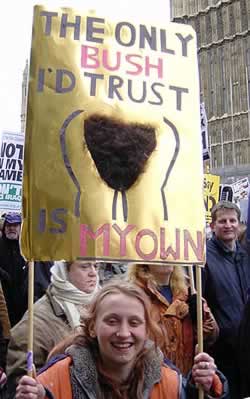 "Monica Lewinsky had more President in her than George Bush ever will."
"Citizens United violates the essence of what made America a great country in its political system. Now it's just an oligarchy, with unlimited political bribery being the essence of getting the nominations for president." — Jimmy Carter.
"Bush's budget issued in 2001 warned that Fannie Mae and Freddie Mac were overleveraged, and said that they needed tighter controls, oversight, and a host of reforms because 'their failure could cause strong repercussions in financial markets, affecting federally insured entities and economic activity'."
"The corollary to 'No Child Left Behind' is 'No Child Gets Ahead'."
---
US politics (in the past)
"America: land of the free*
(*) Terms and conditions may apply."
"Be careful when you follow masses. Sometimes the 'M' is silent."
"Elections are like driver's ed. If you put the car in D, you go forward. If you put it in R, you bo backward."
"Politicians lie. Even when they're telling the truth."
"I think I'm beginning to get it. If it's a policy that benefits the rich, then it doesn't have to be paid for, should last forever and is good for America. But if it benefits the poor, we can't afford it, we should end it as soon as possible and it will destroy our nation from within." — Jon Stewart.
"Republican LIE that the GOP wants 'Less Government'. Republicans have outspent Democrats at EVERY TURN over the past 40 years, and Reagan was the worst!
Republicans dont want 'Less Government', they want Less Government that benefits YOU!" — Mark Judson.
"The hottest places in Hell are reserved for those who, in times of moral crisis, preserved their neutrality." — Dante.
"If you can convince the lowest white man he's better than the best colored man, he won't know you are picking his pocket. Hell, give him somthing to look down on and he'll empty his pockets for you." — Lindon B. Johnson (US president).
"Watching someone shoot themselves in the foot is far less amusing when said foot is on your neck."
"They call it the American Dream, because you have to be asleep to believe it." — George Carlin.
"If you think the NSA surveillence state isn't dangerous just look back at what Hoover did with a tiny fraction of the information the NSA has."
"The only function of economic forecasting is to make astrology seem respectable." — John Kenneth Galbrain.
"The human eye is a wonderful device. With a little effort, it can fail to see even the most glaring injustice."
"A nation of sheep will beget a government of wolves." — Edward R. Murrow.
"There is no reason, why out on the street, a civilian should be armed with a loaded weapon." — Ronald Reagan.
"Reagan loved the poor folks so much that he created a whole lot more of them."
"Never attribute to malice that which can be attributed to incompetence. However once you combine incompetence with malice, then you have a solid foundation to create a government department."
"Freedom is the Distance Between Church and State."
"The economy is all about money, and politics is all about power. Nowhere does the good of the people figure in or matter."
"We're living in a golden age. All you need is gold." — D.W. Robertson.
"A worldwide survey was conducted by the UN. The only question asked was: 'Would you please give your honest opinion about solutions to the food shortage in the rest of the world ?' The survey was a huge failure... In Africa they didn't know what 'food' meant. In Eastern Europe they didn't know what 'honest' meant. In Western Europe they didn't know what 'shortage' meant. In China they didn't know what 'opinion' meant. In the Middle East they didn't know what 'solution' meant. In South America they didn't know what 'please' meant. And in the USA they didn't know what 'the rest of the world' meant." — Benja.
"The U.S. Government should change its emblem from an eagle to a condom to more accurately reflects the government's political stance: condoms stand up to inflation, halt production, destroy the next generation, protect pricks, and give a sense of security while actually screwing you."
"Military solutions are problems." — Bumper sticker.
"Diplomacy is about haggling with people you'd prefer to shoot, which results in agreements that everyone hates, but can't live without."
"I was in a shop in Britain, when an American tourist in front of me tried to pay for something in US dollars. The shop keeper politely told her that this was Britain, and you can't use U.S. dollars here. The lady replied... 'But I had no problems in other third world countries'." — KJ.
"You can always count on Americans to do the right thing — after they've tried everything else." — Winston Churchill.
"America... just a nation of two hundred million used car salesman with all the money we need to buy guns and no qualms about killing anybody else in the world who tries to make us uncomfortable." — Hunter S. Thompson, 'Fear and Loathing on the Campaign Trail'.
"The Gun Lobby's interpretation of the Second Amendment is one of the greatest pieces of fraud, I repeat the word fraud, on the American People by special interest groups that I have ever seen in my lifetime.
The real purpose of the Second Amendment was to ensure that state armies — the militia — would be maintained for the defense of the state.
The very language of the Second Amendment refutes any argument that it was intended to guarantee every citizen an unfettered right to any kind of weapon he or she desires." — Warren Burger (1990), Conservative Chief Justice of the Supreme Court.
"It took 19 amendments for women to vote ! Maybe the 2nd amendment wasn't our best work..."
"America is the only nation in history which miraculously has gone directly from barbarism to degeneration without the usual interval of civilization." — Georges Clemenceau (1841—1929), French statesman.
"Nothing is more annoying in the ordinary intercourse of life than this irritable patriotism of the Americans. A foreigner will gladly agree to praise much in their country, but he would like to be allowed to criticize something, and that he is absolutely refused." — Alexis de Tocqueville, Democracy in America (1831).
"Patriotism is for suckers. Citizenship is a business relationship, and that is IT! It's give and take. What can the country do for me, in return for my support." — FatSean.
"What Jefferson should have said was 'Life, liberty, and the pursuit of intelligence', for the latter has never been a recognizable goal of our nation." — John Irving.
"If nominated, I will not accept; if drafted, I will not run; if elected, I will not serve." — William Tecumseh Sherman.
"One retarded kid swallows a magnet, and they can ban buckyballs. A pilot or something might get blinded at some point in the future and we can ban laser pointer sales. 30,000 people a year die from gun violence and we can't even pass universal fucking background checks ? No. Fuck this shit. I move that every citizen of the USA shall receive from the government one glock 9 mm pistol, one box of hollow point ammunition, one multi-watt laser pointer, one... no, make that TWO extremely fucking dangerous magnets, a gallon of Jaegermeister, a 3 wheeler ATV and a big fucking bucket of fireworks, to do with as they please. In one year, the survivors can get together and discuss additional regulation." — Greyfox.
"Remember, freedom is always taken, never given." — Scott Adams.
"Vote for the candidate/party that will give you what you're not smart enough to get yourself."
"Every dollar not spent on bad movies and pop music is one more dollar that can be spent on productive industry."
"Anti-intellectualism has been a constant thread winding its way through our political and cultural life, nurtured by the false notion that democracy means that 'my ignorance is just as good as your knowledge'." — Isaac Asimov.
"We'll know our disinformation program is complete when everything the American public believes is false." — William Casey (1913-1987), CIA Director.
"Entrepreneurship is like one of those carnival games where you throw darts or something.
Middle class kids can afford one throw. Most miss. A few hit the target and get a small prize. A very few hit the center bullseye and get a bigger prize. Rags to riches ! The American Dream lives on.
Rich kids can afford many throws. If they want to, they can try over and over and over again until they hit something and feel good about themselves. Some keep going until they hit the center bullseye, then they give speeches or write blog posts about 'meritocracy' and the salutary effects of hard work.
Poor kids aren't visiting the carnival. They're the ones working it." — notacoward.
"Liberals believe that feeding hungry children is important enough that we accept that a few people will game the system and get school meals that their children don't qualify for. Conservatives are willing to accept that a lot of children go hungry in order to make sure no one gets something they don't deserve." — VictoryCabal.
"I keep hearing the argument that some things are constitutional while other things are not. The idea is that we should be in favor of all the things that were decided over 200 years ago by a bunch of slave-owning cross-dressers who pooped in holes." — Scott Adams.
"Everyone says there's a lack of leadership in the world these days. I think we should all be thankful, because the only reason for leadership is to convince people to do things that are either dangerous (like invading another country) or stupid (working extra hard without extra pay)." — Scott Adams, Don't step in the leadership.
"The idea that a reporter has to be 'fair and balanced' is ridiculous. The fact is, the truth usually is not fair and it's not balanced. Truth stands by itself. And the idea that something called fair and balanced is a substitute for truth and fact is mindless nonsense that has captured much of the national media." — Lou Dobbs, CNN business journalist.
"We speak English; when we have a World Championship, we invite teams from other countries; and when we face our head of state, we go down on only one knee." — An englishman explaining the difference between England and the US.
"Bloody hell, this article reads like a well-crafted piece of BS, designed to put the N back into FUDing." — Kru.
"Q: Why did Australia get the criminals and the USA get the religious zealots ?
A: Australia was allowed to choose first !"
"I think there would be a severe reduction in stupid laws if politicians (but not other members of the public) were subjected to them during a trial period, with the general public being able to see the results." — Aaza.
"LAWS do not stop people doing things (see drugs, illegal, the continued use of).
LAWS just allow POLICE to arrest you, and LIFE INSURANCE people to reject your payout."
"Sure you can trust your government... Just ask an Indian." — Helmet Sticker.
"First they came for the Jews and I did not speak out because I was not a Jew. Then they came for the Communists and I did not speak out because I was not a Communist. Then they came for the trade unionists and I did not speak out because I was not a trade unionist. Then they came for me and there was no one left to speak out for me." — Martin Niemöller.
"When they took the 4th Amendment, I was quiet because I didn't deal drugs. When they took the 6th Amendment, I was quiet because I am innocent. When they took the 2nd Amendment, I was quiet because I don't own a gun. Now they have taken the 1st Amendment, and I can only be quiet." — Lyle Myhr.
"1. Sort of
2. Sort of
3. Yes
4. Nope
5. Nope
6. Sorry, no
7. Not sure
8. No
9. Not sure
10. Technically yes." — Answers to the question: "Do the US constitution amendments still matter ?".
"I pledge allegiance to my flag and the republic for which it stands, one nation indivisible, with liberty and justice for all." — The original pledge of allegiance, as written in 1892 by Francis Bellamy, and before revisionism changed it for the worse.
"Saying you don't care about privacy because you have nothing to hide is like saying you don't care about freedom of speech because you have nothing to say." — Edward Snowden.
"It's always saddened me that of all the freedoms granted to American citizens, most of us choose to practice the right to be stupid and ignorant."
"There are 1011 stars in the galaxy. That used to be a huge number. But it's only a hundred billion. It's less than the national deficit! We used to call them astronomical numbers. Now we should call them economical numbers." — Richard P. Feynman (1918-88).
"Campaign contribution is the same as if you tried to hand a cop a twenty before breaking the law. There are laws against bribery in some contexts, why do we allow it in more important contexts ?"
"The concept of 'trickle down' economics is so easy to debunk it's a wonder politicians still use it. If you give money to the rich, they'll put it away in offshore accounts or use it to purchase art from other rich people. None of it goes back into the economy. If you give it to the poor, they use it to buy food or fix their car. The next day it's back into the economy."
"Even if the trickle down theory of economics works, you're still getting pissed on." — Gmoke.
"Tubgirl is a republican. She believes in the trickle down theory..."
"I have a joke about trickle down economics but 99% of you will never get it..."
"Conservatives say if you don't give the rich more money, they will lose their incentive to invest. As for the poor, they tell us they've lost all incentive because we've given them too much money." — George Carlin.
"What do the bible and the constitution have in common ? Conservatives misquote both to justify behaviors not covered by either."
"Conservatives believe that: states should have the right to make their own laws, except when they disagree with them, e.g., legalizing gay marriage, marijuana or abortion. Welfare is wrong except when it benefits corporations. The government should not intervene in the economy except when bad things happen to wealthy people. In family values except when cheating on their spouse. Life is sacred until a person is born. Individuals should have the right to organize as corporations, but not as unions or consumer groups. If the benefit at the expense of the many, it is free enterprise; but if the many benefit at the expense of the few, it's class warfare. All complex problems have simple solutions."
"Opinions on abortions are kinda like nipples: everyone has them but women's are a little bit more relevant, yet all you ever see are men's."
"Conservatives think they're the party of 'you're not the boss of me', but they're actually the party of 'I'm the boss of you'."
"In America, anyone can become president. That's the problem." — George Carlin.
"Once you leave the womb, conservatives don't care about you until you reach military age. Then you're just what they're looking for. Conservatives want live babies so they can raise them to be dead soldiers." — George Carlin.
"The modern conservative is engaged in one of man's oldest exercises in moral philosophy; that is, the search for a superior moral justification for selfishness." — John Kenneth Galbraith.
"We elect politicians so we don't have to think." — Homer Simpson.
"Libertarians are Republicans that like getting high and watching porn.
Greens are Democrats that can't get a trade union job or don't work at all."
"Libertarians are house cats. They are convinced of their own fierce independence while utterly dependent on a system they don't appreciate or understand." — John Spaulding.
"That's libertarians for you — anarchists who want police protection from their slaves." — Kim Stanley Robinson.
"Q: How many libertarians does it take to stop a Panzer division ?
A: None, obviously market forces will take care of it."
"Some people seem to believe they should get all the benefits of society and none of the costs. We usually call those people 'Libertarians'."
"That's libertarians for you — anarchists who want police protection from their slaves." — Coyote in Kim Stanley Robinson's Green Mars.
"It may have to do with America's racial diversity..." — Charleton Heston, when asked in Bowling for Columbine why there were over 11 000 deaths/year due to gun violence in America, compared with less than 300 in Canada, and less than 100 in Japan.
"What orators lack in depth they make up for in length." — Charles de Montesquieu.
"'My country, right or wrong', is a thing that no patriot would think of saying except in a desperate case. It is like saying, 'My mother, drunk or sober'." — G. K. Chesterton.
"I do feel more myself in America. I can regress there, and they have roller-coaster parks." — Alan Rickman (the vilain in Die Hard).
"The illegal we do immediately; the unconstitutional takes a little longer." — Henry Kissinger, US Secretary of State (1975).
"It was the most difficult decision in my life — except the one in 1978 when I decided to get a bikini wax." — Arnold Schwarzenegger on his decision to run for governor of California.
"I know you believe you understand what you think I said, but I am not sure you realize that what you heard is not what I meant." — Alan Greenspan, before a Congressional committee.
"Those who forget history are doomed to testify before congressional committees." — Andy Kessler.
"It's not 'vote fraud' unless you can prove those dead guys would've voted the other way."
"Highly intelligent and well-informed people disagree on every political issue. Therefore, intelligence and knowledge are useless for making decisions, because if any of that stuff helped, then all the smart people would have the same opinions. So use your "gut instinct" to make voting choices. That is exactly like being clueless, but with the added advantage that you'll feel as if your random vote preserved democracy." — Scott Adams.
"Democracy is this cool system where you yell at people online for 6 months and then people in Ohio and Florida pick the president."
"If free will exists, why do the tallest candidates with the best hair usually win elections ?" — Scott Adams.
"The problem with elections is that the government always wins."
"Legislation is an unnatural ecosystem, and could use some sort of predator as a feedback loop." — Smitty One Each.
"It is more profitable for your congressman to support the tobacco industry than your life." — Jackie Mason.
"You know the world's gone mad when the best rapper is a white guy, the best golfer is a black guy, the Swiss hold the America's Cup, France is accusing the USA of arrogance and the Germans don't want to go to war !" — Chris Rock, March 2003.
"You know what's more american than putting your hand over your heart during the national anthem ? Having the freedom not to."

"'Community input', where the 0.001% of the population who shows up to meetings gets to veto the actions of people elected by over half of it, is just voter suppression with extra steps." — Toby Muresianu.

"I don't care what the Founding Fathers would have wanted, I don't care if Jesus was a hippie or not, I don't care what Marx prescribed. I can't take living in a world where we're all servants of long-dead men. You know what happens if you make a law the Founding Fathers wouldn't like ? Nothing, they're dead and they're never coming back. I'm genuinely envious of countries that can just make whatever laws they want without worrying about how 18th century agrarian noblemen would have seen it. Stop arguing that Jesus loved the poor too, what he loved or didn't love is irrelevant, he doesn't get a say in any of this. We could have a country that isn't shackled to these ghosts if we collectively wanted to." — brainstatic.
.
.
.
---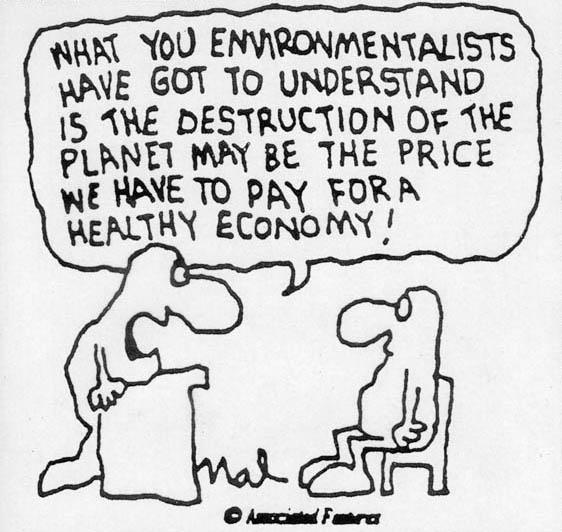 Environment
"We don't have to protect the environment — the Second Coming is at hand." — James Watt.
"Global Warming, Agrarian Society, Nuclear Energy. Pick One." — Bumper sticker.
"Environmentalists are a socialist group of individuals that are the tool of the Democrat Party. I'm proud to say that they are my enemy. They are not Americans, never have been Americans, never will be Americans." — Don Young.
"I don't see any justification for the federal government owning land, other than the Statue of Liberty and maybe a few parks, maybe a few refuges. But to just own land to do nothing with it I think is a disservice to the Constitution." — Don Young.
"We wonder why we have got the Freemen or the militants. We wonder why we have got unrest in this country. It is because our government, in fact, has got out of hand and out of line, with the Endangered Species Act." — Don Young.
"If I have my way, I'm going to dissolve the Forest Service. They're in the business of harvesting trees and they're not harvesting trees, so why have them anymore ?" — Don Young.
"If you can't eat it, can't sleep under it, can't wear it or make something from it, it's not worth anything." — Don Young.
"The environmentalists — the self-centered bunch, the waffle-stomping, Harvard-graduating, intellectual idiots that don't understand that they're leading this country into environmental disaster." — Don Young.
"Oooh, so Mother Nature needs a favor ?! Well maybe she should have thought of that when she was besetting us with droughts and floods and poison monkeys ! Nature started the fight for survival, and now she wants to quit because she's losing. Well I say, hard cheese." — CM Burns.
"God gave us the earth. We have dominion over the plants, the animals, the trees. God said, 'Earth is yours. Take it. Rape it. It's yours.'" — Ann Coulter.
"... those things are unknowable because the information is filtered through known liars."
"Unlimited Growth didn't serve Andre the Giant very well either." — Ill Lich.
"Growth for the sake of growth is the ideology of the cancer cell."
"The problem with the Invisible Hand is that it never picks up the check."
"Give me money or give me debt !"
"Luke, come to the dark side, use the American Express card."
"The difference between spending $100 more than your paycheck and $100 less is the difference between indentured servitude and freedom."
"Yes, civilisation got destroyed. But for a beautiful moment in time we created a lot of value for shareholders."
"Approximately 80% of our air pollution stems from hydrocarbons released by vegetation, so let's not go overboard in setting and enforcing tough emissions standards from man-made sources." — Ronald Reagan (1988—2004).
"Ronald Reagan wasn't qualified to be governor, let alone president. I was vice president of the Screen Actor's Guild when he was its president. Ronnie never had an original thought. We had to tell him what to say. That's no way to run a union, let alone a country." — James Garner.
---
Democracy
"Democracy is three wolves and a sheep voting on what's for dinner."
"Unfortunately, democracies can't give the people what they want, but just a list of persons to pick from." — David Kastrup.
"You should never wear your best trousers when you go out to fight for freedom and liberty." — Henrik Ibsen.
"The difference between a Democracy and a Dictatorship is that in a Democracy you vote first and take orders later; in a Dictatorship you don't have to waste your time voting." — Charles Bukowski.
"You measure a democracy by the freedom it gives its dissidents, not the freedom it gives its assimilated conformists." — Abbie Hoffman.
"Democracy is not a system where everyone's votes count; only where the winners' votes count."
"Democracy originated in the mind of a rational being who has the deepest hatred for God." — Robert T Lee.
"Democracy: the right to choose between a bunch of self serving bastards who don't give a fuck about you and a bunch of self serving bastards who pretend they do give a fuck about you."
"Police don't prevent crime. They respond to it. Higher wages, guaranteed health care, food security, high quality child care, housing, good schools, and addiction treatment prevent crime."
"It is dangerous to be right when the government is wrong." — Voltaire (1694-1778).
"If one would give me six lines written by the hand of the most honest man, I would find something in them to have him hanged." — Cardinal Richelieu (1585–1642).
"Politicians and diapers have one thing in common. They should both be changed regularly and for the same reason."
"Don't put your trust in revolutions. They always come round again. That's why they're called revolutions. People die, and nothing changes." — Terry Pratchett.
"Satire is meant to ridicule power. If you are laughing at people who are hurting, it's not satire, it's bullying." — Terry Pratchett.
"Government is powerless to protect you, not powerless to punish you." — Chief Wiggum.
"The thinking it took to get us into this mess is not the same thinking that is going to get us out of it." — Albert Einstein.
"Mr. Candidate, sir, given the overwhelming body of evidence from hundreds of different scientific fields ranging from archeology to physics to zoology, can you explain to us how you can seriously believe that the world was created 2000 years after the Babylonians invented beer ?" — Question suggested by Bombula for creationist candidates.
"The kinds of people who are willing to fight for power tend to be precisely the kinds of people that you don't want in power." — The leaders' paradox.
"Sure, the government lies and the media lies, but in a democracy, they're different lies."
"Religious people describe heaven as a moneuless, stateless, classless world, then criticize communism."
"If you are not communist when you are 20, then you have no heart.
If you are still communist when you are 40, then you have no brains."
"There are two kinds of fascists: fascists and antifascists." — Ennio Flaiano.
"The road to fascism is lined with people telling you to stop overreacting."
"If you give free speech to fascists they will take it away from you."
"Authoritarians love to view themselves as victims just as much as they love to be victimizers; those are two halves of the same coin for them. They adore being wronged, because in their very tiny minds that gives them permission to wrong others." — Hey 33014.
"In the future, there will be fewer but better Russians." — Joseph Stalin.
"It is enough that the people know there was an election. The people who cast the votes decide nothing. The people who count the votes decide everything." — Joseph Stalin.
"Everything Lenin taught us about socialism was wrong. Everything he taught us about capitalism was right." — Russian saying.
"While you were so worried Socialism would take your freedoms, Capitalism stole your pension, took your savings, sent your jobs overseas, robbed you of health care, dismantled the educational system and put you in debt, leaving you only your racism, xenophobia, hate and guns."
"Racism is so american, that when you protest it, people think you are protesting America."
"It is strange that the right knows that its bad to be called a racist, but they can't grasp that it's also bad to be one." — Stece Hofstetter.
"Funny how the definition of socialism changed over the years. First it was social ownership of everything with no private property. Then it was central planning of the industry with some made up price system that never worked like the various schemes Soviet Union came up with (usually followed by a famine). Then it was the 'third way' of countries like Yugoslavia (at the time it was briefly prosperous before the collapse) with a mix of state owned industry and some small scale private enterprise. Now it's basically a capitalist economy like Sweden with a slightly higher taxes than in the US and more welfare spending. Pretty soon you guys will finally be driven all the way to the right and call laissez-faire capitalism 'socialism'." — clarkkent09.
"Socialism only works in two places: heaven where they don't need it and hell where they already have it." — Ronald Reagan.
"Introduce socialism in countries in the Sahara desert area, and in 3 years they will be shortages of sand." — Old central Europe joke.
"Every term in office should be followed by a term in jail."
"Bad officials are the ones elected by good citizens who do not vote." — George Jean Nathan.
"Are you any good at finding someone stupider than you and taking advantage of them ? Because that's what trading is all about." — Unnamed Wall Street broker.
"Always take a lawyer with you, and then bring another lawyer to watch him." — Bo Diddley about money.
"Rags make paper, paper makes money,
Money makes banks, banks make loans,
Loans make beggars, beggars make rags."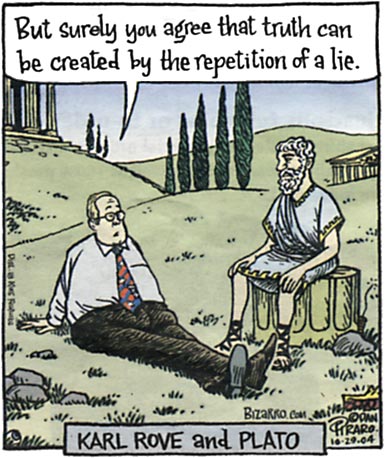 "Democrat: Give us your money. We'll solve your problems. Republican: Give us your money. We'll ignore your problems. Libertarian: Keep your money. Solve your own problems."
"A government which robs Peter to pay Paul can always depend on the support of Paul." — George Bernard Shaw.
"Ideology /n./ A system of ideas and beliefs that commonly supplants reality among weaker minds. Syn: Bullshit."
"A bureaucracy is like a septic tank — all the really big shits float to the top."
"'Eternal vigilance is the price of liberty' used to mean we watched the government — not the other way around." — Bill Stewart.
"No government has the right to decide on the truth of scientific principles, nor to prescribe in any way the character of the questions investigated. Neither may a government determine the aesthetic value of artistic creations, nor limit the forms of literacy or artistic expression. Nor should it pronounce on the validity of economic, historic, religious, or philosophical doctrines. Instead it has a duty to its citizens to maintain the freedom, to let those citizens contribute to the further adventure and the development of the human race." — Richard P. Feynman (1918-88).
"A reactionary is a man whose political opinions always manage to keep up with yesterday."
"Opinions are like assholes — everyone's got one, but nobody wants to look at the other guy's." — Winston Hal Hickman.
"How do you tell a politician is lying ? Easy, his lips are moving."
"My opinions. No one else may claim them. My employer rarely asks what they are. My wife disagrees with them. My boss ignores them. My lawyer worries about them. My shrink writes articles about them. Any more questions ?" — G. Boggs.
"I love my country, but I fear its leaders and the peoples' complacency !"
"Politicians do it to everyone."
"Democrats eat the fish they catch.
Republicans hang them on the wall."
"The english language is so crazy with its silent 'K's. One silent K in 'Knot'. Two silent Ks in 'Knuckle'. 3 silent Ks in 'Republicans'. 4 silent Ks in 'Knickknack'..."
"I don't use the words 'Democrat' and 'Republican'. I use the words 'liberal' and 'American'." — James Watt.
"I hate conservatives, but I really fucking hate liberals." — Matt Stone, South Park co-creator.
"A person who has both feet planted firmly in the air can be safely called a liberal."
"Reality has a well known liberal bias." — Stephen Colbert.
"A liberal is a conservative who's been arrested. A conservative is a liberal who's been mugged." — Wendy Kaminer.
"If voting could really change things, it would be illegal." — Revolution Books, New York.
"Giving money and power to the government is like giving whiskey and car keys to teenage boys." — P. J. O'Rourke
"Government is really good at only one thing, and that is to break your leg, then hand you a crutch and say: 'Look, if it weren't for the government you wouldn't be able to walk'." — Harry Browne.
"We have laws about that so that when people like you are in power, I'm safe, and when people like me are in power, you're safe."
"The state is the great fictitious entity by which everyone seeks to live at the expense of everyone else." — Frederic Bastiat.
"A communist is like a crocodile: when it opens its mouth you cannot tell whether it is trying to smile or preparing to eat you up." — Winston Churchill.
"If 50 million people say a foolish thing, it is still a foolish thing." — Anatole France.
"Man is a thinking animal, a talking animal, a toolmaking animal, a building animal, a political animal, a fantasizing animal. But, in the twilight of a civilization he is chiefly a taxpaying animal." — Hugh MacLennan.
"In Italy for thirty years under the Borgias they had warfare, terror, murder and bloodshed but they produced Michelangelo, Leonardo da Vinci and the Renaissance. In Switzerland, they had brotherly love; they had five hundred years of democracy and peace and what did they produce ? The cuckoo clock." — Orson Welles (1915—1985).
"It's only when a mosquito lands on your testicles that you realize there's always a way to solve problems without using violence."
"Civilization advances by extending the number of important operations that we can perform without thinking about them." — Alfred North Whitehead.
"The first human being who hurled an insult instead of a stone was the founder of civilization." — Attributed to Sigmund Freud.
"I think it would be a good idea." — Mahatma Gandhi (1869-1948), when asked what he thought of Western civilization.
"The election is not a time to discuss serious issues." — Kim Campbell.
"The greater the number of laws and enactments, the more thieves and robbers there will be." — Lao-tzu (604-531 B.C.)
"The trouble with fighting for human freedom is that one spends most of one's time defending scoundrels. For it is against scoundrels that oppressive laws are first aimed, and oppression must be stopped at the beginning if it is to be stopped at all." — H.L. Menken.
"Justice is a vending machine that only takes $10 000 coins, usually a lot of them. And sometimes the chocolate bar still gets stuck."
"The best argument against democracy is a five minute talk with the average voter." — Winston Churchill.
"What we need is either less corruption or more chance to participate in it." — Oscar Wilde.
"Now I know what a statesman is; he's a dead politician. We need more statesmen." — Bob Edwards.
"Canada is one of the worst countries in the world, it's everything the world hates about america and france combined in one arctic wasteland." — ThanatoChaos.
"People are taking their comedians seriously and the politicians as a joke." — Will Rogers.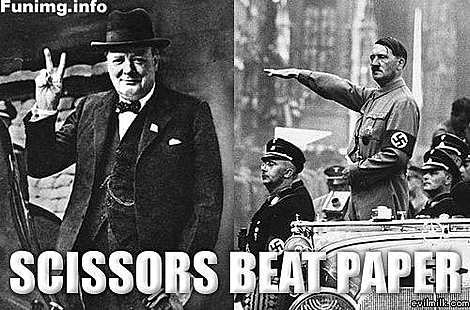 "This year will go down in history. For the first time, a civilized nation has full gun registration. Our streets will be safer, our police more efficient, and the world will follow our lead into the future." — Adolf Hitler, 1935 [most likely fake quote].
"What Democratic congressmen do to their women staffers, Republican congressmen do to the country." — Bill Maher.
"I believe the current fashion among right-wing nutters is to create a website with the names and addresses of the people who have, by reason of having a functioning cerebellum, pissed off the RWNs."
"Television is democracy at its ugliest." — Paddy Chayevsky.
"I voted for the Democrats because I didn't like the way the Republicans were running the country. Which is turning out to be like shooting yourself in the head to stop your headache." — Jack Mayberry.
"So the bottom line is that America is the father, the Islamic countries in the Middle East are the mother, and Israel is the offspring conceived by rape." — Scott Adams.
"If I were two-faced, would I be wearing this one ?" — Abraham Lincoln (1809-1865).
"The reason there are so few female politicians is that it is too much trouble to put makeup on two faces." — Maureen Murphy.
"Freedom has many difficulties and democracy is not perfect, but we have never had to put up a wall to keep our people in." — John F. Kennedy (1917-1963).
"Do you realize the responsibility I carry ? I'm the only person standing between Nixon and the White House." — John F. Kennedy (1917-1963), in 1960.
"They say it's the responsibility of the media to look at government — especially the President — with a microscope. I don't argue with that, but when they use a proctoscope, it's going too far." — Richard Nixon.
"I would not like to be a political leader in Russia. They never know when they're being taped." — Richard Nixon.
"Avoid all needle drugs. The only dope worth shooting is Richard Nixon." — Abbie Hoffman.
"I used to say that politics is the second oldest profession, and I have come to know that it bears a gross similarity to the first." — Ronald Reagan (1988—2004).
"I have left orders to be awakened at any time in case of national emergency, even if I'm in a cabinet meeting." — Ronald Reagan (1988—2004).
"In a disastrous fire in President Reagan's library both books were destroyed. And the real tragedy is that he hadn't finished coloring one." — Jonathan Hunt (1938- ), New Zealand politician.
"A triumph of the embalmer's art." — Gore Vidal (1925- ), US novelist. Referring to Ronald Reagan.
"The taxpayer: Someone who works for the government but doesn't have to take a civil service examination." — Ronald Reagan (1988—2004).
"I believe that people would be alive today if there were a death penalty." — Nancy Reagan.
"We can look forward to four more years of wonderful, inspirational speeches full of wit, poetry, music, love and affection, plus more goddamn nonsense." — David Brinkley, ABC News, after Clinton clinched his re-election.
"Every American should have above average income, and my Administration is going to see they get it." — Bill Clinton on the campaign trail.
"Politics /n/: from 'poly ticks', short for 'many small bloodsucking insects'." — Henry Spencer.
"Do you know Presidents talk to the country the way men talk to women ? They say: 'Trust me, go all the way with me, and everything will be all right'. And what happens ? Nine months later, you're in trouble !"
"In politics stupidity is not a handicap." — Napoleon Bonaparte.
"Say what you have to say, not what you ought." — Henry David Thoreau.
"You can not get ahead while you are getting even." — Rep. Dick Armey.
"Did you really think that we want those laws to be observed ?" said Dr. Ferris. "We want them broken. You'd better get it straight that it's not a bunch of boy scouts you're up against — then you'll know that this is not the age for beautiful gestures. We're after power and we mean it. You fellows were pikers, but we know the real trick, and you'd better get wise to it. There's no way to rule innocent men. The only power any government has is the power to crack down on criminals. Well, when there aren't enough criminals, one makes them. One declares so many things to be a crime that it becomes impossible for men to live without breaking laws. Who wants a nation of law-abiding citizens' What's there in that for anyone? But just pass the kind of laws that can neither be observed nor enforced nor objectively interpreted — and you create a nation of law-breakers — and then you cash in on guilt. Now that's the system, Mr. Rearden, that's the game, and once you understand it, you'll be much easier to deal with." — Ayn Rand, Atlas Shrugged, 1957.
"With the law books filled with a great assortment of crimes, a prosecutor stands a fair chance of finding at least a technical violation of some act on the part of almost anyone. In such a case, it is not a question of discovering the commission of a crime and then looking for the man who has committed it, it is a question of picking the man and then searching the law books, or putting investigators to work, to pin some offense on him." — Robert H. Jackson, Attorney General and Supreme Court Justice, from a speech given in 1940.
"All I can say is that I am not a Marxist." — Karl Marx in a letter to Engel at the end of his life.
"Leadership is a potent combination of strategy and character. But if you must be without one, be without the strategy." — Gen. H. Norman Schwarzkopf.
"It was a charming fantasy of romantics that the spies would stop spying, that political conflict would end and politicians would tell the truth. Unfortunately that has not been the case." — John Le Carre, spy novelist, about not lacking source material in the post-Cold War era.
"Vote early and vote often." — Al Capone.
"In order to become the master, the politician poses as the servant." — Charles de Gaulle.
"A conservative is a man who believes that nothing should be done for the first time." — Alfred E. Wiggam.
"Traditionally, most of Australia's imports come from overseas." — Former Australian cabinet minister Keppel Enderbery.
"If people behaved like governments, you'd call the cops." — Kelvin Throop.
"Oh so you're a leftist ? Name everyone who left you !"
"If I got arrested and had one phone call, I'd call the police station with a bomb scare."
"Politics is a pendulum whose swings between anarchy and tyranny are fueled by perpetually rejuvenated illusions." — Albert Einstein.
"All our lauded technological progress — our very civilization — is like the axe in the hand of the pathological criminal." — Albert Einstein.
"He who joyfully marches to music in rank and file has already earned my contempt. He has been given a large brain by mistake, since for him the spinal cord would fully suffice. This disgrace to civilization should be done away with at once. Heroism at command, senseless brutality, deplorable love-of-country stance, how violently I hate all this, how despicable and ignoble war is; I would rather be torn to shreds than be a part of so base an action! It is my conviction that killing under the cloak of war is nothing but an act of murder." — Albert Einstein.
"If you have to fight, pretend you're the third monkey on the ramp to Noah's Ark and it's started to rain."
"Did you hear about that woman that smoked dope in the streets of Baghdad ? She was so stoned..." — Shockster.
"The budget should be balanced, the treasury refilled, public debt reduced, the arrogance of officialdom tempered and controlled, and the assistance to foreign lands curtailed, lest Rome become bankrupt." — Cicero.
"Those who are too smart to engage in politics are punished by being governed by those who are dumber." — Plato (427?-347BCE).
"Maybe you do not care much about the future of the Republican Party. You should. Conservatives will always be with us. If conservatives become convinced that they can not win democratically, they will not abandon conservatism. The will reject democracy." — David Frum.
"Since when have you met a book burner that turned out to be the good guy of the story ?"
"People who enjoy waving flags don't deserve to have one." — Banksy.
---
International politics
"Yasser Arafat won a Nobel Peace Prize in 1994, and it appears he has finally done something to promote peace: He stopped breathing." — James Taranto.
"Know the difference between patriotism and nationalism ? It's nationalism when foreigners do it."
"I'm also going to start lumping things together in my mind based on their similarities just to save space. From now on, stem cells are babies, and Iranians are Arabs. And they all live in North Korea with Osama." — Scott Adams.
---
Capitalism
"My favorite conspiracy theory is the one that says the world is being run by a handful of ultra-rich capitalists, and that our elected governments are mere puppets. I sure hope it's true. Otherwise my survival depends on hordes of clueless goobers electing competent leaders. That's about as likely as a dog pissing the Mona Lisa into a snow bank." — Scott Adams.
"The system was never broken, it was built this way."
"Suffer corporations to become your equals, and they will become your superiors." — Cato the Elder.
"Capitalism produces large corporations that are very efficient at doing dumb things."
"i only type lower case letters because i hate capitalism."
"Corporations have guns that fire cops." — The Who.
"The inherent vice of capitalism is the unequal sharing of blessings; the inherent virtue of socialism is the equal sharing of miseries." — Winston Churchill.
"Crazy that some people are really like 'I love capitalism. I would rather have a 1 in a trillion chance that I could one day become a billionaire than have guaranteed housing and healthcare for everyone in the country'." — Dana Donnelly.
"It is interesting to note that the death penalty for individuals is less controversial than the mere suggestion that a few corporations may have forfeited their right to exist. How many people does a company have to harm before we question if it ought to exist ?" — Paul Hawken.
"If a man has an apartment stacked to the ceiling with newspapers, we call him crazy. If a woman has a trailer house full of cats, we call her nuts. But when people pathologically hoard so much cash that they impoverish the entire nation, we put them on the cover of Fortune magazine and pretend that they are role models." — Lester B. Pearson.
"Liberal /n./ Someone too poor to be a capitalist and too rich to be a communist."
"It is a socialist idea that making profits is a vice; I consider the real vice is making losses." — Winston Churchill.
"A long time ago we had empires run by emperors, then we had kingdoms run ky kings, now we have countries..."
"Remember, always follow your passion. And if your passion doesn't fit into global capitalism, well, then you are a failure at life."
"Absurdity is the state assigning you The Grapes of Wrath at 16 and tear gassing you at 26 for understanding it."
"I love the stock market because when it goes up we get nothing but when it goes down we all lose our jobs. Except during a pandemic when it goes up and we still lose our jobs." — Shoegaze Dad.
"It's almost like people with tons of capital benefit from running the economy into a huge recession every decade or two so they can buy up assets on the cheap and consolidate even more wealth into a small number of hands." — Ed Burmila.
---
Misc
"People believe any quote they read on the internet if it fits their preconceived notions." — Martin Luther King.
"Tradition is just peer pressure from dead people."
"In front of a bully, the truth will set your teeth free."
"Why are the pyramids in Egypt ? Because they were too heavy for the english to steal."
"The truth is too valuable to give to just anyone who asks for it."
"Blessed are the meek for they shall inhibit the earth."
"The opinion of 10000 men is of no value if none of them know anything about the subject." — Marcus Aurelius.
"Any book worth banning is a book worth reading." — Isaac Asimov.
"We train young men to drop fire on people, yet their commanders won't allow them to write fuck on their airplanes because it's obscene." — Col. Kurtz, Apocalypse Now.
"In the future, new technology will allow police to solve 100 percent of crimes. The bad news is that we'll realize 100 percent of the population are criminals, including the police." — Scott Adams.
"— Dad, I decided to quit college and take up a life of crime.
— That's nice son, government or politics ?"
"An empty stomach is not a good political advisor." — Albert Einstein.
"Force always attracts men of low morality, and I believe it to be an invariable rule that tyrants of genius are succeeded by scoundrels." — Albert Einstein.
"Nationalism is an infantile sickness. It is the measles of the human race." — Albert Einstein.
"If people are good only because they fear punishment, and hope for reward, then we are a sorry lot indeed." — Albert Einstein.
"Serial killers ruin families. Corporate and political and religious psychopaths ruin economies. They ruin societies." — Bob Hare, UK psychiatrist.
"Ever since the end of 2001, we could solve the world's energy problems if we could just harness the rotational energy coming from Orwell's grave..." — Jason Giglio.
"Any headline which ends in a question mark can be answered by the word 'no'." — Betteridge's Law of Headlines.
"Analyzing humor is like dissecting a frog. Few people are interested, and the frog dies of it." — E.B. White (1899—1985).
---